No. 1 Baylor at No. 6 Tennessee: Lady Bears look to continue streak, Lady Vols hope to rebound from Virginia loss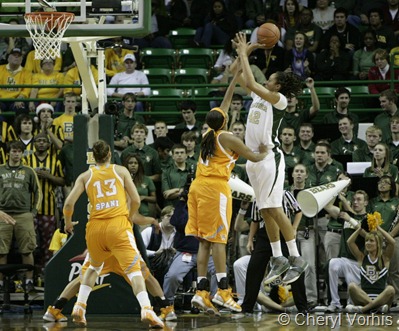 No. 1 Baylor (5-0) at No. 6 Tennessee (2-1)
Series: 2-2
Sunday, Nov. 27, 2011, 2 p.m. ET
Knoxville, Tenn., Thompson-Boling Arena (21,678)
TV: ESPN
While No. 1 Baylor and No. 6 Tennessee have only met four times in the history of the two programs, the Lady Bears have come out on top in the last two contests. Last year the Lady Vols came to Waco on December 14 and the teams battled in front of a record crowd at the Ferrell Center. Baylor won, 65-54.
Earlier that year during the 2009-2010 postseason, the Lady Bears won a Sweet 16 contest in Memphis, 77-62 on March 27.
This year, the Lady Bears are in Knoxville, ranked No. 1 and with a 5-0 record. Tennessee is 2-1, losing its last game on the road at Virginia in overtime, 69-64.
We Back Pat
To coincide with National Alzheimer's Disease Awareness Month the matchup between the Lady Vols and the Lady Bears has been designated as the first of two, "We Back Pat" games. Tennessee head coach Pat Summitt announced her diagnosis of early onset dementia, Alzheimer's Type, in late August.
Baylor Leaders
Junior post Brittney Griner leads Baylor with 24.4 points per game while sophomore guard Odyssey Sims manages 18.6 a contest and junior forward/post Destiny Williams scores 13.0 an outing. Griner and Williams are the team's top rebounders at 11.8 and 8.2 boards per game, respectively. Junior forward/post Brooklyn Pope comes off the bench to score 9.8 points and haul down 6.8 rebounds a game.
Tennessee Leaders
Four Lady Vols are averaging double-digit scoring. Taber Spani, a 6-1 junior guard, leads the team with 17.7 points per game while 6-3 senior forward Glory Johnson averages 16.0 a contest, Shekinna Stricklen, a 6-2 senior guard/forward, manages 14.7 an outing and 5-9 sophomore guard Meighan Simmons scores 11.3 a game. Stricklen and Simmons share team rebounding honors with 9.0 each a game.
Baylor
Last Game: W, 109-59, vs. Yale
Head Coach: Kim Mulkey
Career Record: 303-79 (12th season)
Record at BU: Same
Tennessee
2011-12 Record: 2-1
Last Game: L, 69-64 OT, at Virginia
Head Coach: Pat Summitt
Career Record: 1,073-200 (38th season)
Record at Tennessee: Same