No. 1 Baylor demolishes Howard, 82-28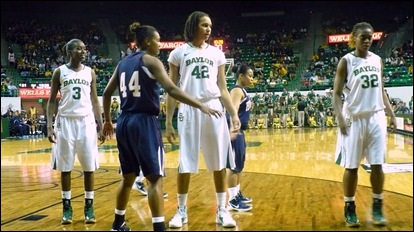 WACO, Texas — Baylor started out their regular season with a complete rout of Howard in front of a crowd of 7,587 at the Ferrell Center in Waco. The Lady Bears kept the Lady Bison scoreless until the 8:51 mark and accumulated 28 points before Nicole Deterville made a layup.
"Well it is always a good start when you win," said Baylor head coach Kim Mulkey about the victory. "You are not going to walk out on that floor and be the same team you were when you finished last year. We are not a polished team yet by any means. The talent is there, the effort is there and we will just keep working and getting better."
Unfortunately for Howard, they were overmatched in size, speed, agility in the preseason WNIT game. Baylor's defense shut out their opponents in every position and kept MEAC preseason player of the year junior foward Saadia Doyle scoreless in the first half. Baylor led 42-7 at halftime.
Brittney Griner led all scorers at the break with 11 points plus eight rebounds and six blocks. Tamoria Holmes led Howard with four points at the half.
The second half was business as usual for Baylor as Odyssey Sims led the charge with back-to-back baskets including a three-point shot.
Griner finished with 22 points, 13 rebounds and eight blocks but was not satisfied with her rebounding.
"I feel like I should get more boards," said the 6-8 center. "I just need to work on getting in position, blocking out, using my height and actually moving around. That is something I am going to try to work on."
Mulkey was pleased with Griner's effort.
"Well in 26 minutes of play, those are some pretty good stats right there," said Mulkey but also indicated that the team had jitters due to playing the first game of the season. "It is the first game, they want to do well. Their hearts are racing and I just thought we had a lot of missed free throws, a lot of missed threes and I think fatigue was a big part of that. We were able to play a lot of people and get the main group off of the floor, because we have such a quick turnaround."
Sims also scored in double digits with 15 points in the matchup.
Holmes led Howard with nine points, Cheyen Curley-Payne and Zykia Brown had seven and Doyle finished with just five.
Before the game the Lady Bears unveiled three banners. One banners was for the Big 12 regular season championship, another was for the Big 12 tournament championship and the third was for reaching the Elite 8 in the NCAA tournament.
Baylor continues WNIT play on Sunday at 2 p.m. CT when they host Chattanooga who beat UAB on Friday.