Postgame analysis: Cavaliers do their homework, take down No. 3 Tennessee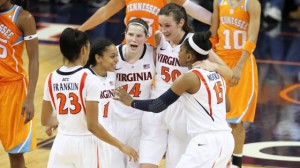 With a week that featured several upsets of nationally ranked teams, the Virginia Cavalier, picked to finish near the bottom of the ACC, may have pulled off the biggest upsets of all with an overtime win over the No. 3 Tennessee Lady Volunteers. For new UVA head coach Joanne Boyle, who replaced Hall of Famer Debbie Ryan after 34 years, it was opportunity to have a defining moment in early in her tenure.
Virginia paid close attention to last week's Tennessee – Miami game, as they looked to slow the pace, limiting the Lady Vols transition scoring opportunities. Tabor Spani (22 points, 4-10 3 pointers) and Shekinna Stricklen(16 points, 14 rebounds) did the bulk of the scoring for the Lady Vols, as their teammates struggled to find an offensive flow. UVA's scoring was more balanced has they were able to get major contributions from bench players like Lexie Gerson (10 points), when starters China Crosby(13 points, 4 assists) and Ataria Franklin(12 points) picked up early fouls.
Defensively, the Cavaliers zone press and half court zone defense forced the Lady Vols into crucial live ball turnovers that they converted into scoring opportunities. With a size advantage inside Tennessee was able to throw into the post over the top of the defense, especially to senior forward Glory Johnson (15 points, 6 rebounds) but her 5-13 shooting from the foul line just made the fans cheer louder every time she missed a shot.
After trailing for most of the second half Tennessee freshman center Isabelle Harrison tied the game – the teams traded a few clutch baskets in the last seconds that brought the fans at John Paul Jones to their feet. With six seconds left in the game Virginia ran a play for senior guard Ariana Moorer (10 points, 10 rebounds) but she was blocked at the basket by Johnson.
In overtime Moorer continued to be aggressive offensively, scoring five of Virginia's 11 points none bigger than a jumper that gave Virginia the lead for good. Spani was the only Lady Vol to score in the overtime period with two three-pointers.
The Cavaliers have invested into Coach Boyle's system and with a tough schedule ahead of them will look to prove that are not a team to be overlooked on anyone's schedule.
Key Stats
Protecting The Ball:
The Lady Vols had 24 turnovers – Seven by freshman point guard Ariel Massengale and three in overtime.
From The Line:
21% differential – Virginia (73%) Tennessee (52%)
Top Performers:
Virginia: China Crosby was the emotional leader of the team, her energy and toughness helped keep the Cavaliers on track for 45 minutes. Defensively, Ataria Franklin created all sorts of trouble for the Lady Vols as she anchored their full court pressure.
Tennessee: Shekinna Stricklen notched another double playing almost the entire game, she is one of the toughest match-ups in college basketball.
Next Up: Tennessee takes on No. 1 Baylor at home on November 27. UVA meets No. 24 Texas in the Waikiki Beach Marriott Resort Showdown on November 25.
Postgame Quotes
Virginia Head Coach Joanne Boyle
On preparation for the game:
"Everybody in that locker room believed we could win that game. That's no disrespect to Tennessee. They're an unbelievable program. But, the way you build a program is to put belief and trust in each other, and that's what this team has done. They've come out every day and worked hard. They've had two great prep days with Tennessee. We talked about exactly what you just said: probably nobody in this building other than the people in this locker room believe we can win this game. It didn't matter because the people in this locker room are the ones that are playing the game. They went out, and they fought for 45 minutes, and they got it done. I couldn't be more proud of them."
On continuing to make big plays in overtime:
"I just saw us mature. I'll be honest in that last five minutes, our seniors took over. I know China's not a senior. She came down and hit some big free throws for us. There was a maturity about us in that last five minutes that they punched and we punched back. They played a chess match; we played a chess match. It's a great opportunity for the kids to be in a game like that and see their growth and get stretched and be able to finish like that. It's only going to help us down the road."
On the growth of the players:
"It's them. I ask them every day to grow and to get stretched. They can tell you: we talk all the time about talking. We talk all the time about intensity. When we have our lulls in practice, we get on them. They're starting to be able to get on each other about that. They understand that if this team's going to be special, that they have to bring it every day to practice. I've been pleased with both our prep and our energy and focus in practice."
On composure during the game:
"We looked really mature. I thought we handled the tempo of that part of the game, too, really well. When we had transition, we took it. When we didn't, we set up. We used clock a little bit. We got the ball in the right peoples' hands down the stretch. I thought they really played a smart game down the stretch."
On Virginia's zone defense:
"I think the biggest thing about our zone is to stay aggressive in it. We just didn't want to give them easy looks at the threes. I thought we covered ground pretty well. We had to make substitutions because they were putting people on the baseline, and kind of screening the back end of the zone. We just covered for each other and stayed aggressive. We tried to make them play as far out as possible. It didn't always work, but we really tried to just push them back and make them play 20 feet away from the basket. Again, it was the girls' intensity. I saw them communicating out there with each other. We changed zones up. We came out of time outs and changed things. We came out of halftime and changed things. We just tried to keep them guessing a little bit."
Virginia Forward Chelsea Shine
On the Virginia program:
"First of all, this game was about heart and preparation, love for each other and commitment to each other. This win just goes to show that the hard work and the program that what we're buying into is worth it and it's real. Everybody on this team is totally sold on what the coaches are trying to do here. With every game, watching our zone and our defense grow like that and become more tenacious like that makes us believe more and more in each other. I think that this only allows us to move forward in our confidence with our zone. We've been a primarily man-to-man team – Ari [Moorer] and I – in the past three years and that's all we've played. To be introduced and to so quickly play our zone like this is a really good confidence booster as we go into a really great opportunity in Hawaii."
Virginia Senior Guard Ariana Moorer
On how this win feels:
"I'm just excited about the win. Chelsea [Shine] and I won at their arena with the same mindset that we played with today and we believed. The key word today was 'believe'."
On her frame of mind going into overtime:
"For me, it was all about the next play. I had my shot blocked – that's fine – but you still have to be in attack mode and I think I did a good job of that. I looked over at Coach and she said 'It's okay. It's all right. Just keep that mentality with you.'"
---
Tennessee Associate Head Coach Holly Warlick
Opening statement:
"Congratulations to UVa, they played a heck of a game. This game was a grind for us, and we played in spurts. So, we preached a lot to our kids about making free throws and turnovers, and that was our demise tonight. We had 24 turnovers, and when you have 24 turnovers that amount to 27 points, that's hard to overcome. It's just a tough loss for us, and we've got to get better. That's the bottom line."
On Tennessee's mistakes:
"Taking care of the ball has been our demise this year. We've worked on that quite a bit in practice, and we've got to carry over what we do in practice to a game situation. We weren't in sync – we needed to penetrate more. In fact, Glory [Johnson] at times seemed to be the only one on the boards. We just didn't have a good flow about us. We'd make runs and we just couldn't sustain them. I thought that if we got into overtime we would be good and settle down, but we missed layups, we missed free throws. You can't beat a good team on the road if you don't do those things. It's just not going to happen."
On the tempo of the game:
"I thought Virginia controlled the tempo. Our last couple of games have been up tempo – score quick and transition, and I thought they slowed us down quite a bit."
On Tennessee's composure:
"We weren't composed. We didn't get easy shots, the clock ran down, and we could have taken better shots. The sign of a good team is to be composed and get the shots that you want. But I think a lot of it had to do with Virginia and what they were doing defensively. Give them the credit, they worked hard, they contested every shot. We just didn't handle it at times. They were ready to play and we weren't."
On the personality of Virginia under head coach Joanne Boyle:
"I thought their team had a lot of energy, they had a lot of confidence. I think through Joanne and her coaching style, they had a great game plan and they did what she asked them to do. I don't think they got rattled, they stayed within their game and their game plan. It was a great win, those kids deserve a lot of credit. They played hard and when they needed buckets they hit baskets, when they needed stops, they did that as well."
Tennessee Forward Glory Johnson
On the game:
"I think everyone just made a lot of little mistakes, and as the game was going on they just got bigger and bigger and bigger. We weren't really getting back and we weren't really communicating with each other. It got really quiet on the floor. When we make mistakes, whether it's your fault or not, we have to communicate with each other. It was a little too quiet on the floor."
On going against Virginia's zone defense:
"We just tried to get into the gaps. I know I tried to find the gap and tried to get open. I tried to post up whenever I could. We just tried to reverse it back and forth. We got some open looks, but we have to knock them down."
Tennesse Guard Shekinna Stricklen
On Tennessee's communication:
"I think that was a big key. We didn't communicate very well. That has been a problem for us. If our offense is not going, we tend to shut down, and that is something we need to turn around. On the court we have to make sure we are on the same page."
On rebounding in the second half:
"It finally caught up with us. We were struggling in the first half. What we do in the second half, we have to do in the first half. We have to really bring energy from the start. We have to go to the boards from the start. We have to bring our defense from the start of the game and not just in the second half."