Top teams go head-to-head in WNIT Preseason Tournament Finals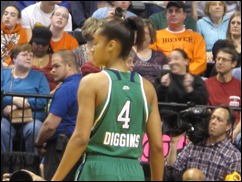 Baylor [#1/1 (3-0)] vs. Notre Dame [#2/2 (3-0)] Sunday, Nov. 20, 2011, 1 p.m. CT
Waco, Texas, Ferrell Center (10,284)
TV: CBS Sports Network
No. 1 Baylor hosts No. 2 Notre Dame this afternoon in the finals of the Preseason WNIT. The showdown in Waco will be only the second meeting between the two teams. In their last matchup December 1, 2010 in Waco, Baylor beat the Fighting Irish 76-65 with five Lady Bears scoring in double digits.
Notre Dame is 3-0 on the season with Preseason WNIT home victories over Akron (81-61), Indiana State (99-34) and Hartford (98-43). Baylor also comes into the game undefeated at 3-0 with a 80-53 win over No. 22 UCLA on Thursday, a 82-28 win over the visiting Howard Bison and a defeat of Chattanooga at home, 91-31, on November 13.
Game Notes
Five Notre Dame players are averaging double-digit scoring. They are led by junior point guard Skylar Diggins' 19.0 points per contest. Kayla McBride, a sophomore guard, averages 15.0 per game while senior guard Natalie Novosel scores 14.3, freshman forward Marisha Wright comes off the bench to score 10.7 a contest and Devereaux Peters, a senior forward, manages 10.3 an outing.
The Lady Bears are 7-2 in Preseason WNIT contests, losing in the second round in 1998 to 20th-ranked Florida (70-58) and to 12th-ranked Purdue (69-55) in the 2006 championship game. Since that loss to Purdue, Baylor has won 50 straight non-league home games.
The Lady Bears are led by junior post Brittney Griner's 19.7 points and 11.7 rebounds. Also managing double-digit scoring averages are sophomore guard Odyssey Sims (18.3) and junior post Destiny Williams (12.3). Williams follows Griner in rebounding with 8.0 a contest.