UConn concludes preseason with dismantling of Pace Setters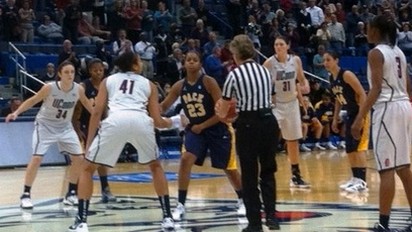 The women's basketball season is beginning and teams are working the bugs out of their systems with their final pre-season games. Such was the case last night when the Connecticut Huskies took on Pace University at the XL Center in Hartford.
Pace's nickname is the Setters, and for the first half last night, they lived up to it, setting the pace with a solid zone that forced the more athletically gifted UConn into a slower game than they would have liked. Still, by using the height of sophomore center Stefanie Dolson and freshman post Kiah Stokes, the Huskies took control, opening up a 36-21 first half lead. Dolson started the game three of three from the floor, and had nine at the break. Senior Tiffany Hayes led the Huskies with ten, but Stokes' seven rebounds may have been the most impressive stat of the half.
The UConn coaching staff showed their unhappiness with the team at halftime, as the Huskies retook the floor early and came out with intense defensive pressure. Pace could not keep up and committed a few shot clock violations. Overall Pace ended the game shooting 23.7 percent from the floor, with only Maral Javadifar scoring in double figures.
Freshman Brianna Banks was especially impressive on defense, where she showed no signs of the advertised injured ankle. She has "quick feet" and balance that are impressive for someone so young.
"They tell me a lot I'm the quickest one on the team," said Banks after the game. "They pretty much let me know my role is defense, so that's all they prod me with is defense, defense, defense all day in practice."
Both Banks and Stokes showed they will earn minutes in Sunday's season opener.
Hayes turned it up offensively in the second half as well and, along with fellow guards Bria Hartley and Banks, showed a slashing style that will take advantage of the big screens of Dolson. All three guards ended up in double figures, led by Hayes with twenty-four. Despite six turnovers, Hartley had sixteen points and eight assists.
Unfortunately the rest of the post depth remained cloudy, as both Heather Buck and Michala Johnson did not show the consistency Geno Auriemma is looking for. Stokes may be the temporary answer.
"Kiah has a lot of natural ability," said Auriemma said. "She hopefully will learn how to use it on a consistent basis."
The Huskies kick off the regular season on Sunday at 2 p.m. ET at Gampel Pavilion versus Holy Cross, the perennial season opening opponent.