2011 Year in Review: Changing the landscape and breaking down barriers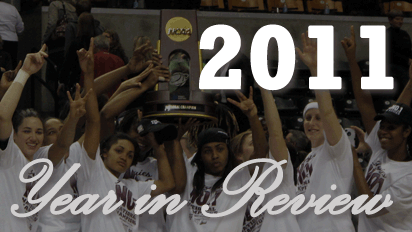 [display_podcast]
David Siegel and former WNBA executive Angela Taylor review the year. Taylor is currently the president and CEO of NetWorks Sports Consulting.
In compiling a list of people that impacted women's basketball in the year 2011, one word kept coming to my mind to describe them: awareness.
In their own way, each person on the list impacted the game, changed the landscape and/or broke down a barrier. In other words, they made us aware. So without further delay, here is the list of individuals that opened our eyes in 2011:
Pat Summitt – Does this really need an explanation? The winningest coach in women's basketball continues to teach not only her players, but us all, and does it with style and grace, as she takes on the SEC while dealing with her condition. She has inspired countless people led to many more researching Alzheimer's and finding out more about this disease. The story is still unfolding, and will surely be an important part of 2012.
Laurel Richie – The new President of the WNBA did not play the game, but she was a girl scout. Seriously though, Richie brings to the table a rich marketing background that will surely further push the league into various places and areas needed to grow the game and stabilize it even more.
Maya Moore – The new kid on the block was everywhere. Rookie of the year, WNBA champion, ESPN guest, and perhaps most important, the first woman baller signed by the Jordan line. She is polite, charming, and can really play: a WNBA marketers dream.
Tamika Catchings – WNBA MVP. Finally, the nicest player in the league gets the award going to the Most Valuable Player in the league. Every now and then it is nice to see someone that deserves it succeed.
Skylar Diggins – Meet the darling of social media, a dynamite point guard who loves to talk hoops. She took Notre Dame to the finals last year, blew up everyone's twitter timeline with tweets from Lil' Wayne and more, and has been featured in almost every major sports periodical. Will 2012 bring a national championship?
Teresa Edwards and Tara VanDerveer – These two legends deserve to be included together as they entered the Naismith Hall of Fame together in 2011. Here is hoping that the inclusion of these two, who women's basketball fans knew deserved it, will lead to the inclusion of other deserving women.
Kurt Budke and Miranda Serna – Tragically these two bright, rising stars in the coaching world were taken from us all, reminding us of the frailty of life, and the difficult, sometimes painful lives coaches must lead. Hopefully, we will not ever have to honor someone like this again.
Lindsay Whalen – Seimone Augustus may be WNBA Finals MVP but Whalen was the face of the champion Lynx, a local product and publicist's best friend. She was all over the papers, all over the radio, all over the MVP discussion for most of the season, and made everyone realize there is another great point guard in the Western Conference.
Brittney Griner – She has Baylor on top of the polls, and she has not dunked yet this season. Griner has proven to be so much more than just a defender and dunker, and her decision to join USA Basketball this summer may have changed the future of international competition for years to come.
Gary Blair – A southern gentleman did not just knock on Geno and Pat's door, he knocked it down with in your face defense and a three-point shooting post that dominated the NCAA finals. Texas A&M will move to the SEC after this season, but that is a discussion for next year.
There are plenty of others we could have included, and I'm sure some of you have read this list and said "what???"  But the one thing it should do is make you….aware.
Happy new year, and may you all have a healthy, prosperous and successful 2012 filled with great basketball moments and achievements!