Dishin & Swishin December 1, 2011 Podcast: Novosel, Hayes & Doty – How far can they take their teams?
This week's edition features a podcast and video. Enjoy!
[display_podcast]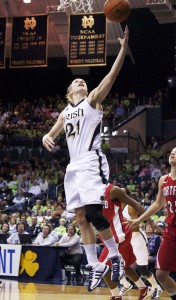 Veteran leadership on and off the court. Offense, both by spot up shooting and slashing to the basket. Defense and intangibles. That is what experienced guards are supposed to bring to the table, when your team is supposed to be a national power.
Notre Dame went to the championship game last year before dropping a heartbreaker to Texas A&M. Connecticut was in the Final Four last year and won the championship the year before. They are two of the top programs in the country. This year both are legitimate Final Four candidates again. While other players may get more headlines, it is Natalie Novosel at Notre Dame, and the combination of Tiffany Hayes and Caroline Doty at UConn, that may be the difference makers.
Nicknamed "Nasty" for her shooting and passing ability in high school, Novosel had a fairly average first two years at Notre Dame, averaging only five points per game. That changed last season, when the Big East's Most Improved Player tripled her output to just over fifteen points per game, leading the team in scoring. She started every game, and then capped things off with a gold medal on the USA World University Games team.
Novosel is a leader who doesn't need nor want the spotlight on her, she's happy to let Skylar Diggins get the tweets and the press. All she wants to do is win, and she put an exclamation point on that fact with her three-quarter court rush and bank shot at the buzzer to defeat seventh ranked Duke over the Thanksgiving holiday. If Notre Dame is to return to the finals, Novosel will be a big part.
UConn is used to being at the top of the polls and they usually have an All-American or two leading the way. This year's team has a different make up, with no one as the dominant talent. Each night it can and most likely will be someone different leading the team in the various statistical categories. Perhaps the two most important players on the team though, have been roommates, teammates and friends for three years now. Tiffany Hayes is a senior on the court, Caroline Doty is a junior due to her myriad of knee injuries. Both came into the season with questions to be answered. Could Hayes improve her consistency? Would Doty be the same after ACL surgery?
Both have answered the critics thus far and the Huskies are undefeated heading into a big game Tuesday versus defending champion Texas A&M. There is a bond between them that is different from other teammates, it becomes apparent when you see (or hear) them together. Like Notre Dame will need Novosel, UConn will need this pair to thrive if they hope to return to the top of the polls.
Enjoy the podcast and video, and don't forget to follow us on Twitter at @hoopfeed and @DishNSwish