Dishin & Swishin December 8, 2011 Podcast: Jimmy V & Maggie Dixon with ESPN's Carol Stiff, Green Bay & Toledo face off tonight, Bollant & Cullop discuss their teams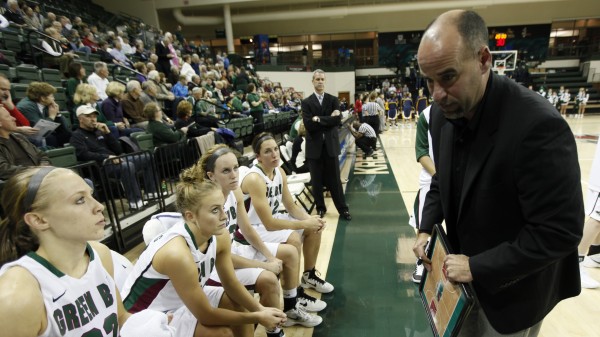 [display_podcast]
The weather is getting colder, so the basketball is getting hotter! NCAA women's basketball teams are fully into their seasons now, and in some cases, conference play started. We have a Dishin & Swishin podcast for you today that covers two interesting elements of the game; ESPN's coverage of events, and a battle between two mid-major powers tonight.
It is always nice when there are events planned that cover a nationwide audience, and promote things that are more important than just the game on the court. Besides giving us marquee names facing off the Jimmy V and Maggie Dixon Classics are just two events that seek to educate and enlighten in addition to entertain. One of the driving forces behind these getting the national coverage they seek is Carol Stiff of ESPN. As the vice president, programming & acquisitions, in ESPN's programming department, Stiff's responsibilities include the programming acquisition and scheduling for a variety of sports on ESPN, ESPN2 and ESPNU, including women's NCAA basketball, the NCAA Women's Basketball Championship, and the WNBA. This week we discussed the two events, what goes into team selection, getting coverage of the women's game on ESPN's family of networks and ESPNW, and more. If you've ever wanted a glimpse behind the curtain, this is your chance.
Tonight there is an important game between two talented mid-majors, as Green Bay under coach Matt Bollant will go to Toledo and take on Tricia Cullop's Rockets. Green Bay is a fun story, a program that won more than 30 games last year, advancing to the Sweet 16. They have won an amazing amount under Bollant, dominating the Horizon League, and are fast climbing the national polls this season. They have a chance to go far in the N.C.A.A. tournament, and Bollant knows they are a special team. Things are a little tougher for Toledo now, last year's WNIT champion. They recently lost star guard and captain Naama Shafir to an ACL injury, but the remaining teammates have really picked up the slack. Cullop still has the team ranked in the mid-major top five, and tonight they defend their twenty game home winning streak.
Part of what makes this game so interesting is the fact these are two strong mid-majors from different conferences playing a home and home series in the same season. This is in part because they cannot get the larger, BCS schools to play them, especially on in Green Bay or Toledo. As Cullop said during our interview, they are on the "do not play" list, because the bigger school don't want to risk being upset by one of these mid-majors. So unless the Phoenix and the Rockets wants to play on the road all the time, they cannot schedule those games, and even then it's difficult to find opponents. It's a fascinating topic that needs to be addressed further by NCAA basketball.
Enjoy the podcast and video, and don't forget to follow us on Twitter at @hoopfeed and @DishNSwish! And subscribe from within iTunes!