Preview: No. 2 UConn home streak on the line, Huskies host No. 8 Texas A&M plus around the Web coverage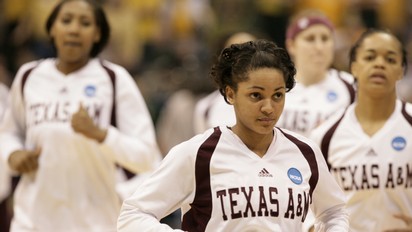 #8/4 TEXAS A&M (6-1) vs. #2/2 CONNECTICUT (7-0)
Series History: First meeting
TV: ESPN2/ESPN3.com, Dave O'Brien (play-by-play), Doris Burke (color analyst) and Rebecca Lobo (sideline reporter)
Gametracker live stats
Audio: UConn Radio Network, WHUS Bob Joyce (play-by-play) and Kara Wolters (color)
Jimmy V Foundation
No. 2 UConn, well rested after a five-day break, hosts the defending national champions, No. 8 Texas A&M (6-1) tonight at 7:05 p.m. in the 10th annual Jimmy V Women's Basketball Classic at the XL Center in Hartford. It is the first-ever meeting between the two teams.
The Aggies who are in the middle of a five-game road trip, are coming off a loss at No. 13 Purdue. The loss ended their 12-game win streak dating back to last year's championship run. In the history of Texas A&M women's basketball, No. 13 Purdue and No. 2 UConn are the highest-ranked opponents the Aggies have ever faced consecutively on the road. They look to break UConn's NCAA-record 90-game home winning streak.
The Huskies last game was a rout of Towson, 92-31, the end of a six-day four-game run.
Four Aggies are averaging double figures this season with Big 12 Preseason Newcomer of the Year Kelsey Bone leading the way with 13.4 points per game. She is followed by senior forward Adaora Elonu with 12.9 points per game, Tyra White contributing 12.4 points per game and senior guard Sydney Carter averaging 12.3 points per game. Bone is also the team's leading rebounder with 6.9 rebounds per game.
UConn is led by freshman forward Kaleena Mosqueda-Lewis who is averaging 16.3 points and 5.9 rebounds per game. Mosqueda-Lewis earned her third consecutive Big East Freshman of the Week honor on Monday. Sophomore Bria Hartley is the second leading scorer for the Huskies at 15 points per game and shooting a team-high 57 percent from the field.
Head Coaches
Texas A&M
Gary Blair, Ninth Season
Texas A&M Record: 194-80 (.708)
Career Record: 602-243 (.712)
Connecticut
Geno Auriemma, 27th Season
UConn Record: 778-124 (.863)
Career Record: 778-124 (.863)
Aggie women look to bounce back against No. 2 UConn (AggieSports.com)
Texas A&M's Gary Blair Says Program Has A Way To Go (Hartford Courant)
Loss is perfect primer for Aggies (espn.com)
Blair, No. 8 Texas A&M no longer an afterthought (The Day)
Jimmy V Classic still a big deal for Geno (New Haven Register)
Doty benefits from time off (New Haven Register)
Geno not look at Texas A&M as the defending champions (New Haven Register)
Defending champion Aggies prep for No. 2 UConn (AP)
Shootaround with Beth and Debbie: Preview Texas A&M-UConn (espnw.com)