Sold out game gives Baylor a chance to match last year's record-breaking crowd when RG3 fired them up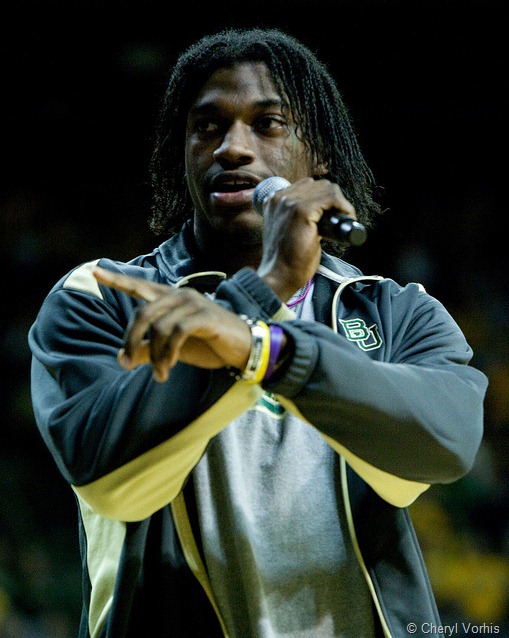 Baylor is having a splendid year so far for fall and winter sports. The women's basketball team has not budged from its position atop polls since the beginning of the season. The volleyball team earned an NCAA berth with former Lady Bear basketball player Melissa Jones on the squad. And, the school's first-ever Heisman trophy winner Robert Griffin III continue to win accolades. Griffin, named the Sporting News' College Football Player of the Year yesterday, is no stranger to Baylor women's basketball. He and other members of men's athletic teams at the school are among the most ardent supporters of the Lady Bears.
Last season, Griffin and his teammates, sat courtside during a historic sellout game when Baylor defeated Tennessee in front of 10,569 fans on December 14, 2010. Baylor's star center, Brittney Griner, blocked a shot of a Lady Vol then turned, smiled and waved to the numerous football players sitting under the basket who were cheering her throughout the contest.

The crowd that evening was the largest ever for a basketball game at the Ferrell Center, women's or men's.
During a timeout, the Texas Bowl-bound football players came out and swept the court. Griffin took the microphone to fire up the crowd.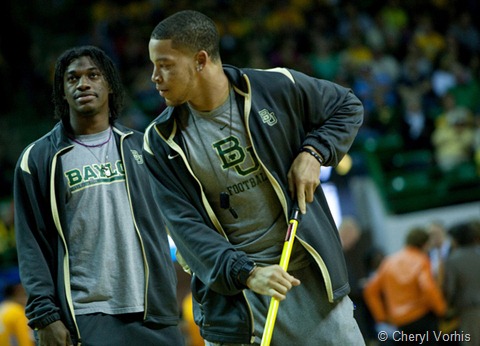 "We're here to support the Lady Bears," said Griffin. "We know you're here to support the Lady Bears. This is our house!"
Unfortunately for the football team that season, they lost to Illinois in their bowl appearance in Houston on December 29, 2010.
Sunday's Lady Bear basketball game against the No. 2 ranked Connecticut Huskies sold out earlier this month giving the program the chance to match last year's record crowd. It is the first time in program history that a game sold out in advance.
Baylor looks to avenge its lost last season to the Huskies. The Lady Bears lost in Hartford 65-64 on November 16, 2010. UConn also won the very first meeting between the two teams earlier that year during the 2010 Final Four in San Antonio, beating Baylor 70-50 on April 4, 2010.