Thursday recap: No. 24 Delaware beats Princeton, Big Ten/ACC Challenge ends in a draw, TCU's whopping run, rebounding leaders
Battle of the Unbeaten Mid-Majors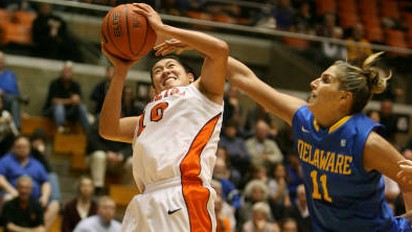 No. 24 Delaware 81, Princeton 70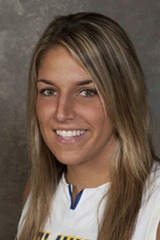 In their first game after being ranked in the Associated Press Top 25 for the first time in program history, Delaware (5-0) went on the road yet remained undefeated after taking down Princeton 81-70 at Jadwin Gym. The Tigers (6-1) came into the contest on a winning streak but had an uphill battle in going up against Delaware junior forward Elena Delle Donne, the nation's scoring leader (30.3 ppg).
The Blue Hens exacted revenge for a 68-50 loss to Princeton last season. That defeat ended Delaware's 5-0 winning streak at the start of the season. Delaware leads the series 14-8.
Thursday night, the Blue Hens jumped out to a 14-0 lead and never looked back. Delle Donne scored 32 points, pulled down nine rebounds and made five blocks. Blue Hens starting guards Trumae Lucas and Akeema Richards combined for 22 points. Junior forward Danielle Parker added 11.
"We have a good thing going right now," said Delaware head coach Tina Martin. "We have a pretty good basketball team and we just want to get better."
At the half Delaware led 46-26 but Princeton fought back to close the gap the ten points in the final minute after their star player Niveen Rasheed made a layup. Rasheed finished with 20 points for the Tigers. Lauren Edwards led Princeton with a season-high 23 points, including 4 for 8 three-point shooting.
"We would defend well for 28 seconds, and they would get something right at the end," said Princeton women's basketball Courtney Banghart. "Usually when you play defense for 28 seconds, you're okay. Possession after possession, they would get something right at the end."
Delle Donne indicated that the win would help her team mentally but also that they still have work to do on the court.
"This win was really a confidence booster," said Delle Donne, when asked about what it meant to handle Princeton. "We still have a lot to work on. We will learn as the season goes on that we can be a great team and we shouldn't be surprised to beat a great team like Princeton. I think in the back of our heads we were feeling a little pressure (because of the Top 25 ranking) because we know teams will be coming after us. This is a big win going forward for us."
Big Ten/ACC Challenge Action
The Big Ten and ACC each won six games in the 2011 Big Ten/ACC Challenge, ending the series in a 6-6 draw. Illinois gave the conference the sixth win of the challenge with a victory over Clemson.
Illinois 61, Clemson 50
Virginia 65, Indiana 49
Wake Forest 82, Minnesota 65
Miami 76, Michigan State 60
Duke 64, Purdue 53
No. 7 Duke 64, No. 13 Purdue 53
The youngsters on No. 7 Duke's squad took the reins Thursday night to help the Blue Devils beat No. 13 Purdue 64-53 in a Big Ten/ACC Challenge matchup. Duke (5-1) shot poorly but rebounding, especially from first-year player Elizabeth Williams, made the difference. Williams finished with nine points and 18 rebounds setting the Duke freshman record for rebounds in a game.
Duke led 30-28 at the half after a basket from guard Chelsea Gray.
Haley Peters led Duke scorers with 14 points and pulled down eight rebounds and Chloe Wells added 13 points.
Courtney Moses led Purdue (6-1) with 17 points to lead Purdue and Brittany Rayburn added 16. Purdue fell to 0-5 all-time the Big Ten/ACC Challenge.
No. 9 Miami 76, Michigan State 60
Junior forward Morgan Stroman led Miami (6-1) to 76-60 win over Michigan State (5-3). Shenise Johnson contributed 13 points to the Canes victory and Stefanie Yderstrom added 11.
Senior point guard Riquna Williams suffered a left knee injury near the end of the first half. She did play briefly in the second half. Williams had nine points.
TCU goes on the road and crushes Houston with unbelievable run
In a lopsided game between mid-majors, Houston (0-7), a team which had a very successful 2010-11 season, fell to TCU (3-4), 80-35, at Hofheinz Pavilion. After trailing 6-1 early in the game the Horned Frogs took over and dominated on every front and finished out the game on a 79-29 run.
Briesha Wynn led TCU with a season-high 13 points on 6-of-11 shooting. Chelsea Prince had 12 points and Ashley Colbert collected 10 points. Overall, 10 of the Frogs' 11 players scored on in the game.
Houston's Roxana Button had 10 points. The Cougars made 22 turnovers and only collected four assists in the entire game. They have not won a game all season.
The Frogs have now won five-straight over Houston and two-straight at Hofheinz Pavilion.
Other Notable Games
Wake Forest 82, Minnesota 65
Asia Williams, 6-12, 13 Pts, 11 Rebs, 6 Assts
Illinois 61, Clemson 50
Alexis Burke, 12-18, 26 Pts, 5 Rebs
Marist 57, Hartford 51
Corielle Yarde, 6-10, 19 Pts, 5 Rebs,
Virginia 65, Indiana 49
Ataira Franklin, 6-9, 16 Pts, 6 Rebs
James Madison 62, Liberty 58
Tarik Hislop, 10-20, 20 Pts, 2 Rebs, 5 Assts
Kansas 75, SMU 52
Angel Goodrich, 7-11, 15 Pts, 4 Rebs, 8 Assts
Memphis 88, Tennessee St. 64
Brittany Carter, 9-16, 23 Pts, 4 Rebs, 2 Assts
BYU 82, Arizona 73
Kim Parker, 9-15, 25 Pts, 4 Rebs, 6 Assts
Fresno St. 81, Oregon 71
Ki-Ki Moore, 7-16, 21 Pts, 12 Rebs
Leading Rebounders for games through November 27, 2011
| | | | | | | | |
| --- | --- | --- | --- | --- | --- | --- | --- |
| Rank | Name, Team | Cl | Ht | Pos | G | REB | RPG |
| 1 | Jessica Kuster, Rice | So. | 6-2 | F | 7 | 92 | 13.1 |
| 2 | Ashar Harris, Morehead St. | Jr. | 5-9 | F | 6 | 77 | 12.8 |
| 3 | Amanda Johnson, Oregon | Sr. | 6-2 | F | 6 | 73 | 12.2 |
| 4 | Nikki Byrd, Ole Miss | Sr. | 6-4 | F | 5 | 60 | 12.0 |
| | Erika Jones, UCF | So. | 6-2 | F | 5 | 60 | 12.0 |
| | Kristina Santiago, Cal Poly | Sr. | 6-1 | F | 4 | 48 | 12.0 |
| 7 | Chelsea Poppens, Iowa St. | Jr. | 6-2 | F | 5 | 59 | 11.8 |
| 8 | Laura Broomfield, North Carolina | Sr. | 6-1 | F | 4 | 47 | 11.8 |
| 9 | Julie Forster, Albany (NY) | Jr. | 6-0 | F | 6 | 70 | 11.7 |
| 10 | Kylie Kuhns, Sacramento St. | Jr. | 6-0 | F | 6 | 69 | 11.5 |
Source: NCAA