Top Teams win, North Texas halts Oregon State streak, Tulane beats Louisiana Tech for first time ever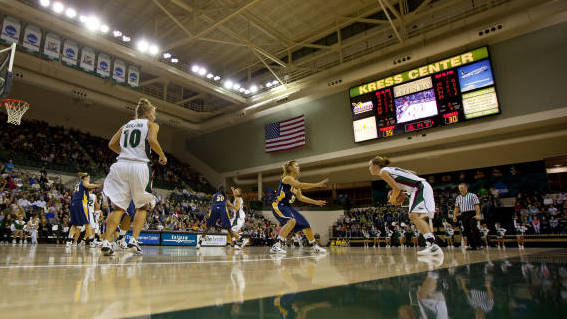 No surprises in Top 25 Action
No. 3 Notre Dame 69, Pennsylvania 38
Penn (4-2) had its hands full in taking on No. 3 Notre Dame (6-1) in South Bend Friday night. The Fighting Irish hosted an Ivy League school for the first time in program history. The two teams had not met for thirty years and Notre Dame came out on top 69-38 in just the second meeting between them. Devereaux Peters led the Irish with 16 points. Natalie Novosel scored 14 and Kayla McBride added 10 points plus nine rebounds.
The win was the third 30-point or more win for Notre Dame this season.
No. 11 Rutgers 63, Florida 49
No. 11 Rutgers 8-0 solidified its top 25 position with a 63-49 win on the road over Florida 6-2. The Scarlet Knights have not started the season 8-0 since 2005. Four Scarlet Knights scored in double-figures led by Erica Wheeler who had a team high 15 points. Monique Oliver earned a double-double with 13 points and 10 rebounds. April Sykes also had 13 points and Betnijah Laney contributed 10.
The win over Florida snapped a six-game win streak for the Gators. The game was close at the half with Rutgers only leading by four, 24-20.
The win marked the fifth time in program history that the Rutgers started the season 8-0 and second time under head coach C. Vivian Stringer. (2005-06; 8-0), (1990-91; 13-0), (1986-87; 23-0) and (1983-84; 8-0).
No. 23 Wisconsin-Green Bay 66, Marquette 50
No. 23 Green Bay (6-0) exacted revenge in defeating Marquette (4-4). The Phoenix lost to the Golden Eagles last season on December 10, 2010 in their only defeat of the regular season. After a slow start on their home floor, Green Bay ended the game on a 19-5 run after leading at the half by one point, 29-28.
Adrian Ritchie led her team with 15 points, 10 of them in the second half. Double-double performances came from Julie Wojta (12 points, 12 rebounds) and Lydia Bauer (12 points, 10 rebounds).
"Marquette is an aggressive team and we just needed to adjust and slow things down a bit because we were rushing things offensively," Wojta said of Green Bay's first half performance. "We have a good offense but were not always making the easy pass and running things like we usually do and that's something we discussed at halftime."
No. 25 Vanderbilt 77, Denver 56
Vanderbilt (8-0) remained undefeated after shutting down Denver (5-2) led by a 21-point performance from sophomore guard Christina Foggie. She shot 61.5 percent from the field (8-13) and hit 6-9 from three-point range.
Junior guard Elan Brown scored 13 points and grabbed nine rebounds. Freshman Kady Schrann and sophomore guard Jasmine Lister both contributed ten points each. Lister also dished out four assists.
Oregon State falls to North Texas, Mean Green ends 23-year drought against Pac-12
North Texas (5-2) beat previously undefeated Oregon State (5-1) 60-53 at the Hackerman Invitational in Houston. It was the first time the Mean Green beat a Pac-12 (formerly Pac-10) school in 23 years. UNT earned a home victory against Washington State on December 30, 1988.
Brittney Hudson led UNT with 16 points.
With five wins this season, North Texas matches its total from 2010-11. Mean Green player senior Tamara Torru is the SunBelt Player of the Week. She scored 20-plus points in back-to-back games for the first time in her career in the week leading up to the honor.
The Mean Green take on the victor of the Rice/Texas A&M-Corpus Christi game at 7 p.m. ET on Saturday, December 3, in the championship of the Gene Hackerman Invitational at Tudor Fieldhouse.
Tulane continues its Louisiana reign, beats Louisiana Tech for the first time
Tulane earned another victory against an in-state rival with a victory over Louisiana Tech on Friday night. The Green Wave traveled to Ruston on Friday and handed the Lady Techsters their fifth loss of the season. With the win, Tulane earned their first-ever victory over the Lady Techsters. The series is now 8-1.
"Being at Tulane for as long as I have and seeing Louisiana Tech and where they were, I think it's significant for us," said head coach Lisa Stockton before the game. "We've been able to defeat a lot of opponents but that's one that we haven't been able to get. It is a tough place to play and we've got to be ready for the challenge. They get a great fan base, they're tough at home so it's certainly going to be a challenge."
Junior guard Olivia Grayson led her team with 19 points and senior center Brett Benzio had a double-double with 16 points and 16 rebounds.
"I didn't think we could really hold them to a low number scoring and we did tonight," said Stockton. "Brett Benzio had a great night. She changed their shot, she scored and she really gave us some consistency in that second half. I thought the she had a couple of other blocks in there that were called fouls. It could have been a triple-double for her tonight."
Full Results || Yesterday's News Digest
Lady Bears Sell Out UConn Game
The December 18 game between No. 2 UConn and No. 1 Baylor in Waco is sold out. It is the first advance sell out in program history for the Lady Bears.
The contest will be televised by ESPN. Tip time is 7:30 p.m. CT. The women's 2011 Final Four crew of Dave O'Brien, Doris Burke and Rebecca Logo will call the game
Last season the then No. 1 Huskies defeated No. 2 Baylor, 65-64 in Hartford.