Dishin & Swishin January 12, 2012 Podcast: Top assistants Gary Kloppenburg & Carol Ross join the WNBA head coaching ranks
This week's guests include Gary Kloppenburg, Carol Ross, Debbie Antonelli and LaChina Robinson.
[display_podcast]
Remember Michael Adams? Dave Cowens? Henry Bibby? Muggsy Bogues?
Success breeds imitation and the success of former NBA players Bill Laimbeer and Michael Cooper as WNBA coaches led to a plethora of disastrous choices that now is a fraternity of ex-NBA players/ex-WNBA coaches.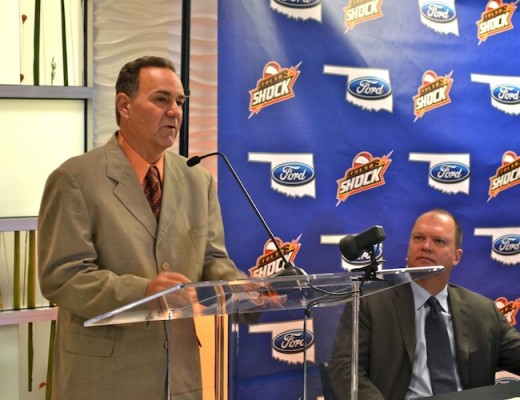 Which brings us to the last two weeks. Maybe it has taken ten years, but as independent ownership and management began to gain more of a foothold in the WNBA it seems that those management teams are beginning to realize that there are quality coaches for hire without bringing in NBA (or in the case of the Tulsa Shock, college) retreads.
The Shock made headlines January 4 with the hiring of former Indiana Fever assistant coach Gary Kloppenburg as their new head coach. Voted as the top assistant coach in the league in 2011, Kloppenburg brings to the team an extensive resume of WNBA experience, notably under very successful Fever coach Lin Dunn, both in Indiana and in Seattle. Coach Klopp appears at first glance to be just what the Tulsa franchise needs: a defensive-oriented coach who has earned respect as a coach due to success and experience. Just talking to Kloppenburg, he knows that he does not have an easy job here; the Shock have been unsuccessful on the court and need to become more successful off the court as well.
Still, the cupboard is not bare, with young players like Liz Cambage and Kayla Pedersen plus a lottery pick this year. It will be interesting to see how successful he will be trying to lure free agents to Tulsa, something that has not yet happened since the move from Detroit by this franchise. To get a feel for the coach, not only does this podcast have my interview with Kloppenburg but also the thoughts of Fever color analyst Debbie Antonelli who has seen the work of the coach up close from her vantage point at the media table.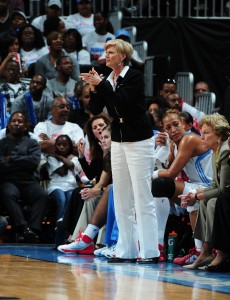 A day later, the Los Angeles Sparks turned the page on ex-NBA players by moving from the Cooper/Bibby/Joe Bryant ranks with the hire of ex-Atlanta Dream assistant coach Carol Ross. A very successful college head coach, Ross helped produce WNBA players like DeLisha Milton-Jones, Murriel Page and Armintie Price. She has been instrumental in the Dream's rapid rise to the top in the east and each of the last few years was rumored for each head coaching job.
Ross earned her reputation as an outstanding game coach and strategist often taking the lead in Dream huddles during timeouts. Ross likes to turn around programs. She has successfully led or been a major part of the resurgences of Florida, Mississippi and the Dream and will look to bring the Sparks back to the top of the west. We discuss this in the podcast as well as her feelings on coaching a veteran team after the youth of Atlanta, colleges and much more.
To give you a feel from the sidelines about Ross, I also spoke to Atlanta Dream color analyst LaChina Robinson on her thoughts about Ross, what she will bring to the Sparks and the loss to the Dream.
Back to back WNBA podcasts in January! Who would have expected it and we still do not have the schedule release! Enjoy!