Huskies continue streak of MLK Day blowouts versus ACC with 86-35 defeat of North Carolina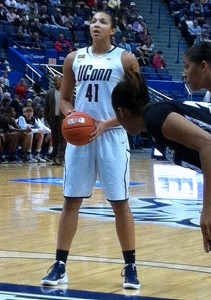 Note to ESPN: maybe you want to try a different formula for the women's basketball game you broadcast nationally on Martin Luther King Day.
2009 – UConn defeats North Carolina, 88-58
2010 – UConn defeats Duke, 81-48
2011 – UConn defeats North Carolina, 83-57
2012 – UConn defeats North Carolina, 86-35, the worst loss in Tar Heels history.
Are you getting the idea that maybe UConn versus an ACC opponent may not be the best idea for a close game?
Even though the Huskies came into the game with a 2-2 record versus ranked opponents, those two opponents were Baylor and Notre Dame, ranked one and two in the country. In the final game of the UConn-North Carolina series, a UNC team recovering from injuries and a defeat at the hands of Clemson, turned out not to be the matchup people had hoped for, especially coach Sylvia Hatchell.
"I thought we would give them a better game. I know they are a great team, but I am disappointed that we didn't give them a better game because I thought we would. I thought we would handle their pressure a little better than we did, and inside I thought we would score a little bit better and we didn't do that either."
The 9,221 in attendance knew it was going to be a long night for the Tar Heels when the game started with all five starters on Connecticut scoring in succession. A Caroline Doty layup off blown coverage was followed by a Stefanie Dolson foul line jumper, a Tiffany Hayes slashing drive, a Kelly Faris three, and topped off by a beautiful spin move layup by Bria Hartley.
It was downhill from there, with the Huskies using a five minute, 15-0 run to turn an 11-6 lead at the 16 minute mark into a 26-6 lead with 11 minutes to go in the half. From there, it was a 25-5 run to close the first half with a 51-16 lead, and it was time to see what was on the other channels.
The Huskies themselves were even surprised by the explosion.
"You don't expect, going into a game where you are going to play UNC, for there to be a gap in the score like that, said junior Kelly Faris, the only UConn starter not to score in double figures (eight points).
UConn starters shot 56 percent from the floor, and added 25 rebounds and 21 assists. Bria Hartley, who has emerged as the top offensive threat, not only scored a game high 17 points, but contributed eight assists as well. Hartley, criticized by some for a propensity for turnovers, had an outstanding 2.67 assists-turnover ratio last night, as she controlled the tempo beautifully.
Perhaps the most disappointed person in the arena, other than Hatchell, was UConn guard Brianna Banks, who missed out on the fun with an injury. Kiah Stokes, the freshman center who was the recipient of an Auriemma lesson-based benching versus Villanova this past weekend, shined in her 14 minutes, contributing 11 points and 11 rebounds. Stokes admits freely that she has never needed to exert the type of effort required to star at Connecticut.
"In high school I was never pushed to use my full ability. Coming here you never know what to expect, and when I got here it was a huge wake up call. They do everything so much harder and so much faster, and it took awhile to get used to."
There is still a lot of time left in conference play for both teams and Hatchell knows that her team can and will do better than it did last night as the injured players return to form and begin to get more court time together.
"We just had an unbelievable amount of injuries. I don't want to harp on that because I don't want to make any excuses, but we are better than we showed out there tonight,"she said. "UConn, they're great. They've got a lot of great scorers and their system is great. Here, the environment is tremendous. Hopefully this will make us better and make us work harder and be a little hungrier. We beat Miami last week, we had Maryland score at the buzzer to go into overtime, so we know that we can play a whole lot better than we did tonight."