Pac-12 Updates: Oregon State downs USC in overtime, weekend scores and the week ahead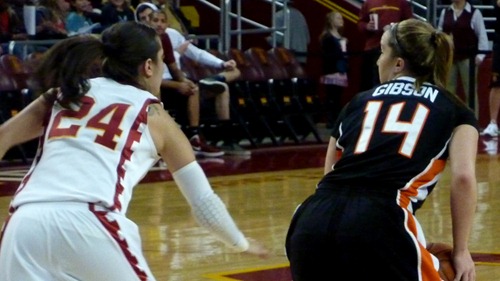 LOS ANGELES – Oregon State outlasted USC in overtime Saturday, 65-61, in a tight game that featured 25 lead changes, four ties and an overtime.
Beaver freshman guard Ali Gibson scored a bucket with 1:42 left in the extra period that put OSU up for good, 63-61. A pair of free throws by Alyssa Martin in the game's final seconds iced the win.
Trojan Ashley Corral lead all scorers with 20 points. Sage Indendi, Gibson and Patricia Bright had 17, 14 and 12 for the Beavers, respectively.
OSU got off to a hot start and built a seven-point lead by the 13:25 mark. USC woke up and began to fight back. But the Beavers did not let up and the lead seesawed eleven more times with neither squad getting more than a three-point cushion. OSU lead 38-34 at the break, having shot 64 percent in the half to the Trojan's 43 percent.
The Women of Troy began the second period on a tear thanks to Corral, who reeled off three consecutive three-pointers in a minute to put her team up by five. But again, the Beavers fired back, and thanks to jumpers by Gibson and Bright, it was 43 all at the 16:25 mark.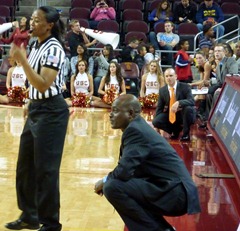 The changing of the leads continued until 8:12 to go, with USC up 52-50. No one scored again until 3:22, when Indendi hit a three-pointer to put OSU up by one. Regulation play ended with the score knotted at 56.
The Beavers struck first in overtime with a Gibson layup. The Trojans went up by one twice, but Corral missed three shots in the final 1:22, and that combined with a Briana Gilbreath turnover and a Stefanie Gilbreath foul put the game out of reach for USC.
OSU shot 46 percent for the game, while the Trojans shot 32 percent. But Corral said offense wasn't the issue for USC.
"We didn't play any defense today," she said.
As in Thursdays game against visiting Oregon, the Trojans started sluggishly. Coach Michael Cooper acknowledged that this contributed to the game's final result.
"It's been a problem and it's one we're going to address as a coaching staff, so we can start stronger," he said.
This week USC heads to the mountains to play Colorado and Utah, while the Oregon schools prepare for the first installment of their annual civil war.
Other Pac-12 weekend action:
Thursday, January 19
No. 4 Stanford 75, Washington State 51
California 71, Washington 47
USC 92, Oregon 73
UCLA 69, Oregon State 60
Arizona State 64, Colorado 43
Saturday, January 21
Arizona State 59, Utah 51
Oregon 83, UCLA 62
No. 4 Stanford 65, Washington 47
Sunday, January 22
Colorado 56, Arizona 54
California 60, Washington State 55
The week ahead
Thursday, January 26th (times PT)
UCLA at Utah
6:00 PM
USC at Colorado
6:00 PM
Arizona at Washington
7:00 PM
Arizona St. at Washington St.
7:00 PM
Saturday, January 28th
Arizona at Washington St.
1:00 PM
Arizona St. at Washington
2:00 PM
California at Stanford
2:00 PM
USC at Utah
2:00 PM
Oregon at Oregon St.
4:00 PM
Sunday, January 29th
UCLA at Colorado
1:00 PM
Tuesday, January 31st
UC Santa Barbara at USC
7:00 PM
Thursday, February 2nd
California at Arizona
6:00 PM