A Dishin & Swishin special: Carol Ross has a Sparks team to suit her style
[display_podcast]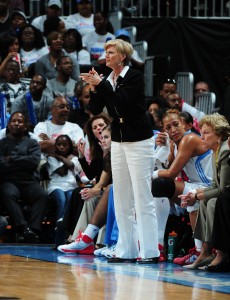 When I spoke to new Los Angeles Sparks coach Carol Ross on January 12, 2012, questions abounded. The Sparks' roster contained players like Ticha Penicheiro, Tina Thompson, Noelle Quinn, LaToya Pringle and Natasha Lacy. Just over two months later, I have spoken with Ross again, only now, those five have been replaced by Marissa Coleman, Alana Beard, Nicky Anosike, and Sharnee Zoll.
Still to come is the number one draft choice in this year's college draft, most likely Nneka Ogwumike.
No, the Sparks are not trying to rebuild the 2011 Mystics in Los Angeles (Beard, Anosike and Coleman) and no, they aren't trying to re-assemble the 2005 USA U19 team Ross was an assistant coach on (Coleman, Zoll and Anosike), although that one did win a gold medal.
What General Manager Penny Toler has done is work on giving Ross the kind of team that fits her system, and coaching personality.
Ross is known for her defensive style and up tempo offense from her days as head coach at Ole Miss and assistant coach with the Atlanta Dream. While there are definitely question marks that go with each of the acquired players, there is no denying that if healthy and playing well, they fit Ross' system very well.
The biggest gamble obviously is Beard. She missed much of the last two seasons due to lingering injuries, and the Mystics decided they had enough and let her walk away as an unrestricted free agent. When healthy, she is an elite guard. A defensive stalwart with a lot of offensive skills, she could be Ross' new Armintie Price, filling the physical, aggressive defensive leader role Price has in Atlanta.
Anosike proved that she could be a strong presence alongside Candace Parker while they were at Tennessee, and she hopes to return to the All-Star form she had a few years ago. She also has missed time through much of her career with some injuries, but if she can stay on the court, along with second year center Jantel Lavender, they form a potentially solid center rotation.
Coleman may benefit from a move to the west coast. A talented swing player, she has never achieved the greatness predicted for her in the WNBA since leaving Maryland as a lottery pick. Multi-talented, she needs to develop some consistency in her game. An understated quality Ross brings is her teaching ability, and she will push Coleman to achieve the most of her potential. Should she be able to do this, there are ample minutes for Coleman at the small forward position in Los Angeles.
Zoll may be the most important addition and the most difficult to project. Rarely has been there as much buzz around an American player who has not played in the league for any length of time. Due to her overseas performances, plus her success as a distributor in college, it is expected that Zoll could step right in and be the starting point guard of the Sparks. Ross is familiar with her game from coaching her on that U19 team, and with Beard and returning Kristi Toliver, could form one of the better three guard rotations in the league.
Those four newcomers, and that number one pick, will join forces with in particular returning star Candace Parker, Toliver, Lavender, forward Ebony Hoffman, and consummate veteran team player DeLisha Milton-Jones to form a contending team out west, if healthy.
I talked to Ross right after the Sparks signed Zoll and acquired Anosike. We discussed all the additions and subtractions, overseas production of the Sparks' players and more.
Catch up with Coach Ross, and enjoy this special edition Dishin & Swishin podcast.