Alana Beard "thrilled" to be with the Sparks, Ticha Penicheiro still undecided about 2012 season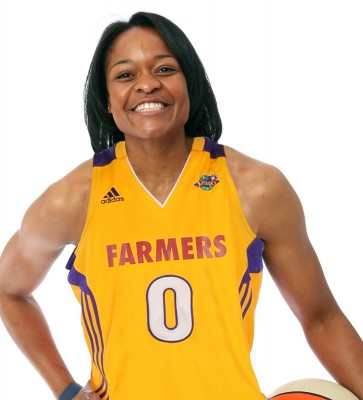 The Los Angeles Sparks added an important piece to their mix this week in acquiring veteran guard Alana Beard, but the rest of the picture has yet to be painted.
Beard, who the franchise signed Wednesday, said she is thrilled to be with the Sparks. Head coach Carol Ross and general manager Penny Toler said Beard is an integral part of a team that has yet to take full shape.
"She's a high energy, very committed, passionate, enthusiastic player," said Ross. "I love people who love to play the game, and Beard has always brought that. She plays both ends of the floor. I feel very fortunate I'll be able to coach her."
Beard missed the 2010 and 2011 seasons with ankle and foot injuries. She said she tried to come back several times, but she was never 100 percent. Finally she realized she had to "shut it down and let it rest." But, she diligently attacked her rehabilitation.
"(The injuries) were not something I dwelled on – I just did the work," said Beard. "I learned a lot of life lessons from it."
She began playing for Elitzur Ramla in Israel last month and said she feels great.
"When I started to play, I felt like I hadn't been away"
Ross said the acquisition of Beard fits into her plans to vastly improve the Sparks' defense.
"I don't think anybody has ever questioned the Sparks ability to score points," said Ross. "I think they have done that about as well as any club in the league, so it's just about shoring up the defense a little bit. Certainly, when you add Alana Beard into the mix you have not only added one of the best defensive players in the league, but a complete player."
The Sparks get the number one pick in the 2012 draft, as well as the 13th, 15th, 16th and 28th picks. Toler said they are in a waiting mode.
"Who we select depends on who is available," she said. "Right now we're sitting back watching all the players play."
Veteran point guard Ticha Penicheiro said at the end of last season that she would decide in January whether or not she was going to retire. Toler said her decision seems to be unmade as of yet.
"Ticha's still trying to decide what she's going to do," said Toler. "I told her to give me a call and tell me what she wants to do, so it's on her."
The Sparks open the season playing Seattle back-to-back: away on May 18 and home two nights later.