Baylor routs Texas A&M in Waco in front of a sellout crowd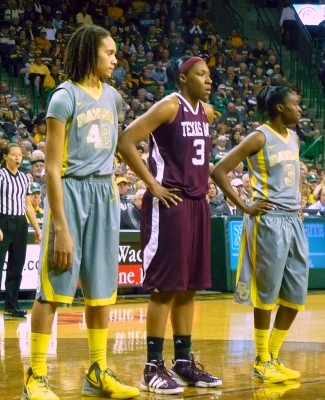 WACO, Texas – Same story, different team. Baylor routs a visitor to the Ferrell Center. Except this time, it was the reigning national champions.
No. 15 Texas A&M had no answers for No. 1 Baylor early Saturday evening in Waco. Shortly after country music star Trace Adkins sang the national anthem, Baylor began to terrorize the Aggies in front of a sell out crowd of 10,627 and won 71-48.
"I thought the crowd was unbelievable," said Baylor head coach Kim Mulkey of the turnout and the energy of the fans in the arena. Baylor also wore their Nike Hyper Elite Platinum uniforms for the first time Saturday night and all fans received a matching t-shirt. "I thought the Nike uniforms were just awesome. I thought the fans wearing the t-shirts was just neat. Then you add Trace Adkins."
Brittney Griner wasted no time scoring, starting the game with a quick layup. Commencing with a 17-2 run, the Lady Bears never trailed. With Griner intimidating A&M's post players in the paint and point guard Odyssey Sims making key steals and a slew of treys, the Aggies were left in the dust just six minutes into the contest.
Baylor used the loss to Texas A&M in the Elite Eight last year as motivation.
"Just looking at the film from the game when they beat us…that's motivation itself," said Griner. We just came out focused and all that happened. We didn't want a repeat of that game, so we came out strong and finished strong too."
At one point, A&M center Kelsey Bone ran down the floor to score off of a fast break but hesitated and then traveled when she noticed Griner near her shoulder with an outstretched arm ready to block and with an imposing shadow. In fact, Bone was limited to four points and four rebounds in the game. Griner finished with 21 points, 10 rebounds and six blocks. The two centers are no strangers to each other. Both are from Houston and played against each other in high school.
Three other Lady Bears were in double figures. Sims scored 19 points while Kimetria Hayden and Brooklyn Pope had 10 each. Hayden also pulled down seven rebounds and Pope grabbed nine.
For the Aggies, senior guard Tyra White led her team with 18 points. Point guard Sydney Carter finished with 13 and Adaora Elonu earned 12 rebounds.
"This team is a work in progress and it's been like that all year," said Gary Blair about his team's performance. Texas A&M (17-6, 8-4) hits the road to face Missouri, the last place team in the Big 12 next Tuesday, February 14.
Baylor (25-0, 12-0 Big 12) also has an away contest, traveling to Oklahoma State for a game on February 15.
Notes
Baylor's 25-0 start is the second-best in Big 12 history behind Nebraska's 30-0 mark to begin the 2009-10 season.
Baylor is 7-0 vs. top 25 ranked teams this season, including 3-0 vs. top 10 opponents.
Baylor won for the ninth time in its last 10 games against Texas A&M.
Brittney Griner (21 points) has scored in double-figures in 65 straight games and in 95 of 97 in her career. She also scored 20-plus points for the 18th time this season and 59th of her career. Additionally, she recorded her 37th career double-double and her 11th of the season.
Odyssey Sims (19 pts) scored in double figures for the 20th time this season and 43rd time in her career. Sim is averaging 19.5 points per game vs. ranked opponents this season, up from her season average of 15.4 points per game.