Dishin & Swishin February 16 includes top coaches: Miami's Katie Meier, WVU's Mike Carey, Lynx coach Cheryl Reeve and Amherst's GP Gromacki
[display_podcast]
On today's Dishin & Swishin podcast, we get to show how diversified our coverage of women's basketball can be. We talk with coaches of three different levels in four segments: two Division I coaches, one WNBA coach, and one Division III coach.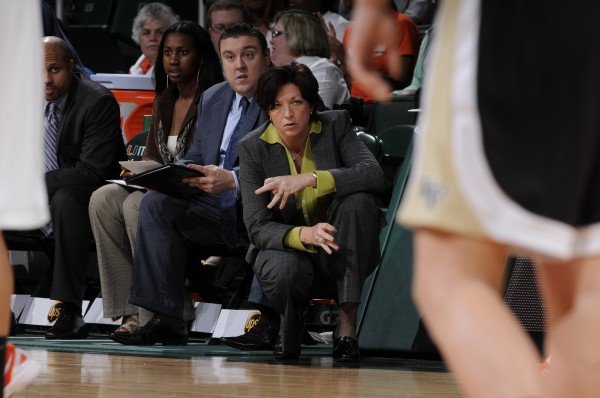 I talked with University of Miami head coach Katie Meier. She built a program that went from the bottom of the Big East to the top of the ACC. Even though conference realignment has become commonplace now, when Miami left the Big East for the ACC, it created a big stir. Of course it was football motivated, as all of these moves seem to be, but Meier embraced the ACC style of basketball, getting up and down the floor with speed and aggressiveness, and produced multiple 20-win seasons. Of course having a back court of Shenise Johnson and Riquna Williams certainly has helped. Meier and I talked ACC basketball, her program's success, her two senior stars and more.
For a couple of years now I have been telling anyone that would listen that Mike Carey of West Virginia is one of the best coaches in the country. After his Mountaineers' huge win at Notre Dame this past Sunday, maybe more will believe. Still, that was not enough to vault Carey's team into either the AP or the coaches' top 25-five polls. Perhaps last night's victory over Rutgers will push them in. Coach Carey and I talked about the success his young team has had, including the final moments of that exciting Notre Dame game. We also discussed the now approved move to the Big 12 conference for next season and how "excited" he is to play Brittany Griner and Baylor in the conference.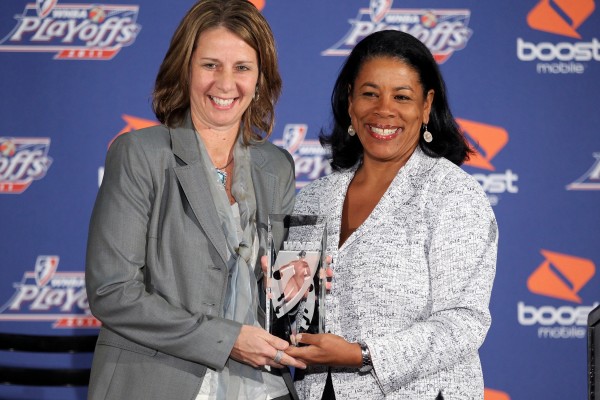 We then move on to the pros. The Minnesota Lynx are going into this season as the defending champions, and Cheryl Reeve returned to Dishin & Swishin to talk about Los Lynx offseason. It is a great position to be in, having almost your full roster back, but it still does not make things easy in the offseason assembly of a team. We talked about the coring of Taj McWilliams-Franklin, the signing of new addition Erin Thorn, USA Basketball and her team's four inclusions in the final list of players, and the draft. Get psyched for the WNBA season with our chat!
Finally, Dishin & Swishin continues its efforts to share info with you on some of the smaller schools in the country. Tremendous ball is being played at all levels, and on the Division III level, no one is doing it any better than Amherst College in Massachusetts. Coach GP Gromacki is a former Temple assistant coach under Dawn Staley, and has had an amazing run as a head coach. Since coming to Amherst in 2008-09, Gromacki has gone 27-3 , 29-4, 32-1 and 32-1 with a national championship. This year Amherst is 24-0 and a current number one ranking. I talked to Gromacki about the differences in DIII versus DI basketball, the focus on academics, and the difficulty in assembling a successful team while stressing the academics provided by Amherst. I think you will enjoy it!
So that is this week's show of coaches: a rising star in DI, an underrated DI coach, the WNBA championship coach, and a DIII powerhouse.
Thanks for listening!