Dishin & Swishin February 2, 2012 Podcast: A few things you may not know (but should) about this year's college basketball season
Today's guests are Delaware head coach Tina Martin, Nebraska stars Jordan Hooper and Lindsey Moore, Florida Gulf Coast head coach Karl Smesko, and Saint Bonaventure head coach Jim Crowley.
[display_podcast]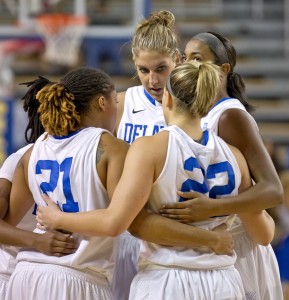 We are past the halfway point in the NCAA women's college basketball season and it probably is a surprise to virtually no one that Baylor and Notre Dame are one-two in the country, with Connecticut and Stanford not far behind. Perhaps you are surprised that Kentucky and Miami are as strong as they are, and maybe Green Bay has raised a few eyebrows. There are many other surprise stories this year, though, and today on Dishin & Swishin we're going to cover just a few of them for you.
We will start in Delaware, where the Blue Hens are at No. 12/13 in the polls. Elena Delle Donne is leading the nation in scoring, but the real surprise to many will be the fact that this team is not just Delle Donne, and she is not just getting the ball on isolation plays and going one-on-one. The Hens are in fact a very strong, disciplined team, and Delle Donne is scoring, rebounding and passing in the flow of the offense.
There are two Bowl Championship Series (BCS) conference transfers in the Delaware starting lineup, and Martin has this team rolling. I talked to her and we focused on the team as a whole; the unity and strength that has put them at the top of the Colonial Athletic Association (CAA) and how everyone is contributing, not just Delle Donne. Yes, we talked about her too.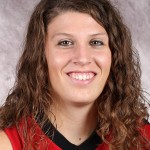 Is this the year of the duo? We have the Ogwumikes at Stanford, Stricklen and Johnson at Tennesee, and Griner and Sims at Baylor. Each duo made the midseason top 20 candidate list for the John R. Wooden Award. However, there is another combination not getting the publicity it deserves. At Nebraska, sophomore Jordan Hooper is averaging just under twenty points and ten rebounds per game, and junior Lindsey Moore sixteen points and six assists per game. Together, the best friends have the Big Ten newcomer Huskers fighting it out for first place with old standbys, Purdue and Ohio State. Nebraska takes on the Boilermakers tonight in a crucial Big Ten matchup. I talked to Hooper and Moore together about their seasons, the jump to the Big Ten (no Griner!) and Lindsey's famous Cap'n Crunch cookies (please send me a batch!).
The top teams in scoring margin in the country are, in order: Connecticut, Notre Dame, Baylor, Duke and Florida Gulf Coast University? Yes, that's right, coach Karl Smesko is the architect of a three-point shooting spread offense that the players are loving, and the team is using to win, and win some more.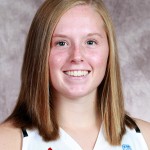 This is the tenth year of women's basketball at Florida Gulf Coast and they have won 84 percent of their games. They are first in the country in three-point field goal attempts and seventh in percentage. Even though they play in the Atlantic Sun conference, the Eagles are knocking on the door to the top 25. They defeated Michigan State, Richmond and Virginia Tech already this season, and they are surging towards the NCAA tournament. This is their first year of eligibility to play in the tournament after a multi-year transition period in moving up from Division II. I talked to Smesko about the program and his coaching philosophy, the team itself and the advantages of being in Florida. He also talked about their director of basketball operations, Mel Thomas, for you UConn Husky fans.
Atlantic 10 Conference and Xavier. For the last few years, they have gone hand-in-hand, and everyone else in the conference played for second place. With graduation last year change came to the A-10, and it is no more evident than in upstate New York where Saint Bonaventure has surprised just about everyone to lead the conference with an impressive 20-2 overall record (7-0 in conference).
With wins over West Virginia and St. John's on the road, the Bonnies are playing aggressive defense, and using their quickness to influence games from that end of the court. They are second in the conference in scoring defense, first in field goal percentage defense and rebounding defense. They are led by Jessica Jenkins, a 1,000-point scorer, and Megan Van Tatenhove, an all-conference performer. I talked about the Bonnies, and building success on a 2,000-student campus in upstate New York with coach Jim Crowley, who took a team that was 6-22 in 2002-03 and now has four consecutive 20 win seasons.
I hope you enjoy the podcast, and hopefully, learn about a few teams and players you didn't know before. I have a feeling you will be hearing from all of them before this season is over!