Dishin & Swishin February 23, 2012 Podcast: Kim Barnes Arico an overnight success, Doug Feinberg & Wendy Parker on brackets & more
Today's podcast features St. John's women's basketball coach Kim Barnes Arico and a mini-roundtable with Doug Feinberg of the Associated Press and Wendy Parker of Basketball Times.
[display_podcast]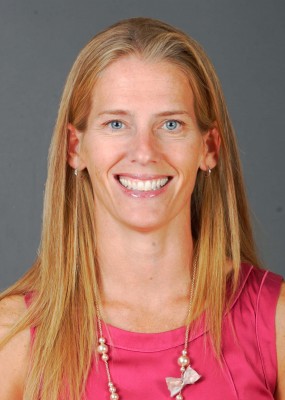 I told Barnes Arico at the beginning of our chat that it has only taken ten years, becoming the winningest women's basketball coach in the program's history, and ending a ninety-nine game home winning streak for her to become an overnight sensation in New York!
Seriously, Barnes Arico has been more substance than flash at the helm of the Red Storm for a decade. The February 18 upset victory over Connecticut at Gampel Pavilion opened the eyes of many, but I put them in my preseason national top ten last year. This is a strong program with talented players and an outstanding coach.
Earlier this season, due to injuries, it was tough to see the strength of St. John's. Da'Shena Stevens, their senior leader, missed ten games. Nadirah McKenith, the point guard that could have made the list of Nancy Lieberman Award finalists easily, missed three games. The Red Storm dropped five of their first ten games. Now we can see that the losses were not so bad. They lost to Hofstra, Saint Bonaventure, DePaul, Iowa and Baylor, all teams that have been in the AP Top 25, or very close to it.
With the team healthy in 2012, the Red Storm have a six-game winning streak and a chance at a number two seed in the Big East tournament next weekend. They are a tournament threat for sure.
Barnes Arico has been on Dishin & Swishin a couple of times now and it is always fun to talk to her. We did not just talk about the UConn game. I am sure you have seen and heard plenty about that by now. We talked about the team and the season, especially Stevens, a player the coach says helped turn the program around when she enrolled. Barnes Arico is an engaging personality. I am sure you will enjoy our conversation.
Then, it is on to a mini-roundtable. Guests include Doug Feinberg, a women's hoops writer extraordinaire for the Associated Press, and Basketball Times' Wendy Parker, one of the finest journalists in sports. Both have a wealth of knowledge and experience.
I did not hang up with Barnes Arico when these two joined the conference line and we kicked off a rousing discussion. We covered who should be Player of the Year; Charlie Creme's latest bracketology; who to watch; who is a threat as the season peaks; the tournament selection process and sites and its innate flaws.
The conversation was a great way to get psyched for the end of the regular season. I hope you enjoy the podcast!