Hartley growing into role as next great UConn guard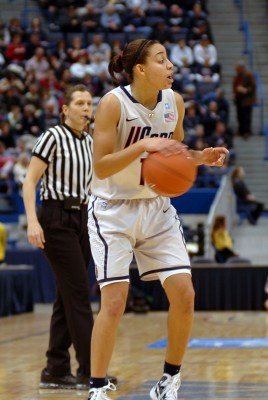 "Last time I checked you had to have some All-Americans on your team to be number one. Don't those two things go together? I don't think it would be fair for us to be number one." – Geno Auriemma, November 27, 2011.
Jen Rizzotti. Rita Williams. Sue Bird. Diana Taurasi. Renee Montgomery.
Every great UConn women's basketball team has had a great guard that has driven the team to excel; led them on the floor to achieve the greatness forecast for each team. Add to the group sophomore Bria Hartley. Already one of the premier freshmen in the country last season, Hartley has had no sophomore slump, and has emerged as consistently the best player on the third ranked Huskies.
So which of those now legendary Husky guards does Hartley resemble? Even head coach Geno Auriemma is not sure.
"I don't know.  Taller than Renee Montgomery and not quite the point guard that Sue Bird was," said Auriemmea. "She isn't Diana because she isn't as big.  She doesn't fit in neatly to any kind of category and I kind of like that.  Nobody compares her to anyone.  People kind of let her do what she does and she has her own unique way of getting the job done.  So far it's been great."
Hartley has made tremendous strides in the last year in the most important facet of being a point guard, leadership.
"She is much more aggressive and assertive than last year," according to Auriemma. "She was a little more subtle and passive last year.  This year she has taken on more responsibility and wants to be held accountable a little bit more.  She can go for 40 minutes now if she has to and I don't think she could have done that last year.  In almost all the areas you value in a guard she has made tangible improvement."
With the graduation of Maya Moore and Lorin Dixon, the question was who would step up on this year's team, and take charge. While vocal leadership has been a problem at times, on the court, Hartley's leadership is undisputed.  Sophomore center Stefanie Dolson not only played last season with Hartley, but both were also members (along with freshman Kaleena Mosqueda-Lewis) on USA Basketball's gold medal winning U-19 team this summer.
"Overall she's become a much more mature player," according to Dolson . "The decisions she makes, being a point guard is definitely one of the hardest jobs, because you have to run the show. You are always calling out the plays or whatever defense we are in. So she definitely has one of the harder jobs, but she's done such a great job of getting better at it from when I first played with her, to USA, to now, just making better decisions."
Statistically, she has improved in virtually every category from last sesaon to this season. Her scoring average has improved from 12.4 points per game to 14.3 this season, while her field goal percentage has improved from 46.8 percent to 51.4 percent. Her assists have increased from 2.9 per game to 4.4 per game, while she has kept her turnovers consistent at 2.7 per game.
You talk to anyone associated with the team, and the two words you hear the most are maturity and confidence. Many give a lot of credit to her time spent with Hartford's head coach Jen Rizzotti, the nation's 2011 FIBA U19 World Championship for Women head coach, during USA basketball play over the summer.
Senior Tiffany Hayes played with Montgomery before Hartley, and sees the difference from last year to this year.
"I definitely see a lot of growth in her," said Hayes, "ever since she played with that USA team, she's come back with a lot of focus, and doing things I hadn't seen her do before. She's definitely grown as a better point guard, her passing is getting better, her ball handling is better. She has great court vision."
Junior forward Kelly Faris, seconded Hayes' comments.
"She's a much more mature player. I think she came in and had a great freshman year; kind of like Kaleena (Mosqueda-Lewis), that's not an easy role to fill to come in, and be expected to be the point guard, and carry the team and run the offense. Even from then to now, definitely a much more mature player, smarter player."
Hartley also took advantage of that time with USA Basketball to work on more than just her leadership and maturity, but also the many facets of her game.
"She's always an offensive threat, but she has a lot more options I feel this year," said Faris. "Whether she shoots from the outside, or takes it in all the way to the basket or takes it in and kicks it out, I think she's definitely added a lot to her offensive game."
"She's gotten so much better," adds Dolson. "Her three pointers, she's gotten a lot more consistent, and driving to the basket, getting inside, getting fouled, finishing inside. She's gotten better overall."
The bigger the game, the better the performance it seems for Hartley. She has led or co-led the Huskies in scoring nine times this season; included in those games were ranked opponents like number one Baylor (25 points), North Carolina (17 points), Duke (15 points), and second ranked Notre Dame (25 points). On a team where the returning Caroline Doty was supposed to help take some of the point guard duties from Hartley, Hartley has led the team in assists 12 times, including eight of the last ten games. Clearly, as the season goes on she is evolving more and more into the Huskies' point guard. Auriemma knows his sophomore is evolving and emerging as that leader.
"One of her greatest attributes is her toughness.  She is a very tough kid mentally who never backs down from a challenge and she never hides from the ball like some kids do in crunch time. She is not afraid to miss and can be counted on to make big shots when the need to be made and make big plays when they need to be made.  She is truly courageous in that way."
Cincinnati head coach Jamelle Elliott has seen all of those point guards mentioned at the start, either as a teammate, assistant coach to Auriemma, and now opposing coach at Cincinnati.
"A year of experience does a lot," she explained. "Her being the type of player she was last year, today she's even better. One of the things I noticed when they do press she gets out in the front of that press, open court in front of everybody a lot. She runs the floor like a deer on offense. She really gets out in the lane, and is the first one down the court for easy layups. She's really getting her three-point shot off, and shooting it with confidence. She's leading the team in scoring (since passed by Hayes) and I'm looking forward to playing against her the next two years."
Preseason Naismith Award watch list, preseason Wade watch list, preseason All-Big East first team; the accolades came in this fall, on top of last season being the Big East Rookie of the Year, All-Rookie team, second team All-Big East, All-Big East tournament team and All-Philadelphia region team in the 2011 NCAA tournament.
Last week, Hartley, along with Mosqueda-Lewis were named two of the Top 20 midseason finalists for the Wooden Award. Clearly, the stellar play Hartley has been giving Auriemma has not gone unnoticed. How far can she go? Can she get much better than where she is at now? Auriemma, as one would expect from her coach, sees areas of improvement for Hartley, but he knows what that improvement can do for her future.
"Something we are always working with our guards on is where to take the ball and when and how to get better with her off hand. I want her to be able to see things a little more quickly and to understand what decisions to make by reading the defense. All our guards are working hard on passing the ball into the post and finding the right angles to make those passes."
Improvement areas include defense.
"I want all our guards to be better on-ball defenders because it is so difficult now to keep people in front of you," continues Auriemma. "I think Bria has room to grow in all those areas.  She is only a sophomore and sometimes people forget that because she played so much last year.  But she is a really young player and has two and a half years left here.  If she makes the same amount of progress in the next two as she has since she came here, she is going to be an incredible player."
Auriemma is excited about her future growth.
"How far she goes I don't know," he said. "That's a difficult question to answer. I know she will go as far as her talent will take her because she is not going to cheat it.  She is not going to be one of those kids who doesn't live up to the expectations she has for herself.  I'm anxious to be a part of it."
That first statement from Auriemma in November? The one about not being number one because you need to have All-Americans? Well by the end of this season, UConn will most likely will have at least one player selected to multiple All-American teams. Her name is Bria Hartley.