No. 1 Baylor looks to exact revenge on No. 15 Texas A&M in Brazos battle, Trace Adkins to sing national anthem
No. 15 Texas A&M (17-5, 8-3 Big 12) at No. 1 Baylor (24-0, 11-0 Big 12)
Saturday, February 11, 2012, 5:05 p.m. CT
Ferrell Center, Waco, Texas
Television: FOX Sports Net (Ron Thulin and Brenda VanLengen)
Radio/Audio: ESPN Central Texas/ KZNE 1150 AM/AggieAthletics.com/BaylorBears.com
Series history: Baylor leads 47-36

WACO, Texas – Thirty years ago, Baylor head coach Kim Mulkey was a sophomore at Louisiana Tech and the starting point guard who ran the floor for a squad that won the first ever NCAA Division I women's basketball championship. Texas A&M head coach Gary Blair was a second-year assistant for the team and they went 35-1 under head coach Sonja Hogg, who was also Mulkey's predecessor at Baylor. Additionally, country music star Trace Adkins was a defensive end for the Bulldogs' football team when the Lady Techsters took the 1982 championship.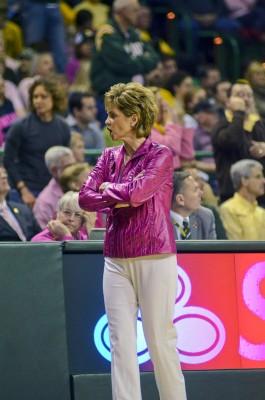 Saturday night in Waco when No. 1 Baylor (24-0, 11-0) hosts the defending national champions, No. 15 (17-5, 8-3) at the Ferrell Center, Adkins will sing the national anthem in front of the coach he had a crush on when he was at Louisiana Tech. Over the years in concerts Adkins mentioned a blonde basketball player that he admired from afar during his college years and frequently dedicated Larry Graham's R&B hit "One in a million you" to this unnamed student. Eventually it was revealed that Mulkey was the object of his unrequited adoration and she invited the popular singer to sing at a Lady Bears game.
Adkins could not have picked a better contest to attend. The sold out matchup between the Aggies and Baylor is highly anticipated, as it will be the first game between the squads since A&M sent the Lady Bears home in the Elite Eight of last year's NCAA tournament. After playing three times, twice in the regular season and once in the Big 12 tournament, four was the magic number for the Aggies who defeated Baylor after a trio of straight losses including the final of the conference tournament. However, it is a different year for A&M as they lost two key players to graduation, point guard Sydney Colson and forward/center Danielle Adams.
So far the 2011-2012 has been rocky for the team from College Station. After winning its first six matchups of the season, the Aggies lost back-to-back games to then No. 13 Purdue and No. 2 Connecticut. They bounced back for three consecutive wins but lost again on the road to Kansas State and two games later at home to rival Texas. Oklahoma State handed Texas A&M another defeat on January 24. However, the Aggies are on an upswing with four straight wins under their belt and sit at second place in the Big 12. Center Kelsey Bone, in her first season after transferring from South Carolina, had a career-high 26 points plus eight rebounds in a win over Kansas last Saturday. In their next game, the Aggies exacted revenge on Kansas State and held them to 36, the lowest point total of the season for the Wildcats.
"We're getting mentally tough," said Blair after the authoritative win over K-State.
Bone is the team's second-leading scorer at 12.5 ppg and the leading rebounder at 7.0 rpg. Senior guard Tyra White leads the Aggies in scoring at 13.8 ppg and is third in rebounding (5.7 rpg). Other Aggies averaging double-digit scoring include Adaora Elonu (11.9 ppg) and Sydney Carter (11.7).
With A&M leaving the Big 12 to head to the Southeastern Conference next year, tonight's game may be the last time for years to come that the Aggies play in Waco. The Lady Bears are on a 36-game home winning streak and are the only undefeated team in NCAA Division I basketball, women or men.
Baylor's junior center Brittney Griner leads the Big 12 in scoring with 23.0 points per game while sophomore guard Odyssey Sims averages 15.2 ppg and junior forward Destiny Williams adds 10.0 ppg. Griner, Williams and junior forward Brooklyn Pope are the team's top rebounders at 9.6, 9.3 and 6.0 rpg, respectively. Sims is also averages 5.0 assists and 3.4 steals per contest while Griner leads the nation in blocks at 5.3 per game.
Baylor students celebrate Griner's blocking prowess with a block party each game in their section of the stands at the Ferrell Center. They wear black t-shirts with "Block Party" emblazoned across the front in bold white letters, order pizza and chant funny (and often humorously obnoxious) slogans when Griner completes a spike like block.
The game tips off at 5:05 p.m. CT.
Probable Starters
TEXAS A&M
No.
Name
2011-12 Stats
10
Alexia Standish, G, 5-8, Fr.
4.0 ppg, 2.1 apg
04
Sydney Carter, G, 5-6, Sr.
11.7 ppg, 3.0 rpg
20
Tyra White, G, 6-0, Sr.
13.8 ppg, 5.7 rpg
21
Adaora Elonu, F, 6-1, Sr.
11.9 ppg, 6.5 rpg
03
Kelsey Bone, C, 6-4, Jr.
12.5 ppg, 7.0 rpg
BAYLOR
No.
Name
2011-12 Stats
0
Odyssey Sims, G, 5-8, So.
15.2 ppg, 5.0 apg
01
Kimetria Hayden, G, 6-0, Jr.
8.5 ppg, 4.3 rpg
03
Jordan Madden, G, 6-0, Jr.
5.0 ppg, 2.9 rpg
10
Destiny Williams, F, 6-1, RS Jr.
10.0 ppg, 9.3 rpg
41
Brittney Griner, P, 6-8, Jr.
23.0 ppg, 9.6 rpg
Last four games in the series
Texas A&M, 58-46 on March 29, 2011 in Dallas
Baylor, 61-58 on March 12, 2011 in Kansas City, Mo.
Baylor , 67-58 on Feb. 14, 2011 in Waco, Texas
Baylor , 63-60 on Jan. 30, 2011 in College Station