No. 1 Baylor routs Texas, Shanay Washington injured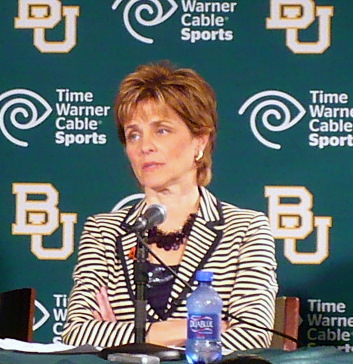 WACO, Texas – After a gut check come-from-behind victory Saturday against Texas Tech in Waco, Baylor came out of the gates Tuesday night fired up and routed Texas 80-59 to clinch the Big 12 regular season title in front of 8,592 fans. The Lady Bears began the evening with a pre-tipoff celebration for center Brittney Griner's achievement of 2,000 career points earned during a February 4 game versus Kansas State.
As in most Baylor games, Griner tipped the ball to point guard Odyssey Sim to start the contest and commenced a first half rout. Baylor (28-0, 15-0 Big 12) racked up five quick points before the Longhorns (15-12, 5-10) could score and proceeded to achieve a double-digit lead early in the game. At 13:42 they led by 11 points, 14-3.
"I thought that our transition offense was fantastic tonight," said Baylor head coach Kim Mulkey. "I thought that we pushed the ball a lot and created some excitement for the atmosphere here. I thought that the crowd got into it when we did those things."
From the outset, Texas appeared timid and hesitant on offense against the No. 1 Lady Bears. Texas did manage to get some open shots but barely any fell resulting in a 20 percent first half field goal percentage (8-39) in contrast to Baylor's 40.5 percent (15-37).
"We did some things defensively that bothered them initially, but they did what they always do and they adjusted," said Texas head coach Gail Goestenkors. "And once they figured it out, they went on a run. Even when their shots weren't falling early, they found a way, and that's what great teams do. They find a way, and they did that with their offensive rebounding. So I thought they did a great job, and I'm disappointed overall for us. We just have to regroup."
At the half Baylor lead 40-20. Griner entered the break with 12 points, nine rebounds and three blocks.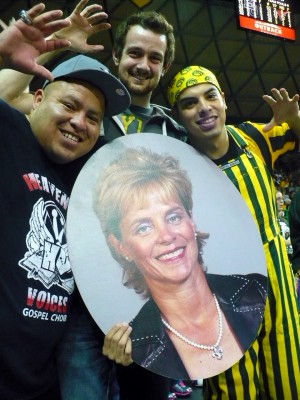 In the second half, Texas put up a fight and actually put together a 7-0 run to start the period. But unfortunately, Baylor adjusted to halt the Longhorns and began making their own shots.
Lady Bear red shirt sophomore Shanay Washington had a scare late in the second half with less than a minute left on the clock. She crumpled to floor holding holding her left knee and did not move for several minutes. Washington, who tore her left ACL early in the season last year and also had ACL surgery in high school, eventually got up and walked off the floor. She only played two minutes. Mulkey addressed Washington's condition after the game.
"They're headed to the hospital now," she said. "She's been through four ACL surgeries, so I guess her prognosis is she thinks it's torn. She heard a pop, so Shanay knows what she feels. It's a big downer. You just won a conference championship outright. You play dominating. Everybody got a chance to play, and have something like that happen during the final seconds of the game. Life's not fair."
Washington's fall had a somber effect on her teammates.
"I'm at a loss of words," said junior guard Kimetria Hayden. "It's very hard to see her go down crying saying that it's over. After the game, we gathered around her and prayed for her. We told her that everything will be okay and that she'll be on the court soon."
Hayden was among four Baylor players in double figures. She finished with 17 points plus five rebounds. Griner, who played 20 minutes, led her team with 18 points, ten rebounds and four blocks. Brooklyn Pope came off of the bench for 13 points and seven rebounds. Destiny Williams contributed 11 points and ten rebounds.
Texas also had four players in double figures. Senior Yvonne Anderson scored 16 points. Sophomore Chassidy Fussell earned the first double-double of her career with 13 points and 13 rebounds. Sophomore Chelsea Bass scored 11 points and senior Ashleigh Fontenette finished with 10 points.
Texas attempted a season-low two free throws and recorded a season-low two steals. Their 20 first-half points matched their season-low in an opening half.
Both Baylor and Texas have three more games before the season ends. The Longhorns host Oklahoma on Saturday in Austin. Baylor hits the road and faces Kansas on Friday night.
Notes
With the win, Baylor clinched the Big 12 regular season title outright for the second consecutive season and third time overall.
The 28-0 start is the best in program history, and makes Baylor the only undefeated team in NCAA Division I.
The Lady Bears own the longest active win streak (28) in NCAA Division I women's basketball.
Brittney Griner has scored in double-figures in 68 straight games and in 98 of 100 in her career.