A Special Dishin & Swishin Podcast: Kentucky versus Gonzaga, Matthew Mitchell and Kelly Graves prepare for Kingston
[display_podcast]
In my opinion, possibly the best Sweet Sixteen match up will take place in Kingston, Rhode Island, late Sunday afternoon, when Kentucky takes on Gonzaga.
In a lot of people's minds and brackets, including myself, this match was not going to take place.
Miami as the number three seed would be facing Gonzaga in the second round, and even though it was a virtual home game for Gonzaga in Spokane, Miami was a threat to be a number two seed until their failure in the ACC tournament. However, the suspension of Riquna Williams left Miami shorthanded, and the Bulldogs capitalized on that in defeating an undermanned Hurricanes team.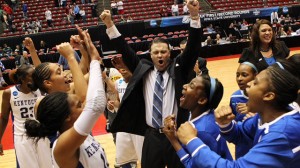 Kentucky played a Green Bay team in the second round that many thought was under-seeded, and coming off their failure in the SEC tournament, many thought Kentucky was ready to be upset. Somehow they committed 34 turnovers against the Phoenix, the same number of rebounds they had, and managed to hold on against a hard-charging Green Bay team to advance.
So two of the most dynamic and entertaining coaches in women's basketball today, Gonzaga's Kelly Graves and Kentucky's Matthew Mitchell are headed to Kingston where they will face each other. Both have proven track records of success, both like to have their teams get up and down the court, and both have similar backgrounds, even if one is a little less celebrated.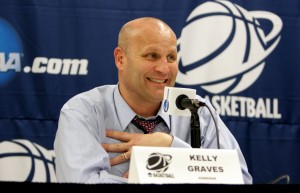 Kelly Graves came to West Coast Conference school Gonzaga after coaching at Saint Mary's College, another WCC member. Prior to that, he was an assistant coach at the WCC's University of Portland. He began his coaching days at Big Bend Community College, which is near Gonzaga in Washington. He is a Northwesterner at heart and loves being out there. He freely admits his administration treats his program as if they are a de facto Pac-12 team, not a mid-major, complete with private air travel, a first-class schedule and excellent compensation.
Matthew Mitchell began as a graduate assistant for Pat Summitt at Tennessee. He stayed in the SEC and moved to Florida, as an assistant coach under Carol Ross, before he took his first head coaching job at Morehead State. After two years, Mitchell moved back to the SEC, staying in Kentucky, as the head coach of the Wildcats.
Two coaches, stayed in the area of the country they are comfortable with, paid their dues and learned the business at local universities in their current areas or conferences and have now reached outstanding levels of success by sticking with the lifestyle that makes them comfortable.
Both Gonzaga and Kentucky have a lot of talent, but came into the season with question marks, after each lost their All-American star: Courtney Vandersloot for the Bulldogs and Victoria Dunlap for the Wildcats. Both have caught some people by surprise and both will need outstanding performances by their go-to players, Kayla Standish for Gonzaga and A'dia Mathies for Kentucky.
Both coaches have tremendous respect for each other. Graves said he cannot wait to learn how Mitchell handles the press and media so smoothly. Mitchell said he cannot wait to see Graves' coaching strategies.
The bottom line is that this should be an exciting match up of two teams and two coaches that are comfortable in their own skins. They know who they are, they like their identities and love playing tough competition on the basketball court.
Today, enjoy two entertaining interviews with two masters of their craft, and on Sunday, watch them do what they do best.