Baylor routs Texas A&M for second straight Big 12 tournament title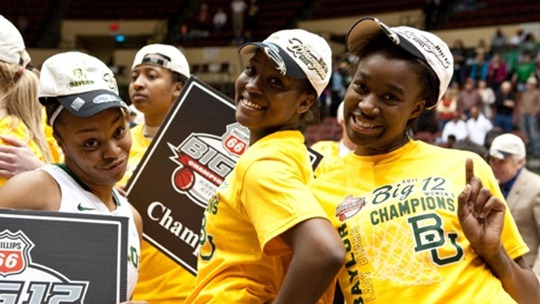 Undefeated Baylor jumped out to a 14-0 lead over Texas A&M in Saturday afternoon's Big 12 Tournament finale and never looked back. The Lady Bears cruised to a 73-50 victory for their second straight tournament victory. The win tied the team's program best 34 victories set last year.
Odyssey Sims led her team with a season-high 26 points while Destiny Williams finished with 12 points plus 11 rebounds. Brittney Griner finished with 11 and was named the tournament Most Outstanding Player. The day before in the semifinal against Kansas State, she scored a Big 12 Championship-record 45 points.
For Texas A&M (22-10), senior guard Sydney Carter had 12 points and center Kelsey Bone 10 points and six rebounds.
The win marked 11 wins for the Lady Bears over Texas A&M in 12 games. They are now tied at four with Oklahoma for the most Big 12 Tournament championship wins.
All Tournament Team:
Brittney Griner (Baylor)
Odyssey Sims (Baylor)
Destiny Williams (Baylor)
Kelsey Bone (Texas A&M)
Whitney Hand (Oklahoma)