Dishin on the Elite Eight: Extremes in emotion shaped matchup between Tennessee and Baylor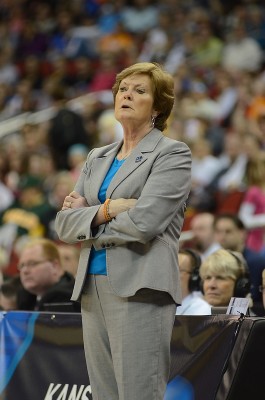 Emotion is an interesting thing when it comes to sporting events.
Athletes can obtain ridiculous highs and unbelievable lows, all because of what the emotions of the moment do to them physically and mentally. On Monday night Des Moines, Iowa was the site for a game that will go down as one of the most emotion-filled women's basketball games in the history of the NCAA tournament.
Every good story has to have plot lines and characters, a protagonist and their rival, the favorite and the underdog.
In top-seeded Baylor there was the undefeated behemoth, with the best basketball player in the country dominating tournament play, the player no team had come close to defending in this tournament, and the purveyor of two dunks that based on the amount of times they were replayed, apparently shook ESPN to its core. Then there is the flashy coach who wears her emotions on her sometimes loud sleeves, the perfect partner for the quiet giant, who has shown restraint and unyielding respect for her Monday night opponent
In underdog Tennessee there was the legend that has defeated so many in her path, trying to carve a way into a little more history in what may be her final season as a coach, a story and tragedy in its own right. The underdogs, the Lady Vols seniors who had dealt with so many emotions all seasons, trying not to become the first senior class unable to reach the Final Four, which for so long seemed the home turf of their coach.
With all of that in attendance, Baylor and Tennessee tipped off the first of the Elite Eight matchups of the NCAA tournament.
Even though the two played earlier this season, a 76-67 Baylor victory, both teams changed and modified their lineups and games. No one felt that game was a precursor to this one. Both teams had made noticeable differences on both ends of the court; they changed their rotations and personnel.
Tennessee, starting a lineup of all seniors once again, has been a notorious slow starter in games thus far, but rode their emotion to a fast start. Their stars, Shekinna Stricklen and Glory Johnson hit from the outside, and Baylor was the team that looked a little too pumped up. Griner, Williams and Sims all missed shots and turned the ball over, as the Lady Vols jumped out to a 9-4 lead at the first media timeout.
At that timeout, coach Mulkey reminded her team to be patient and get Griner touches on offense, and to turn up the defensive intensity. It worked.
A 16-5 run ensued, fueled by Griner on the defensive end, where she blocked and influenced shot selection and cleared the boards, fueling the Lady Bears' fast break. It was the backcourt of Sims and Kimetria "Nene" Hayden hitting from inside and out. After seven points in the first four minutes, Hayden absolutely shut down Stricklen, denying her access to the ball and holding her to a three for eleven shooting half.
Tennessee cut the Baylor lead to ten, but suffered a blow when Glory Johnson went down hard trying to score with about four minutes left in the half. She was in obvious pain when getting help to the sideline. Resorting to jump shots to avoid Griner, who had seven blocks at the half anyway, Tennessee shot only 21.6 percent from the floor and Baylor extended the lead to a fifteen point 35-20 lead at the half.
The return of Johnson gave Tennessee a lift to start the second half, and the Lady Vols opened with an 8-3 run capped by a Johnson layup and foul on Griner. Johnson and Stricklen continued to prop up the Lady Vols, and Tennessee overall improved their shot selection, while packing in on Griner on the defensive end, getting the lead under ten several times.
They had no answer for Odyssey Sims though, who had 21 points by the ten minute media timeout, on 5-for-7 three point shooting, and four assists.
Baylor came out of every media timeout with a smart play, and this time it was an "and one" by Hayden that not only pumped the lead to fourteen, it put Tennessee's best post defender Vicki Baugh on the bench with four fouls. Backup post Isabelle Harrison fouled out on the next possession and Brooklyn Pope hit both free throws for Baylor's biggest lead to that point.
With their posts in foul trouble, Tennessee tried to go with four guards and Johnson, but Johnson, despite her strength and quickness, could only foul Griner. Baylor patiently moved the ball around the perimeter until they found Griner inside or room for Sims to maneuver on the perimeter.
With Baugh on the bench, the lead ballooned to nineteen. The outside shooting and some Baylor missed foul shots, gave the Lady Vols some hope, as Stricklen and Johnson knocked down a couple of threes, and an Ariel Massengale run out cut it back to eleven with 4:48 to go.
Baylor called timeout, and once again, executed flawlessly out of the timeout, getting Griner a short jumper in the lane. Griner blocked a shot, rebounded, and was fouled, making both shots. Griner rebounded a Sims miss and put it in, and that quickly she had opened it back to a seventeen point lead.
With Baugh still on the bench, Griner continued to operate on Johnson, who was just overwhelmed by the size and strength of Griner, who had yet another and one, and with the score 77-58 and 1:13 to go, Mulkey emptied the bench, leaving Griner one block sure of the triple double.
With 45 seconds to go, it got ugly and potentially devastating to Baylor. Stricklen and Sims got tangled up, and began jawing at each other, and players from both benches went on the court to be peacekeepers. Several players were ejected, but no suspensions to be given, including Griner. It was an ugly incident, one that really was unfortunate, especially if this could be the final game for coach Summitt.
With the lead at nineteen points, there really was absolutely no reason for Tennessee to leave Johnson, Stricklen and the other starters on the floor, and this is not the way that a legacy should be left for a determined group of Tennessee seniors. Baugh however, perhaps the one that deserved to be on the court, was not.
Final score Baylor 77, Tennessee 58.
Emotion was the way this game started, and it was with emotion that this game ended. Baylor will advance to the Final Four, fortunate that their roster is intact and without suspensions. Tennessee will assess their coaching position and the circumstances surrounding the season of chaotic success.