Dishin' on the Los Angeles Sparks open tryouts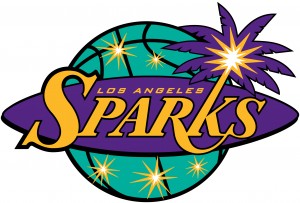 Kathy Ruddy (@jaqlinnikkels on Twitter) is a devout women's basketball fan. She attends games at every level from Mater Dei High School to the University of Southern California to the Los Angeles Sparks. For this piece, David "loaned" the Dishin' moniker to her to discuss her experience attending the Sparks' open tryouts as a spectator.
This past weekend the Los Angeles Sparks held their annual open tryout for those looking to keep alive the dream of playing in the WNBA.
Sixty women left it all on the hardwood at George Washington Prep in Southern California, performing their basketball battle and ballet for the entire coaching staff of the Sparks to view. While new head coach Carol Ross did mostly evaluation and observation, her staff broke the prospects into groups of fifteen put together for the weekend, and demonstrated drills and plays.
Saturday morning consisted mostly of drilIs. The afternoon began with layup and spot-up jump shooting drills as well. Players learned some basic plays prior to some serious scrimmaging for the remainder of the day.
Sunday morning started bright and early with strong coffee and breakfast on the road, so I could get to the gym in time for what I expected to be "the main event," the morning scrimmages.
For more than three hours, former Pac-10, Big West and local players squared off, in quarter-length games. Each group battled each other at full WNBA speed. There was tremendous, desperate, talented, leave-it-all-on-the-floor effort from each participant! Women from all over the United States, from recent grads to more 'mature' players, all still pursuing their spot on their 'field of dreams," a 54 x 90 piece of a wooden floor in the Staples Center.
For those two days, I could relate to those players. I too have a 'field of dreams,' even though not as a WNBA player, and I am inspired each time I watch them. They may or may not get their chance, but they will not be able to say they did not give it all they had in trying to get there.