Dishin & Swishin 4/26/12 Podcast: Flashing back to January 2011 for a chat with Pat Summitt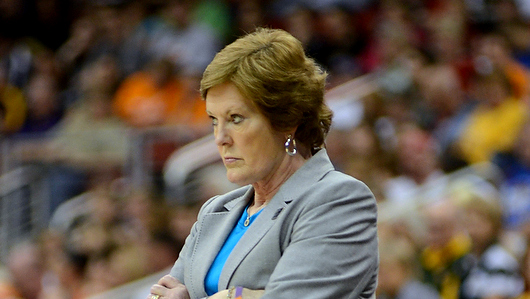 [display_podcast]
It seems that everywhere I listen or look right now, I see the name Pat Summitt. The legend seems to be getting more written and spoken about now than during her amazing run of coaching success! This morning on my way to the office I even heard on satellite radio a commercial for a real estate deal in Tennessee that promised a large contribution for Alzheimer's research in Summitt's name after all units were sold.
I guess that is the good part of her stepping aside as head coach of Tennessee. Hopefully many more will contribute and awareness will continue to grow about this terrible disease. Of course the bad part is that we no longer get the joy and excitement of watching her on the sidelines.
Last week when the announcement of her resignation was released, eight months after she revealed a diagnosis of early onset dementia Alzheimer's type, my family and I were on the road to check out a college in North Carolina. The long ride kept me from writing or discussing all that coach Summitt has done, but it gave me time to think about New Orleans in 2004, when we attended the Final Four. Connecticut, Tennessee, Louisiana State, and Minnesota participated that year, and all of us, especially my daughter, nine years old at the time, had a blast getting autographs and enjoying all the activities.
The one autograph that meant the most to her father though, was the one she got from Pat Summitt, the greatest coach of all time. I tried to somehow explain the accomplishments and what Summitt meant to the game of women's basketball to a nine-year-old.
Fast forward a half dozen years. My love for the game led to the creation of Dishin & Swishin: The World of Women's Hoops. In January 2011, I had the opportunity to talk to coach Summitt about her team. We focused on the team and only the team, and there was an excitement and electricity in her voice that was both soothing and captivating at the same time. I remember hanging up the phone and thinking to myself, "wow, you just talked to Pat Summitt. You have made it."
In honor of coach Summitt, here is that interview from January 2011. I hope you enjoy it.
Good luck coach, and in the words of one of my favorites, Neil Young, long may you run.