End of an era as Tennessee's Pat Summitt steps down, Holly Warlick named new coach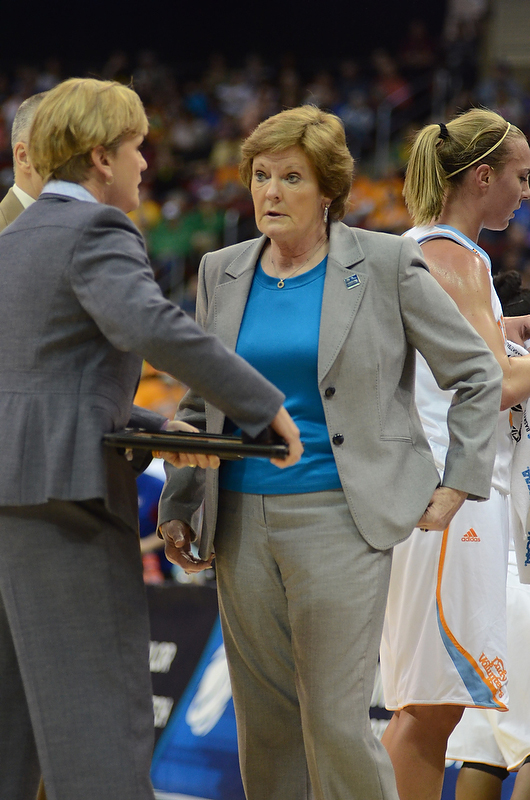 After 1,098 victories, it is the end of an era in Knoxville. Tennessee announced that Pat Summitt, the all-time wins leader among NCAA basketball coaches, is stepping down from her position as head coach after 38 seasons. Associate head coach Holly Warlick takes her place. Summitt's new role is head coach emeritus.
Summitt publicly revealed a diagnosis of early onset dementia, Alzheimer's type, last August.
"I've loved being the head coach at Tennessee for 38 years, but I recognize that the time has come to move into the future and to step into a new role," said Summitt. "I support Holly Warlick being named the next head coach, and I want to help ensure the stability of the program going forward. I would like to emphasize that I fully intend to continue working as head coach emeritus, mentoring and teaching life skills to our players, and I will continue my active role as a spokesperson in the fight against Alzheimer's through the Pat Summitt Foundation Fund."
According to the university, Summitt will report to Vice Chancellor and Director of Athletics Dave Hart and serve a myriad of roles. She will continue to serve the women's basketball program, remain involved in on-campus recruiting, and serve as a personal mentor to players.
"If anyone asks, you can find me observing practice or in my office," said Summitt. "Coaching is the great passion of my life, and the job to me has always been an opportunity to work with our student-athletes and help them discover what they want. I will continue to make them my passion. I love our players and my fellow coaches, and that's not going to change."
Warlick, has been an assistant on the Tennessee staff for 27 seasons and is a three-time All-American as a player for the Lady Vols.
As news begins to spread around the women's basketball world of Pat Summitt's new role, coaches began expressing their sentiments.
"I want to thank Pat Summitt for all she has done for the sport of women's basketball," said Kentucky coach Matthew Mitchell. "Her 1,098 wins, eight national titles and numerous conference titles are just a few of her staggering statistics and accomplishments. What I think is more important about Pat Summitt than her impressive statistics, is the millions of people she has and continues to inspire. She motivated so many people during her 38 years to accomplish their dreams. Words can never express adequately how much gratitude I personally have for Coach Summitt. I am living a dream, coaching at Kentucky, because she gave me an opportunity to learn from her many years ago. Jenna and I will continue to support the Pat Summitt Foundation and Coach Summitt's effort to bring awareness to this disease that she is so courageously fighting. I wish Coach Summitt nothing but the very best as she starts the next chapter in her very impactful life. I love her very much."
Connecticut coach Geno Auriemma also praised Summitt.
"Pat's vision for the game of women's basketball and her relentless drive pushed the game to a new level and made it possible for the rest of us to accomplish what we did," said Auriemma. "In her new role, I'm sure she will continue to make significant impacts to the University of Tennessee and to the game of women's basketball as a whole."
Kim Mulkey's Baylor squad was the last team to face Tennessee this year as the Lady Bears beat the Lady Vols in the Elite Eight of the NCAA tournament. It was a bittersweet victory for Mulkey who is a friend of Pat's and played under the legendary coach on the 1984 Olympic squad.
"Pat Summitt is the legend that John Wooden is on the men's side," said Mulkey. "I have always looked up to her on both a personal and professional level and our sport owes her so much. Pat started coaching at a young age and no one will ever pass her on anything that she has done. There may be coaches that have more national championships but there will never be anyone who has meant so much to women's basketball. Pat now moves to the next chapter of her life. I'd like to thank Tyler, her son, for sharing her with us, now she gets to call the shots and gets to take care of herself and Tyler."
Summitt's Career Record
1,098 wins and 208 losses
Personal
Born: June 14, 1951 in Clarksville, Tenn.
Children: Ross Tyler Summitt, born Sept. 21, 1990
Education
B.S., Physical Education, UT Martin, 1974
M.S., Physical Education, UT Knoxville, 1975
Playing Career
1970-74 UT Martin
1973 U.S. World University Games Team
1975 Pan American Games Team
1975 World Championship Team
1976 U.S. Olympic Team (co-captain)
Coaching Career
1974-2012, University of Tennessee Head Coach
1977 U.S. Junior National Team
1979 Pan American Games Team
1979, 1983 World Championships Team
1980 U.S. Olympic Basketball Assistant
1984 U.S. Olympic Basketball Head Coach