Kim Mulkey on the use of "Lady" in names for women's teams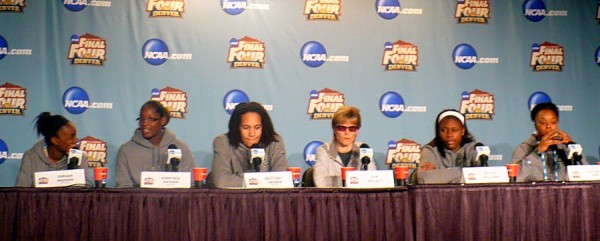 The continuing debate over the use of the term "Lady" for women's collegiate sports team became the impetus for long reply from Baylor coach Kim Mulkey when asked about the subject by USA TODAY writer Christine Brennan.
Christine Brennan: Obviously you're one of the last schools that still uses "Lady" in the nickname.  Pat does it.  Vivian Stringer, when she went to Rutgers, immediately got rid of Lady Knights, whatever…You're also such a proponent of Title IX and an advocate, and I applaud you and thank you for what you've done for girls and women as a role model.  To some, to me, and I know the Women's Sports Foundation has said this, too, the term "Lady" is as if it's from another era, as if it's not the whole.  You know, you don't see the Gentlemen Bears, of course.  And I'm curious how and why you stick with Lady when it is seen…as Nancy Hogshead of the Women's Sports Foundation said last week, it's demeaning.  If you go to Baylor, you're a Bear, end of conversation.  Your response?  Thanks. 
Kim Mulkey:  And I appreciate that viewpoint as well.  And I have read your articles and I wish you'd give Baylor a big pub because I love reading your articles.
I think without knowing?? let me answer this.  We're from the South.  We still say yes, ma'am and no ma'am.  And I have to honestly tell you I've been told by people don't do that to me; that offends me.
I played with kids from the West Coast when I was a player and kids from the East Coast.  And I would say yes, ma'am.  And they would go:  Stop that.  That's where we come from, it's respect.
And Lady is not offensive to anybody who lives in our area of the country.  I'm not going to speak for Pat, but I think it's a tradition of respect, believe it or not, than it is disrespect viewed from people on the outside.
We don't make an issue of things that are really not disrespectful in our eyes.  We have shirts that say Bears.  In fact, I may have one on somewhere.  It's more of a thing that things started a long time ago, like yes, ma'am and no ma'am.
And I still have a hard time with people who don't say yes ma'am and no  ma'am, but I understand in some parts of the country that's viewed as demeaning.  And I don't view it that way.
I think too much is made of it.  But just look at the tradition of the program and the coaches that run those programs.  There's nobody that fights for Title IX more than Pat Summitt and more than me.  And I can tell you this:  I'm a product of Title IX more than I am a fighter of Title IX.  I reaped the benefits from those who came before me.
But in no way, shape, or form do I not understand the viewpoint from those that you mentioned.  But I want them to also understand our viewpoint.  And I don't think there's a right and a wrong.  I just think it's kind of tradition, maybe, in where we live.