Pat Summitt appearance at WBCA All-America game a pleasant surprise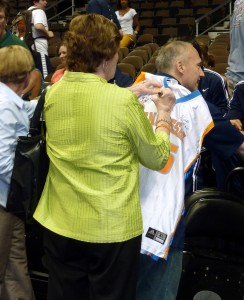 DENVER, Colo. — Tennessee Coach Pat Summitt surprised those in attendance Saturday when she showed up for the ceremony naming the WBCA All-American Team, which included Lady Vol senior forward Glory Johnson.
Summitt, along with associate head coach Holly Warlick and assistant coach Dean Lockwood, came through a rear entrance and sat courtside for the announcement. She quickly left when it was over, but returned a few hours later for the WBCA High School All-American game.
All three coaches sat behind the bench of the White Team, which included Tennessee signee Brashara Graves. When the game was over, Summitt took her time leaving the arena, stopping to talk to Johnson and other All-American teammates, and sign a few autographs. All three seemed in great spirits, laughing and joking with fans.