The sports world reacts to Pat Summitt's retirement: Statements and tweets from coaches and athletes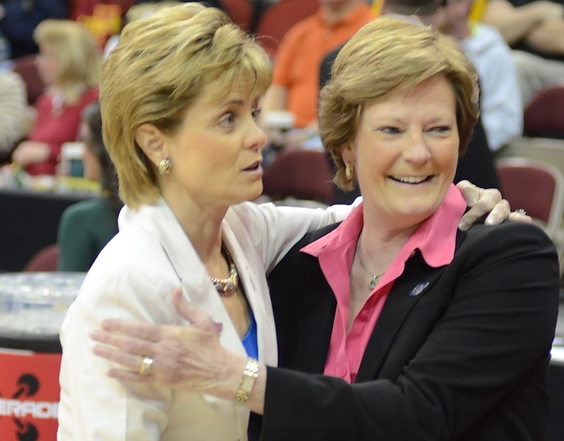 As news about Pat Summitt's retirement spread, the sports world reacted. Coaches, former Tennessee players, professional athletes from all sports and others released statements and tweeted their thoughts.
Statements || Tweets
Indiana Fever assistant coach Mickie DeMoss who was an assistant at Tennessee for 21 years
I am happy for Pat. Her health and well-being are most important to me. She now can focus on doing things for Pat. She has given 38 years to UT and to women's basketball. Now, she can do what's best for herself, every day. I'm happy for my friend, and happy that she can begin a new chapter in her life. She's had such a unique and powerful impact on the women's game – not only on the college level, but on every level. Her legacy will always be revered.

The impact that she has had on me, not only as a professional but as a person, has been tremendous. It has been a very powerful impact. I will always be grateful for her influence.
Rutgers' C. Vivian Stringer
This news saddens me because I have personally shared so many conversations with her as it relates to everything from basketball to family life. I feel like a piece of me has left the game and there is no bigger loss to women's basketball. Although the world will miss seeing her on the sidelines, I know Pat will continue to be a rock for the Tennessee program in her new role.
Kentucky's Matthew Mitchell
I want to thank Pat Summitt for all she has done for the sport of women's basketball. Her 1,098 wins, eight national titles and numerous conference titles are just a few of her staggering statistics and accomplishments. What I think is more important about Pat Summitt than her impressive statistics, is the millions of people she has and continues to inspire. She motivated so many people during her 38 years to accomplish their dreams.

Words can never express adequately how much gratitude I personally have for Coach Summitt. I am living a dream, coaching at Kentucky, because she gave me an opportunity to learn from her many years ago. Jenna and I will continue to support the Pat Summitt Foundation and Coach Summitt's effort to bring awareness to this disease that she is so courageously fighting. I wish Coach Summitt nothing but the very best as she starts the next chapter in her very impactful life. I love her very much.
Baylor's Kim Mulkey
Pat Summitt is the legend that John Wooden is on the men's side. I have always looked up to her on both a personal and professional level and our sport owes her so much. Pat started coaching at a young age and no one will ever pass her on anything that she has done. There may be coaches that have more national championships but there will never be anyone who has meant so much to women's basketball. Pat now moves to the next chapter of her life. I'd like to thank Tyler, her son, for sharing her with us, now she gets to call the shots and gets to take care of herself and Tyler.
Connecticut's Geno Auriemma
Pat's vision for the game of women's basketball and her relentless drive pushed the game to a new level and made it possible for the rest of us to accomplish what we did. In her new role, I'm sure she will continue to make significant impacts to the University of Tennessee and to the game of women's basketball as a whole.
Vanderbilt's Melanie Balcomb
Without Pat, I really don't know where women's basketball would be today. The impact she has had on the game itself is immeasurable and her influence on so many people connected with the game has been even greater.

Professionally, she has been my example of how not only to win, but to win with class and dignity. I feel blessed to have gotten to know her on a personal level and experience first hand the loyalty and compassion she shows for the people in her life.

It is a sad day for the game, but I am confident that we will still feel her impact in the game for a long time to come.
Seton Hall's Anne Donovan
Pat Summitt has been the most significant coach in the women's game to date. In addition to her unparalleled success in coaching, Pat's legacy is now about her courage, strength and class in one of life's biggest challenges. Our game is losing a legendary teacher, mentor and role model. Even though she may not be on the bench, Pat's impact will continue to be felt in the thousands of women and men whose lives she has touched, mine included. I am grateful to have had the opportunity to play for and work under the best, Pat Summitt.
Oklahoma's Sherri Coale
Pat is one of those rare individuals whose influence crosses all boundary lines. Literally thousands of coaches in a vast array of sports abide by her tenets, passing them on as gospel to their players. Her name is synonymous with the sport of women's basketball, and yet I believe it is her leadership style–her way of achieving, if you will, that will be her most dominant legacy.

On a personal level, I feel unbelievably blessed to have had the opportunity to compete against her. I, and an entire generation of women's basketball coaches, will always be indebted to her for the culture of excellence she helped to create in our sport. It is on the foundation of relevance that her success helped carve that we and others like us have built our programs.
Kansas State's Deb Patterson
Coach Summit set the standard for excellence, passion and intensity in women's basketball. Her impact on the lives of the young women whom she coached as well as her impact on the game's history and future will remain priceless.
Former Tennessee player and Indiana Fever forward Tamika Catchings
Her legacy will always stand, so far as elevating the women's game and bringing people to our game. I do think it's also a relief for her and everybody involved at UT. She's not leaving and she'll still be a part of Tennessee and a part of the program.

Pat was like my second mother — my mother away from mom when I got to the University of Tennessee, and even now. She is somebody who I always know will be in my corner. She is a driving force behind who I am, on and off the court.