Arizona State coach Charli Turner Thorne back from sabbatical with lessons on work-life balance, reflects on year off and Pat Summitt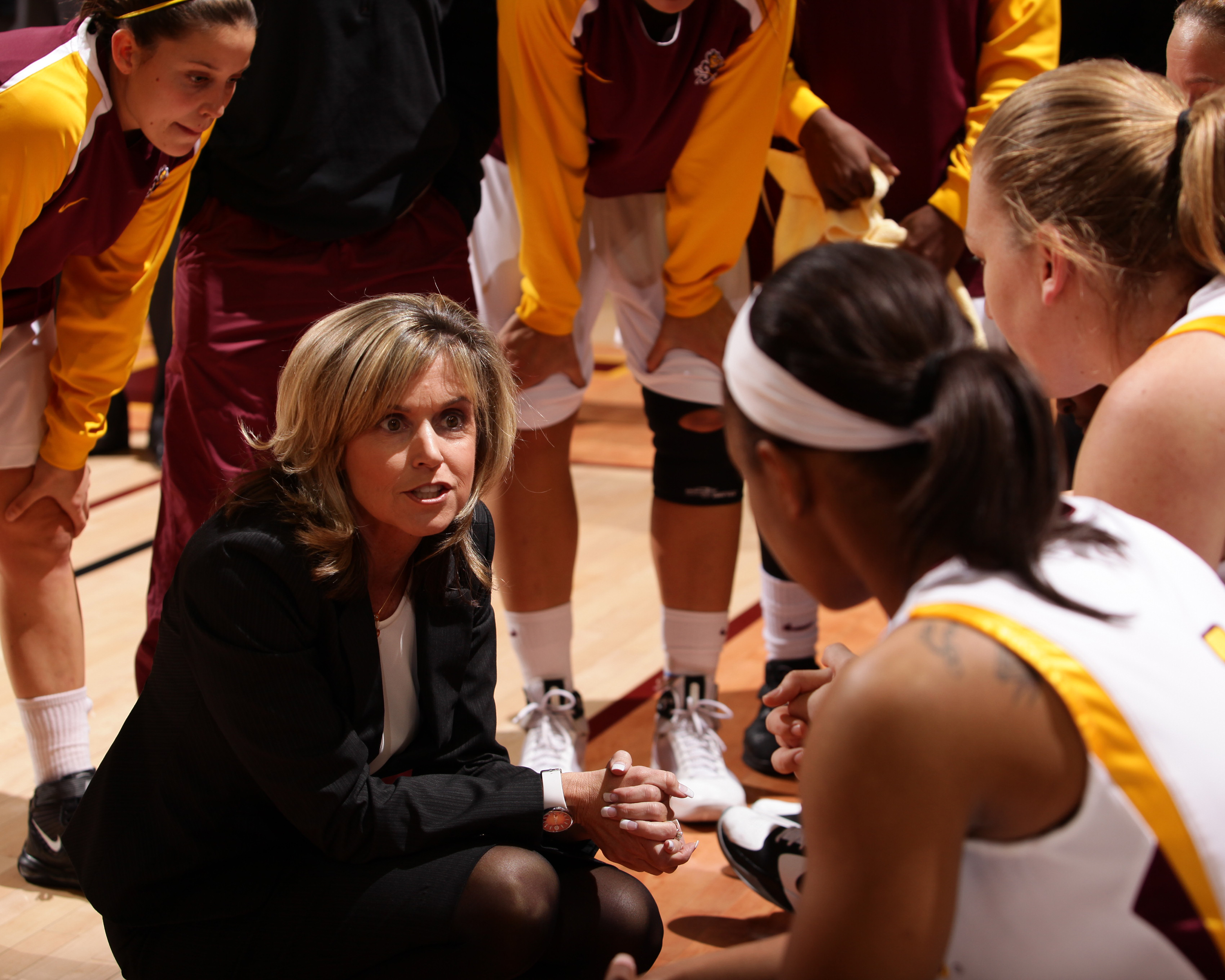 While there is no stable precedent of women's basketball coaches deciding to take a sabbatical to rejuvenate and pursue professional development opportunities, that did not stop Arizona State head coach Charli Turner Thorne from confidently announcing her intention to take a nine-month unpaid leave in May 2011.
She had no plans to retire like former Utah coach Elaine Elliot did after taking a year off and subsequently deciding to step away from the game. And Turner Thorne was definitely not going to resign due to fatigue and lack of a high level of energy for the job, a few of the reasons cited by former Texas coach Gail Goestenkors who left her plum position in March.
To the consternation of rumor mongers who filled message boards with gossip about the so-called "real reasons" for Turner Thorne's decision, her explanations for taking a break were quite simple.
"I asked for the nine months sabbatical to really step back from our program and better myself as a coach to really evaluate and look at how we can get back and maintain our elite status for our women's basketball program."
In addition to being a head coach for 16 seasons at ASU, Turner Thorne is currently the president of the Women's Basketball Coaches Association's (WBCA) Executive Committee.
In the fast-paced and exhausting world of women's basketball coaching, with the velocity sped up by the constant distraction of text messages, emails and social media, trying to maintain a balance between work and a healthy existence seems impossible. However, Turner Thorne felt strongly enough about regaining balance in her life that she took the risk of putting coaching on hold to recover and rejuvenate from the frenzy of her profession.
"It's really hard, I just wasn't finding time," she said. "I was so entrenched in the grind everyday and everything else in my program. I was having a hard time stepping back and finding the ability to contemplate and really have the vision that I need to have as a leader of our program. That was the biggest reason I did it. I just felt like I needed to. I wanted it."
Taking a break also afforded her the opportunity to think about how to move the ASU program forward. Twice during her tenure, the team has been just one game away from the reaching the Final Four. She also said the time off gave her perspective on "how to be a better coach, how to help my young women, and how to have a better overall experience, which oftentimes results in better results on the court."
Another part of her work-life balance puzzle is making time in the day to unwind and think clearly about life in general and goals.
"I was very unhealthy with my work mode. You know I just really wasn't unplugging ever, with my family and anybody else."
And she admits that her unhealthy work pace was self-inflicted.
"There are some great successful coaches who aren't doing that and balancing it a lot better," she said in regards to handling the myriad of tasks involved in coaching. "So for me, some of things that I'm doing – I'm definitely going to make time in my day to just have some thinking time, to be able to contemplate, not wake up and pick up my iPhone and immediately begin emailing and texting. At some point in that morning I need to have time to reflect and contemplate and look at the big picture and sort of think about my day and what I'm going to do."
Stepping away from the constant stream of information that head coaches juggle is also important to Turner Thorne.
"I'm determined to unplug sometimes…to just put my phone down and no matter what, make sure that someone on my staff has my back for two hours here and there and just enjoy my family, my three boys and my husband."
She also took up yoga in the past year and says she is committed to attending at least one class a week to help stay centered.
After her announcement fans worried about the stability of the program but a funny thing happened this year. ASU did not falter without their head coach. In fact, they gave Pac-12 powerhouse Stanford a scare in the semifinals of the conference tournament in March, using their "desert-swarm" defense to limit the Cardinal to a 29.4 field goal percentage (15.4 percent in the second half) and losing by only nine points.
"I was really proud and appreciative of the coaching staff," said Turner Thorne of the last season's interim head coach Joseph Anders and associate head coach Meg Sanders. ASU finished 2011-12 with a 20-12 record and broke the Pac-12 record for scoring defense, limiting opponents to 53.2 points per game. The team did not have the services of two of its most promising players, guard Eliza Norman and forward/center Joy Burke. They also lost in the first round of the WNIT to Pacific, 77-62.
"Obviously it's never our goal to be in the NIT," said Turner Thorne. "So I would be misspeaking if I said we did everything we wanted to. But under the circumstances, not having the full roster, and some young kids coming in having to play some big roles, they did a great job."
Overall, she felt 2011-12 "was a good season to build on" and she feels the newcomers to the team will provide the offensive firepower the team lacked this past season. The new players include forwards Nisha Barrett (Barstow Community College, Barstow, Calif.) and Haley Videckis (Bartlett High School, Bartlett, Ill.) plus guards Elisha Davis (Berkeley High School, Berkeley, Calif.), Arnecia Hawkins (Mountain View, Mesa, Ariz.) and Isidora Purkovic (Western Canada High School, Calgary, AB).
Now that she is back, she is preparing for the upcoming season and recruiting. She also hired a former Sun Devil standout, Amanda Levens who left a head coaching job at Southern Illinois University Edwardsville to join the ASU staff.
"Amanda was one of the best players I've ever coached here, or anywhere," said Turner Thorne. She recalls asking Levens, who transferred to ASU from Old Dominion, what she wanted to do after her playing career. Levens said "I want to coach."
"She was born to coach," said Turner Thorne. "In those two years when we won our only Pac-10 championships, anytime we had a close game, we always won and I attribute a large part of that to Amanda. She was just so savvy. She's obviously proven herself at SIUE."
Levens was named the 2012 Ohio Valley Coach of the Year.
"I think she's going to be a tremendous coach on the floor for us, a tremendous recruiter and I think she's going to be a fantastic mentor to our student athletes."
While Turner Thorne was on leave, one of her mentors, retired. Legendary coach Pat Summitt stepped down from her position as head coach of Tennessee after 38 years and eight months after disclosing a diagnosis of early onset dementia, Alzheimer's type. Turner Thorne credits Summitt with helping put ASU on the map by agreeing to participate in the first-ever outdoor women's college basketball game on December 27, 2000 at Bank One Ballpark (now known as Chase Field).
ASU wanted to "make a splash" and host an event to draw exposure to their program.
"We were trying to do this out-of-the-box event that would bring the national spotlight to Arizona State because we thought we were ready for it," said Turner Thorne. "I called Pat and it did not work well in their schedule at all. They were on the road, it was right after Christmas and they had all these other games. I mean it just didn't make a lot of sense at all to play the game and she did."
The game doubled as a fundraiser for breast cancer research. The Sun Devils almost pulled out a victory in front of 16,782 fans but the Lady Vols, led by Tamika Catchings, prevailed 67-63. Levens had 21 points in the game.
"I just feel like that is such a just a great example of who she is and how she's helped the game," said Turner Thorne of Summit's willingness to come to play ASU in 2000. "It was a turning point for our program…and a huge confidence builder for players. And we went on to have one of the best seasons since I've been here. She's always been a great mentor to a lot of us."