Dishin & Swishin 05-10-12 Podcast: A tale of two ACLs – Jacki Gemelos & Monique Currie look to return to form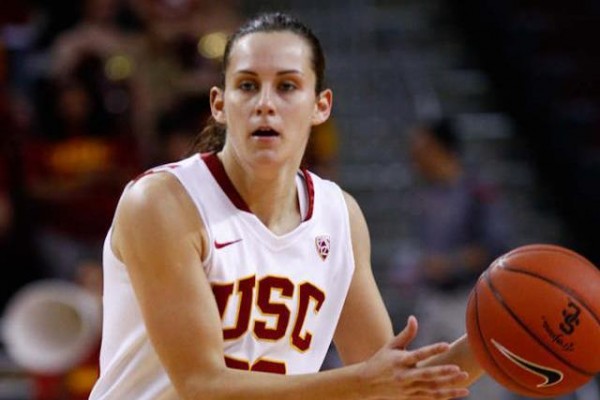 [display_podcast]
If it is not the most common injury, it sure is on its way to becoming the most common injury for women basketball players. The three letters that send a chill down the spine of any basketball fan: A-C-L.
The participants in today's Dishin & Swishin podcast are both on the recovery trail from torn ACL injuries, albeit at far different stages in their recoveries.
Jacki Gemelos was one of the biggest names in the country when she was coming out of St. Mary's high school in California in the spring of 2006, having averaged 39.2 points and 8.9 assists per game. She caused a stir and shed light on the issue of early commitments with a very early commitment to Connecticut, only to change her mind, and elect to go to Southern California. However, the college career destined for super-stardom was derailed by knee injury after knee injury. She missed a few seasons with knee tears and recoveries, but through it all she never gave any thought to giving up on basketball.
It was not until February 4, 2010 that Gemelos finally made her long awaited debut in a USC uniform. She stayed healthy through the 2011 season, and capped off the summer playing for the celebrated gold-medal-winning United States World University Games team.
However, Gemelos again suffered heartbreak this winter, suffering yet another ACL tear, ending her college career. Still, not willing to let her WNBA dreams die, Gemelos threw herself into rehab full tilt, and has a new target in site: playing overseas this winter to get ready for the 2012 training camp of the Minnesota Lynx, who selected her in May's WNBA draft.
Today, Jacki Gemelos will get her graduate degree from Southern California. She was nice enough to sit down and chat with me this week for Dishin & Swishin, and share her story from the beginning. We touched on the UConn decision, her injuries and recoveries, watching from the sidelines, and building toward the WNBA; a great interview I know you are going to enjoy.
The Washington Mystics showed complete confidence in the ACL recovery of Monique Currie, coring the free agent forward this winter, making her the cornerstone of the rebuilding franchise alongside Crystal Langhorne.
Last year was a year of disappointment for the Mystics, as the team constructed around Langhorne, Currie, and Alana Beard saw Beard and Currie miss virtually the entire season due to injury. They finished with a 6-28 record, only to face the fact that a trade they made the prior offseason deprived them of a high lottery pick as well.
Still, the Mystics management has gone all in on a rebuild, bringing in players such as Ashley Robinson, Michelle Snow and Dominique Canty, along with rookies Natalie Novosel and LaSondra Barrett in a re-shaping of the franchise.
Central to any success though, will be Currie, who is entering her seventh year in the league. In 2010, she was playing at an All-Star level, but an ACL tear deprived her of all but the final four games of the 2011 season.
She is fully recovered now, and coming off of a little bit of winter ball in Turkey to shake the rust from her absence. Currie has a confidence and optimism that this year's edition of the Mystics will be better than people think, that they will be a playoff contender in a strong Eastern Conference.
That we will see, but if it is to happen, a healthy Currie will be crucial to their success.
So, for this week's Dishin & Swishin, I have two tales of perseverance, two tales of dedication, and two tales of hard work. Hopefully for all of us fans, it will also be two tales of success.
Enjoy the podcast!