Dishin & Swishin 05/24/12 podcast: Lin Dunn looks to continued success in Indiana while Temeka Johnson hopes to bring it to Tulsa
[display_podcast]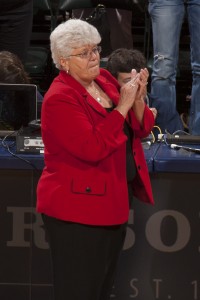 During the 2011 season Lin Dunn became the winningest coach in Indiana Fever history. Under Dunn the Fever has won sixty percent of their games, and made the playoffs four consecutive seasons. If not for a Tamika Catchings injury, we could be talking about a team that represented the Eastern Conference in the WNBA Finals last season.
However, this year the Fever face more questions than in recent years. The core is a year older, and there have been some roster moves made to try to get a little bit younger. The decision was made to move Tamika Catchings from the three to the four position, and, after Shyra Ely-Gash injured her knee, the roster basically consists of four posts, six guards, and Catchings as the only forward. It looks different, and that is exactly how Dunn likes it.
In today's podcast the head coach of the Fever discusses the makeup of her team, the reasoning behind moving Catchings to a new position, the return of Briann January to the mix, and the stronger competition in the East this season. Dunn is always open and honest, and her assessments are no different this time.
The Tulsa Shock may not have won either of their first two games, but the team certainly opened a lot of eyes! Last season two games against playoff teams would have most likely led to blow out losses. This season coach Gary Kloppenburg's young Shock is a dynamic, exciting group that almost pulled off wins in both of these games. The unquestioned leader of the Shock on the court has been veteran point guard Temeka Johnson.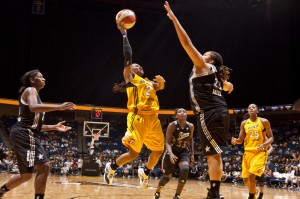 Coming off a championship winning European season, Johnson joined the Shock ready to be a leader; a mentor to a team featuring rookies and younger players. She jumped right into the fray and after two games leads the team in minutes played (29 per game), scoring (18.5 per game), and assists (8.0 per game). In addition, her presence has allowed Ivory Latta the opportunity to excel off the ball, and has helped the team's transition game flow.
Off the court, Johnson's "Meek's H.O.P.E." is one of the most visible charitable endeavors run by WNBA players. She is establishing some things in Tulsa, while still keeping it going in Louisiana. Her writing and blogging is still a passion, and in this interview she unveils what is next for her as an author.
We discussed the Shock organization and coaches, moving from a playoff team to a rebuilding team, her impressions of the rookies Glory Johnson and Riquna Williams thus far, and building the franchise.
So to summarize, it is a WNBA Dishin & Swishin podcast, with Coach Lin Dunn of the Indiana Fever, striving to return to the playoffs for a fifth straight year, and guard Temeka Johnson of the Tulsa Shock, who is trying to build a winning mentality in Tulsa.
Enjoy!