Dishin & Swishin 05/31/12 podcast: Ruth Riley is as good off the court as on; Dan Hughes has eyes on the present and future
[display_podcast]
Occasionally, I get to speak to people for Dishin & Swishin that just impress me. Sometimes it is for on the court achievements; sometimes it is for off the court activities.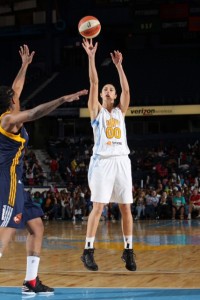 In the case of Ruth Riley, it is both. Riley is the only player to be named Most Outstanding Player in the NCAA tournament (2001, when she led Notre Dame to the championship) and Most Valuable Player of the WNBA Finals (2003, with the Detroit Shock). When this past winter the Chicago Sky signed the free agent post to play alongside Sylvia Fowles, they knew they were getting more than an experienced player, they were getting someone who has been in the playoffs every season since she joined Detroit in 2003. For a franchise that has not yet made the playoffs, she brings invaluable experience.
Off the court though, is where Ruth Riley is truly a superstar. Riley has only been in Chicago a short time, and has already become involved in the Chicago "No Kid Hungry" campaign; a cause important to her, as she benefited from free and reduced lunch programs as a child. She is also very active and visible in her participation in the United Nations' "Nothing But Nets" initiative and also with TRIAD Trust's attempts to reduce AIDS-related deaths. Riley has traveled the world in support of the endeavors, and remains a strong presence both with WNBA Cares and her own personal time and efforts.
Riley discussed her championship teams from Notre Dame and Detroit with this Connecticut resident (I only cried a little bit), as well as her decision to join the Sky, playing alongside Big Syl and her thoughts on the other young posts coming into the league, and of course her charitable acts. A great chat with a great person!
The second interview in this week's podcast is "friend of the show" Dan Hughes, the coach of the San Antonio Silver Stars. Hughes has been a guest several times, and each time openly discusses his team and the league as he sees it. This time is no different.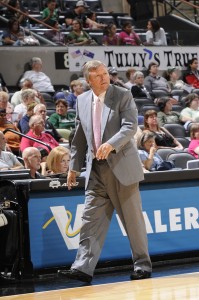 The Silver Stars are a team in a state of flux; they have star performers in veterans Becky Hammon and Sophia Young, experienced teachers such as Tangela Smith and Tully Bevilaqua, solid contributors like Shemeka Christon, Jia Perkins and Jayne Appel, but perhaps most important, youngsters in need of experience and tutelage in Danielle Adams, Danielle Robinson and Shenise Johnson.
Hughes and I spent a good amount of time discussing the difficulties involved with coaching Danielle Adams, a tremendously gifted player, with wonderful skills on offense, who is beginning to find herself at a crossroads due to her lack of conditioning. He told me what he feels she needs to do, and also discussed the other Danielle (Robinson) and what he needs her to continue to work on.
Ironically, on Tuesday, when this was recorded, he mentioned how he really was not happy starting Perkins, who he feels is more effective off the bench, and perhaps talked himself into a lineup change, as last night against Riley and Chicago Johnson started in her place.
You will not want to miss this interview and the insights of a coach that is respected and revered by his current players, former players, and other coaches throughout the league.
So get your favorite beverage on this warm final day of May, and curl up with a really enjoyable podcast!