Lynx nearly upset in D.C., Chicago spoils San Antonio home opener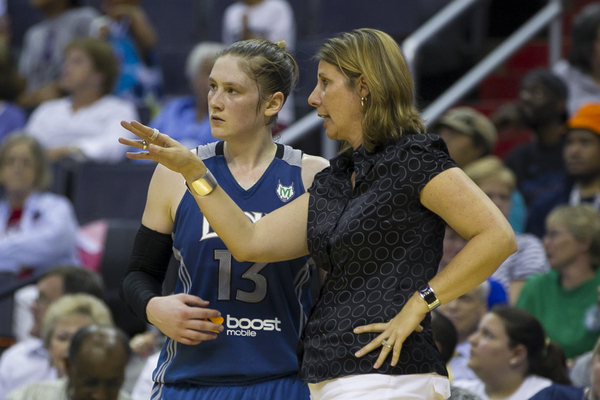 Minnesota Lynx 79, Washington Mystics 77, Box score
The Washington Mystics gave undefeated Minnesota Lynx a scare Wednesday night in D.C. The Mystics (1-2) overcame a 24-point deficit to even up the game with 6:27 left and nearly upset the defending WNBA champions. However, point guard Lindsay Whalen came up big in the waning moments of the fourth quarter to hit a shot with a second on the clock that sealed the game for the Lynx (5-0). She finished with 11 points and seven assists.
Maya Moore and Rebekkah Brunson led the Lynx with 16 points each. Brunson also pulled nine rebounds. Seimone Augustus contributed 15 points. The Lynx outrebounded the Mystics 30-22.
Matee Ajavon led the Mystics with 20 points. Monique Currie and Noelle Quinn had 13 points each and Crystal Langhorne finished with 12 points.
Chicago Sky 77, San Antonio Silver Stars 63, Box score
The AT&T Center provided no magic for San Antonio as the Silver Stars (1-2) as they lost their home opener to the visiting Chicago Sky (2-1), 77-63 Wednesday night in front of 7, 233 fans.
Sky center Sylvia Fowles led her team with 23 points and 12 rebounds. The 6-6 Fowles and former Silver Stars player, 6-5 Ruth Riley towered above San Antonio and helped their team outscored the Silver Stars in the paint, 40-26. Riley finished with 10 points. Guard Epiphanny Prince had 22 points for the Sky while forward Swin Cash added 12.
Silver Stars coach Dan Hughes lamented about his team's lack of ways to stop Fowles who dominated with her height.
"[Sylvia] Fowles is about as good as it gets at that position," said Hughes. "We had to do things by team concept. We weren't strong enough; we weren't strong enough to do that. Give her credit. She's going to present that problem on a nightly basis. If your team concept isn't strong enough she's going to dominate. What's difficult is that she impactful on both ends of the court. Several times I thought offensively we had a chance to gain momentum, but what she did on the glass over powered us. Defensively she's a factor."
Sky coach Pokey Chatman agreed.
"[Fowles] is the best five-player out there in terms of her ability to eat up space to command the basketball. People were scheming for her. They were trying to double-team her."
For the Silver Stars guard Becky Hammon had 21 points and point guard Danielle Robinson finished with 13. The last time the Silver Stars lost a home opener was in 2010 against the Atlanta Dream in a 75-70 decision.
Guard Ticha Penicheiro did not play for the Sky due to a lower left leg injury. Prince had five steals, breaking a team record for career steals, bringing her total to 145.
"I actually just found out but I really do not care about that stuff," said Prince postgame about the record. "all I care about is that we won."
Tuesday night result
Upcoming games
Thursday, May 31
Phoenix at Atlanta, 7 p.m. ET
Friday, June 1
Minnesota at Connecticut, 7 p.m. ET
Phoenix at San Antonio, 8 p.m. ET
Washington at Chicago, 8:30 p.m. ET
Tulsa at Seattle, 10 p.m. ET