USA Basketball Women's National Team begins campaign for fifth straight Olympic gold in Seattle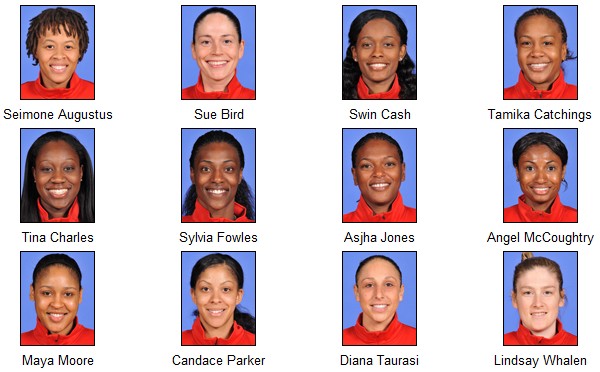 The twelve members of the USA Basketball Women's National Team are in Seattle this weekend for practices and matchups against China and Japan. They practiced for two hours on Friday and face China on Saturday in a game at KeyArena. A morning scrimmage with Japan is scheduled for Sunday.
"We talked a lot with our coaching staff about how much you can accomplish in two hours," said Geno Auriemma, USA and Connecticut head coach before Friday's practice. "We want to set the tone for what we want to get done. Not just in our first practice tonight or this weekend, but going all the way through London. We have two hours tonight, an hour of shoot-around and an exhibition game tomorrow and a scrimmage on Sunday. In that limited amount of time we aren't going to get it all done, but hopefully we get to the most important stuff. So the players know, this is what they want, this is what they expects and now let's go get it done."
It is not the best time for training as the WNBA preseason has already started with many pro players who are also on the national team just returning from overseas play.
"When you are playing year-round, you do things like try and limit your playing time, which I did a great job of this year," said center Sylvia Fowles of the Chicago Sky and player for Turkey's Galatasaray. "I didn't start the season over there until December, then I had a Christmas break, and I went back over in January. I expect to do that this winter coming up as well, and I think that's what I'm going to have to do from here on out if I want to play another five years."
The WNBA regular season starts on May 18. The league begins an Olympic break Saturday, July 14 and resumes Wednesday, August 15. USA Basketball continues its training and exhibition schedule right before the break with two contests in Washington, D.C. They play Brazil at the Verizon Center on July 16 then head overseas for exhibitions against Great Britain and a tournament in Turkey.
"I'm really preparing the best I can, " said team member Angel McCoughtry of Atlanta Dream. "It's tough to transition from your WNBA team to USA Basketball, but it can be done and I'm just excited about the opportunity. I am just going with the flow, and I want to enjoy every minute of it, learn from other players and get better. Learn from coach and do what I need to do. People dream about this opportunity. It makes you very grateful."
Joining Auriemma on the coaching staff are assistants Doug Bruno (DePaul head coach), Jennifer Gillom (Washington Mystics assistant) and Marynell Meadors (Atlanta Dream head coach).