USA routs China 100-62 in exhibition game, Auriemma says team needs to improve defense
Quotes | Box score | USA Basketball schedule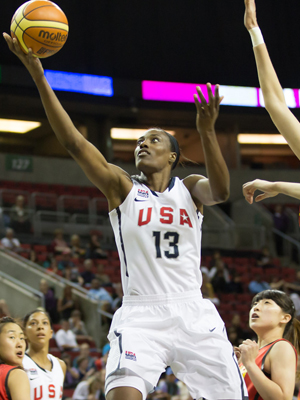 Five USA players scored in double digits in a 100-62 win over China Saturday night in Seattle. Tamika Catchings led the team with 19 points, Maya Moore finished with 15 and Sylvia Fowles added 12 points and seven rebounds. Swin Cash and Candace Parker had 10 points each.
The USA had only one practice, the night before, prior to the game. They outrebouned China 35-17 and shot 60.9 percent from the field (42-69 field goals). At the half, the USA led 52-33.
"When you've only had one practice with the team and this is our first game, it's not going to look great," said Geno Auriemma , USA and Connecticut head coach. "(China) is disciplined and (they) do their thing and make it difficult for us"
Zengyu Ma led China with 20 points while Gao Song and Li Shanshan had 10 points each.
"I think both teams played great tonight," said China Coach Sun Fengwu. "We tried really hard, with 100 percent effort and it will definitely be a great help for us."
Even with the win Auriemma sees room for improvement for the national team.
"We gave up too many points in the first half," he said. "But we talked about this in the locker room – not one player on this team was picked because they're a great defensive player. We have all of these good offensive players that are going to moan when we make them play defense. Defense is going to be the last thing that we get right, but as the weeks go on, we're going to get it right."
The USA has a scrimmage against Japan Sunday morning at Seattle Pacific University. They continue their training schedule in mid-July in Washington, D.C. at American University.
Geno Auriemma
On the 2nd quarter:
We were shuffling guys in and out, trying different things. We could've played eight players and looked really good doing it, but that's not the intent of today. It took us a while to find our stride and find the right combinations that play well together.
Sue Bird, Seattle Storm
Opening comments:
For me especially, it's been great to have this training camp in Seattle. From a basketball standpoint, obviously we don't have a lot of time so it's really important to start making our identity. I think we did that. We're definitely going to get better, but it was a great start.
On the identities of the national teams:
I think back to 2004, I don't know that we were as deep. This team and 2008 … the talent is so deep. You can go out there and exert all your energy because you know that with the next person coming in, there's going to be no dropoff. This team is very deep, a lot of lineups, a variety of things you can throw at teams and it'll probably work because the talent is there. The one thing that never changes is how selfless everyone is. Very unselfish, only want to win a gold medal, will do whatever it takes – that part will always remain the same.
Swin Cash, Chicago Sky
Opening comments:
I thought it was a great start for us. Everyone came out with a lot of focus on what we wanted to get done and that was to try and build some chemistry. I thought we achieved that. We understand we have a ways to go, but this is a great first step.
On being back in Seattle:
It was good to come back and have the training camp here in Seattle. I think the fans have proven that they truly support not only the WNBA, but women's basketball in general. For me, it was definitely a treat to be back and to play in front of all the Seattle fans.
Tamika Catchings, Indiana Fever
On the game:
I thought it was a great game to get our feet wet and see where we're at. We did good at certain times and our chemistry was definitely there, but just like with any team, we need a little time to get used to playing with each other. The potential is definitely there.
The exciting part about it is it's the beginning. This is the first time this 12-player roster has been together practicing then to play a game against a great Chinese team, and to pull away like we did, every single person on this team brought something different. When you look at going to the Olympics and getting to London, that's something positive. If we can continue to build off of that and continue to get better, that'll only make what we do in the end that much more memorable.
Diana Taurasi, Phoenix Mercury
On the game:
We did a lot of good things. We haven't been together in two years, and after one day of practice, obviously there's a lot to work on, but you also saw glimpses of when we were very focused and sure of ourselves. That's when a lot of good things were happening for us.
On what she looks forward to most about London:
It really is special the minute you get there. It's the biggest stage, opening ceremonies, everything is just on a grand scale. To be able to play basketball and represent our country, it really means a lot to all of us every time we get an opportunity to do that.
China Coach Sun Fengwu
How much time do you have to prepare together?
We roughly get together for 40 days of practice. Most of the girls are young girls, around 20 years old, and some of the older players are in the process of recovery and getting in shape.
In what way is your team better than four years ago?
Our team is a pretty young team. We have good size, height, and we are body conditions are pretty good. We have good shooting and our players can shoot the ball very well. But compared to the European teams our disadvantages are strength, speed, and physical contact.
What do you see from this team?
In the 2008 Beijing Olympic Games there was a great compilation of basketball talent from about 12 years. After 2008 there was a transition from old to young so this bunch of girls have great bodies, great size, but their skills in transition have to be polished more and improved. These games will be a great help to our team.
After last year's USA trip we went back to Asia and won the Asian Championship so we have the tickets for London. These games will be a great help for our team.
Some of your players didn't play tonight. Are they injured or are you just giving the younger girls more experience?
The reason could be both. For the seniors, they need time to have their bodies recover and make sure their bodies will be in shape so it was very important for them, but at the same time the young girls it's very important to get them in the game for game experience. Some of the young girls are panicky in big games.