Big East announces repeat opponents for 2012-13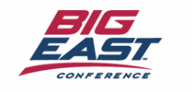 The Big East released the women's basketball repeat schedule of league teams as well as home and away schedule for its 15 members.
The regular-season format is a 16-game schedule. Each team plays 16 conference games. They will host six opponents at home and play at six opponents with two repeat opponents where both a home and away game will be played. Each team has a total of eight home and eight away games. According to the league, the rationale in determining the repeat opponents is to provide additional quality television inventory, for competitive issues/RPI implications as well as geographic rivalries/minimizing travel costs.
"We are coming off a great season that showcased the continued growth and depth of our conference," said Danielle Donehew, Big East Associate Commissioner for Women's Basketball. "The continued use of the 16-game schedule model allows us to display the impressive play throughout the conference. The second repeat opponent will help balance the competitive fairness within the league, while creating exciting matchups for television."
CINCINNATI
CONNECTICUT
DEPAUL
GEORGETOWN
LOUISVILLE
MARQUETTE
NOTRE DAME
PITTSBURGH
 Repeats
 Repeats
 Repeats
 Repeats
 Repeats
 Repeats
 Repeats
 Repeats
Marquette
Notre Dame
Louisville
Pittsburgh
DePaul
Cincinnati
Connecticut
DePaul
Rutgers
Marquette
Pittsburgh
Syracuse
USF
Connecticut
Providence
Georgetown
Home Games
Home Games
Home Games
Home Games
Home Games
Home Games
Home Games
Home Games
1
Connecticut
DePaul
Georgetown
Cincinnati
Cincinnati
DePaul
Cincinnati
Cincinnati
2
DePaul
Louisville
Notre Dame
Connectitut
Georgetown
Louisville
Georgetown
Marquette
3
Providence
Pittsburgh
Providence
Marquette
Pittsburgh
Notre Dame
Louisville
Notre Dame
4
Seton Hall
Seton Hall
Rutgers
Seton Hall
Rutgers
Rutgers
Rutgers
Providence
5
Syracuse
Syracuse
Seton Hall
USF
St. John's
St. John's
St. John's
USF
6
Villanova
Villanova
USF
Villanova
Seton Hall
Syracuse
Syracuse
Villanova
Away Games
Away Games
Away Games
Away Games
Away Games
Away Games
Away Games
Away Games
1
Georgetown
Cincinnati
Cincinnati
DePaul
Connecticut
Georgetown
DePaul
Connecticut
2
Louisville
Georgetown
Connecticut
Louisville
Marquette
Pittsburgh
Marquette
Louisville
3
Notre Dame
Providence
Marquette
Notre Dame
Notre Dame
Providence
Pittsburgh
Rutgers
4
Pittsburgh
Rutgers
St. John's
Providence
Providence
Seton Hall
Seton Hall
St. John's
5
St. John's
St. John's
Syracuse
Rutgers
Syracuse
USF
USF
Seton Hall
6
USF
USF
Villanova
St. John's
Villanova
Villanova
Villanova
Syracuse
PROVIDENCE
RUTGERS
ST. JOHNS
SETON HALL
USF
SYRACUSE
VILLANOVA
Repeats
 Repeats
 Repeats
Repeats
 Repeats
Repeats
Repeats
Notre Dame
Cincinnati
Rutgers
St. Johns
Louisville
Georgetown
Providence
Villanova
St. John's
Seton Hall
USF
Seton Hall
Villanova
Syracuse
Home Games
Home Games
Home Games
Home Games
Home Games
Home Games
Home Games
1
Connecticut
Connecticut
Cincinnati
Marquette
Cincinnati
DePaul
DePaul
2
Georgetown
Georgetown
Connecticut
Notre Dame
Connecticut
Louisville
Louisville
3
Louisville
Pittsburgh
DePaul
Pittsburgh
Marquette
Pittsburgh
Marquette
4
Marquette
Providence
Georgetown
Providence
Notre Dame
Providence
Notre Dame
5
St. John's
USF
Pittsburgh
Rutgers
St. John's
Rutgers
St. John's
6
USF
Villanova
Syracuse
Villanova
Syracuse
Seton Hall
USF
Away Games
Away Games
Away Games
Away Games
Away Games
Away Games
Away Games
1
Cincinnati
DePaul
Louisville
Cincinnati
DePaul
Cincinnati
Cincinnati
2
DePaul
Louisville
Marquette
Connecticut
Georgetown
Connecticut
Connecticut
3
Pittsburgh
Marquette
Notre Dame
DePaul
Pittsburgh
Marquette
Georgetown
4
Rutgers
Notre Dame
Providence
Georgetown
Providence
Notre Dame
Pittsburgh
5
Seton Hall
Seton Hall
USF
Louisville
Rutgers
St. John's
Rutgers
6
Syracuse
Syracuse
Villanova
Syracuse
Villanova
USF
Seton Hall