Dishin and Swishin 06/07/12 Podcast: DeLisha Milton-Jones and DeWanna Bonner get ready for round two of Sparks-Mercury
[display_podcast]
We are only a half dozen games into the 2012 WNBA season, and already the rivalries are heating up!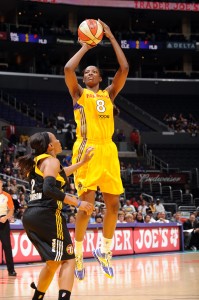 As hard as it is to believe, the Los Angeles Sparks in building their 5-1 record have already won the season series versus the Seattle Storm. With a victory Friday night over Phoenix, they will have won two of the five games they will play this season against the Mercury and be on their way to clinching that series as well.
Phoenix entered the season without injured Penny Taylor, but they did not expect to lose star guard Diana Taurasi for the amount of time they are facing with a hip injury. The Mercury find themselves with only two wins, both over Tulsa, and the need to defeat one of their other divisional rivals.
Accordingly, the Friday night game between the two teams is crucial for both teams. In anticipation of that game, the Dishin & Swishin podcast this week features interviews with two important parts of the rotations of Los Angeles and Phoenix.
DeLisha Milton-Jones of the Sparks is perhaps the ultimate complementary player in the history of the WNBA. She has never been the primary option on a team she has played for, yet in her last game she moved into ninth place all-time in points scored, with over 4,900 points. Milton-Jones will most likely pass Chamique Holdsclaw and Sheryl Swoopes next game for most shots made in a WNBA career as well, and will soon pass Vickie Johnson for sixth place in games and minutes played. She has been amazingly durable, only having two seasons where she did not play more than 25 games in her entire career.
She proudly wears both the "Sunshine" and "D-Nasty" monikers she has earned; although she strongly states that D-Nasty refers only to her intense competitive nature, and should mean nothing beyond that.
In a highly entertaining interview, we talked about many topics. We discussed championships and gold medals, playing with Lisa Leslie, Candace Parker, and Nneka Ogwumike, being a part of the Sparks as well as the Portland Power, USA Basketball, the Florida Gators, playing for diverse coaches Lin Dunn, Orlando Woolridge, and Carol Ross, and moving from playing inside to outside. We even touched on what "the end" may be like.
Apparently Penny Taylor was tired of DeWanna Bonner winning voted-on regular season awards, so she tore her ACL. This way Bonner, the only player in league history to win a voted-on award three consecutive seasons would have to step into the starting lineup, ending her run of Sixth Woman of the Year awards at three. So instead, Bonner has gone out and won the second Player of the Week award of her career.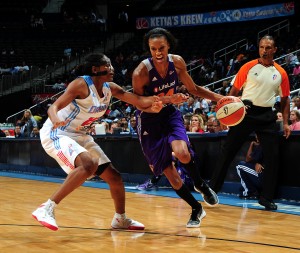 While the Mercury have struggled in the win column thus far, much of that can be attributed to the changes in chemistry, not to the performances of their star players. While the team adjusts to rookie Samantha Prahalis and team newcomer Chardé Houston, Bonner continues to do what they do so well.
Bonner, already averaging career highs in almost every statistical category, is second on the team and ninth in the league in scoring at 18.7 points per game, and leads the team and is sixth in the league in rebounding at eight per game.
In our Dishin & Swishin interview, we joked about the Diana/DeWanna "punk'd" video, discussed winning the title in 2009 and wanting another, life on the court with Prahalis and without Taurasi, her durability despite her slender physique (no she does not wear number 24 because that is what she weighs), and which adjustment is more difficult, coming off the bench after starting in college or starting after coming off the bench in the WNBA. We even talked about the recruiting of her sister Erica McCall.
So get ready for Friday night's Phoenix Mercury at Los Angeles Sparks matchup (8 pm ET, Live Access) by hearing from two of the more important pieces of their teams' game plan. They are two players that will be most likely defending each other a good portion of the night; one the consummate experienced warrior, the other the young gun showing more and more to her game each season.
Enjoy!