Dishin & Swishin 6/14/12 podcast: April Phillips & Special Jennings create a league of their own; the Los Angeles Sparks discuss their success
[display_podcast]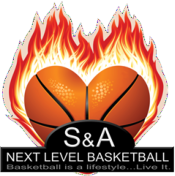 We have a diverse and interesting podcast for you today!
First, April Phillips and Special Jennings were integral parts of the successful Xavier teams during this decade. Both had good careers, including an Elite Eight run, and both have been playing hoops overseas. However, both have found themselves on the outside looking in during the summer months, when WNBA leagues did not come calling for their services. Having already coached AAU teams together, and wanting to give back to the game and the community, they have created S&A Next Level Basketball, an organization that strives to give back to the community in multiple ways, including instruction and camps for children.
This year they have also started in Cincinnati the first season of the Cintas Next Level Women's Basketball League. The league is NCAA-approved, and consists of eight sponsored teams, featuring players with college basketball backgrounds, or limited high school invitees. In addition to Phillips and Jennings, players include Myia McCurdy (Rutgers), Aisha Jefferson (Michigan State), and members of the Cincinnati and Miami (Ohio) squads.
Kevin McGuff coached Jennings and Phillips at Xavier and is thrilled by what they are doing.
"I'm really proud of all the work Special and April have put into bringing this Summer league to life. The Cintas league will be a tremendous benefit to the women's basketball community in Cincinnati."
Quency Phillips' Fuzion Management is one of the league's sponsors.
"April and Special are setting a new standard in women's basketball with the S&A Next Level CINTAS Summer League. Rather than dwelling on the reality of the lack of a professionally run summer league for women, they've created their own. Having the wherewithal to align themselves with the NCAA shows that they are much more than basketball players. I'm proud to be aligned with the league, as it fits within my goal to create more opportunities for women's basketball as a whole."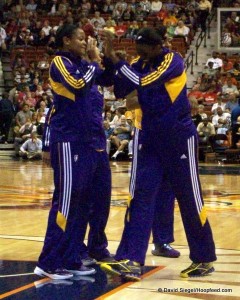 Happy birthday April, and good luck with the league ladies!
Second, this just in, the Los Angeles Sparks are good! I had the benefit of seeing (and chatting with) the Sparks last night at the Mohegan Sun Arena, where they defeated the Connecticut Sun 87-81. What impressed me, in addition to the simple fact they beat one of the WNBA's best teams on their home court, is how well a team that features a new head coach in Carol Ross, and several new integral players (Nnemkadi Ogwumike, Alana Beard) has come together so quickly, especially on the defensive end, where they are making things happen.
As part of today's podcast it is a pleasure to bring you conversations held courtside with Ross, emerging star guard Kristi Toliver, the returning from injury veteran presence in Beard, and the rookie, Ogwumike. They are joining forces with a healthy Candace Parker, the crafty DeLisha Milton-Jones and a solid bench led by Jantel Lavender and Marissa Coleman to challenge the Minnesota Lynx for "best in the west" honors.
Enjoy the podcast, and remember, if you hear of a local league near you, please try to go and support women's basketball at all levels!