Dishin & Swishin 6/28/12 podcast: Could there be a dynasty brewing? Maya Moore, Cheryl Reeve, Stephen Litel & Debbie Antonelli on the Lynx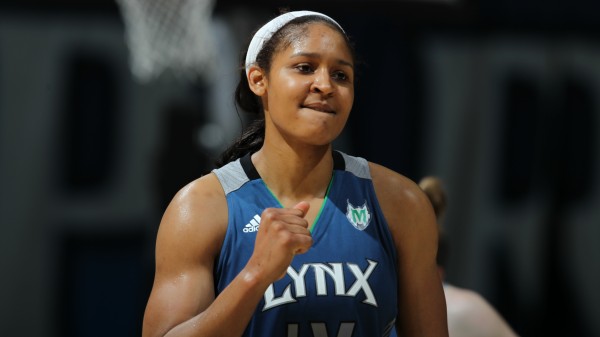 [display_podcast]
In discussing the success of the now 13-1 Minnesota Lynx with head coach Cheryl Reeve for this week's Dishin & Swishin podcast, I commented on how fleeting success can be and how injuries can derail the train. This was on display last night, when the Lynx hosted the Phoenix Mercury. With injured Diana Taurasi, Penny Taylor, Candice Dupree, and Nakia Sanford sitting, the Mercury were missing over fifty points per game (based on last season's averages), something no team can expect to overcome, and the Mercury could not, losing 96-80.
Framed in that context, the success of the Minnesota Lynx over the last season and the first forty percent of this season is all the more remarkable. The team has won 40 of 48 games, a ridiculous 83 percent. Owner Glen Taylor has put together a management team in Roger Griffith and Cheryl Reeve that understands the team concept and the importance of "we" over "I," and they in turn have assembled a team that truly cares about each other and winning more than individual achievement.
Sure, the fact the Lynx was a downtrodden team that had high draft choices for several years was a big factor, but that just gets you talented players, not necessarily ones that trust their teammates or are willing to be a role player in a greater team concept. They drafted the right players, they made the right trades, they signed the right free agents. The result is a deep roster that Reeve uses well, and players that accept their roles and playing time.
Yet this season alone, the Lynx have had five different leading scorers in games (Seimone Augustus, Lindsay Whalen, Maya Moore, Monica Wright, and Devereaux Peters), four different assist leaders (Whalen, Augustus, Moore and Taj McWilliams-Franklin), and four different leading rebounders (Moore, McWilliams-Franklin, Whalen, and Rebekkah Brunson).
I admit that without a second title on their resume (yet), it is too early to give the Lynx the "D" word. After all, the WNBA has not had a repeat champion for ten years. Still, if you look at the Seattle Storm, the Detroit Shock, the Los Angeles Sparks, the Houston Comets even, there are a lot of similarities in their teams. They each had scorers, rebounders, playmakers, and defenders; they each had veterans who knew how to win and wanted to share their experiences plus youngsters who wanted to soak it all in.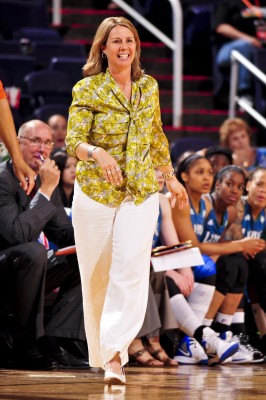 Today's podcast looks at the Minnesota Lynx from a few different angles.
For the players' side of things, I talked to Maya Moore, the heralded second-year player who won WNBA rookie of the year and WNBA and EuroLeague championships in the last year. Now, she is going after a gold medal in the London Olympics. Moore discussed being a member of the Lynx, her role and the role of others, not looking for individual glory, her overseas experiences, Title IX, her role model responsibilities and her faith.
Then I talked to head coach Cheryl Reeve, to get the coach's feeling on her team. Reeve has been an assistant and head coach with several colleges and WNBA franchises, ones that have been successful, and ones that have not. Reeve is a straight shooter, and she coaches to win, not massage egos. Yet she has managed to create an environment where every player on that bench is ready at any time to contribute however necessary. That is no small task, and should the Lynx win out prior to the Olympic break, Reeve will exit July as the WNBA coach with the highest all-time winning percentage, surpassing Michael Cooper and Van Chancellor. Reeve is passionate about her team, Title IX, its impact and women having coaching opportunities. We discussed her feelings of responsibility and the important role she plays as a coach and role model, as well as her success and the Lynx.
Having talked to parts of the team, I felt I needed to get some more perspective on the Lynx. So I talked to SLAM Online's Stephen Litel. He is based in Minnesota and has done an outstanding job covering the WNBA. We discussed seeing this team on a day-in, day-out basis as only the local media can do.
Finally, for some historical context, I went to one of the members of the media who has covered so much basketball, and has some outside perspective, Indiana Fever broadcaster Debbie Antonelli.
After listening to this week's guests, maybe you will come to the same conclusion that I have —  we may be watching history unfold this WNBA season.