Mistie Mims and the Connecticut Sun: A perfect fit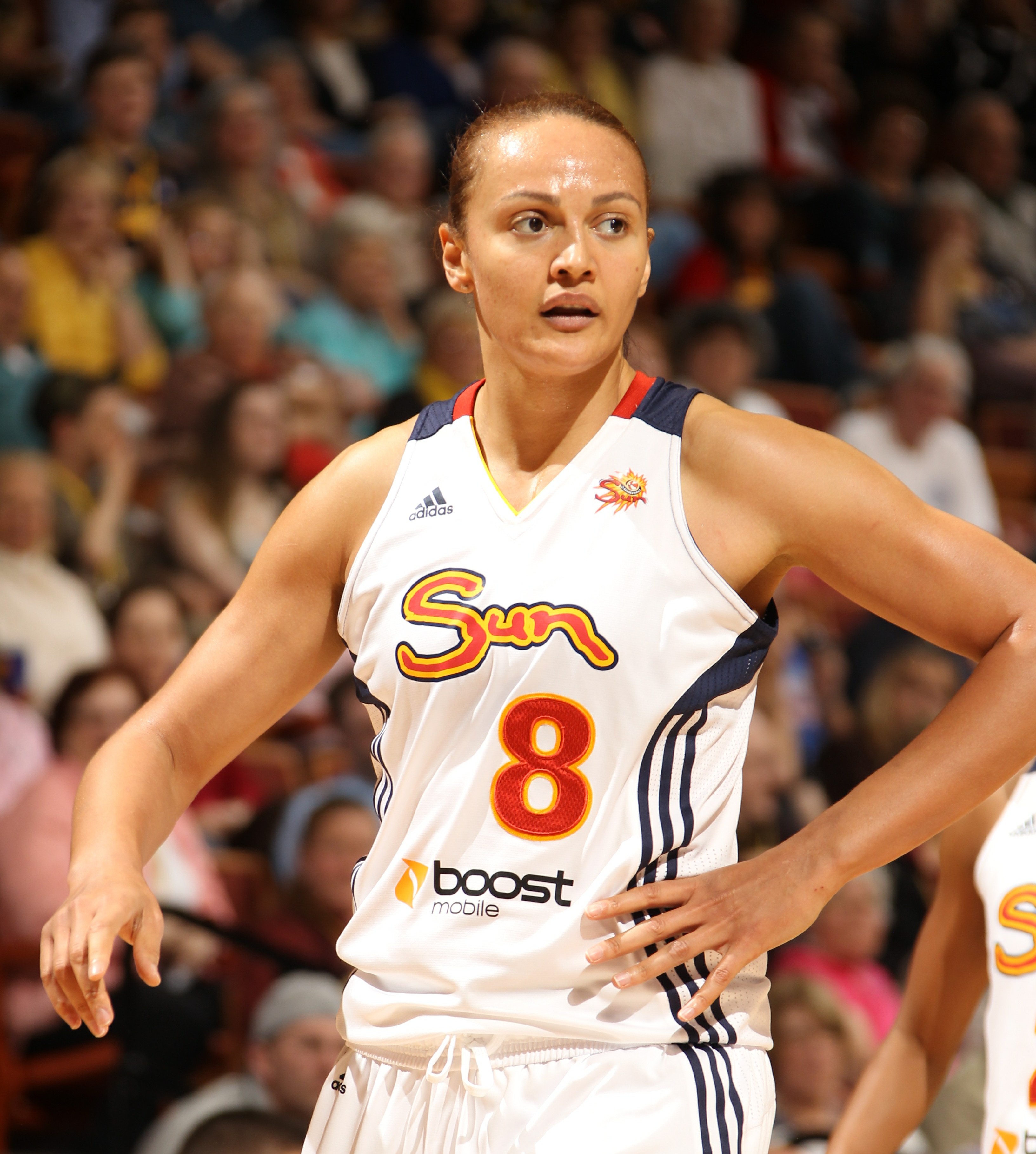 As successful as the franchise has been, you may have to go back to Brooke Wyckoff to find a backup post that was a strong contributor to the success of the Connecticut Sun. Scanning the list of those suggested for the Sun's 10th Anniversary All-Time team, Connecticut has had an exceptional group of starting post players: Tina Charles, Asjha Jones, Taj McWilliams-Franklin, Wendy Palmer, Margo Dydek and more.
The bench though? Not so impactful; which is why it is worth noting that this year's team made their most significant roster addition – a backup post, former Duke Blue Devil Mistie Mims. For the first time in years, the Sun has a player that is perfectly suited for the role of understudy to Charles and Jones, and that may be a difference-maker in the playoff race.
Mims (previously Bass), was a significant signing by Duke for the 2002-03 season. She chose the Blue Devils over Tennessee. Although it seemed initially all fans heard was "Chubby Checker's daughter," she ended her career there as the all-time winningest player in school history with 127 victories, two ACC championships and two Final Fours.
Mims' WNBA career though, has not had the same success. She started out in Houston then went to Chicago. Neither experience was satisfying.
"This is my sixth season in the league," Mims openly declares, "and I haven't had a very positive experience. I've been pushed into situations where there's no opportunity, and if I get an opportunity, to play 20 seconds, and that's hard for a player to deal with mentally. Then you start questioning yourself, 'are you good enough to be in this league?'"
Her success overseas made it even more difficult to take.
"You go overseas and you do so well, and then you come back here, and you're like you know you don't even get a chance. So you start questioning yourself, and I think that killed my spirit a little bit. It killed what people were seeing at Duke, that energy, that excitement, that fun loving person. It just killed it. That's why I had to take a step back."
Mims decided to pass on playing in the WNBA last season, a difficult decision for someone who loves the game so much.
"I'm not one of those players that play for money; I play for the pure enjoyment of the game. Which is the reason I didn't play."
Enter Mike Thibault, head coach of the Connecticut Sun, who felt the team needed a person that could do the things that Mims excels at off the bench in relief of Charles and Jones, and was willing to take a chance that Mims would regain her enthusiasm and excitement for the game. Not only was Thibault willing to bring Mims into the Sun organization, he was willing to give her the stability and assurances she needed in order to return to the WNBA.
Mims explains, "I didn't want to come back unless I had something stable. If it was one of those situations where I would have had to come into training camp and I was going to have to make the team, I didn't want that. I refuse to have someone say 'this is her potential, this is what she is.' I know who I am, I know my potential, I know what I can bring to a team, but if a coach and organization can't see that, I don't want to be a part of it."
"Our coach Mike Thibault, he saw it, and I was actually surprised. I'm not going to lie, I was very surprised that he gave me the opportunity, but at the same time it made me realize he has confidence in me. If he has confidence in me to come in, and do what he's seen me do for so many years, then I'm definitely coming."
Thibault has not been disappointed at all.
"She has been everything we had hoped for," he said after practice this week. "She compliments our other two post players in that she can play with either Asjha or Tina, and she can play at either post position. She brings great energy to our team, and she is a terrific defender. She has been a great addition to our team."
For her part, Mims is absolutely thrilled to be a part of the Sun organization.
"I'm very excited to be here with this team, with this organization. This organization is amazing, they really take care of us as players, as a team, and I really enjoy that. Our fans I believe are the number one fans in the league. I love that, I love to play in an atmosphere like that, so it makes me even happier to be here."
She has given the Sun a solid sixteen minutes per game through the first three, scoring four points and adding three rebounds per game. Her energy and experience, as well as her adaptability have been her biggest contributions.
"Mistie brings energy and a high basketball IQ to our team," explained guard Renee Montgomery, "Plus she's a very positive person, so that always helps with team chemistry."
"Replacing them [Charles and Jones], first of all, it's a job because they do so well." said Mims. "They play great defense, they give that offensive push, they require a lot of defense to be put on them, so when you come in you don't necessarily give that same type of presence, so I have to bring something different. One thing I can't worry about what they're doing, it's just kind of what I'm good at. I'm good at defense, rebounding, and being a physical presence. That's my job. So if it's two minutes I'm going in for them, I need to make sure the level stays the same, or goes higher in terms of energy. "
What is perhaps the most noticeable when you watch the Sun is the fact that they are enjoying the game. They like the system they are playing, and they enjoy each other. Chemistry is perhaps the best it has ever been. Mims is pleased.
"I wanted to come to a situation where I knew I'd be able to prosper, where I'd be able to enjoy basketball. I had always told myself if I wasn't enjoying it there's no point in doing it."
The Sun is off to a 3-0 start and playing like championship contenders already. There is no doubt in Mims' mind that they will be there at the end.
"Our team is very competitive, even if we are down ten, thirteen points, we're not going to go away. I think that shows kind of a special characteristic in this team, that we're fighters, and that we don't necessarily get down on ourselves about being behind. If we're down, we're going to come back."
One that may give the Sun their best chance to win a WNBA title for the first time since, well, since Brooke Wyckoff was on the team.