Quarterfinal round set at FIBA Olympic Qualifying Tournament for Women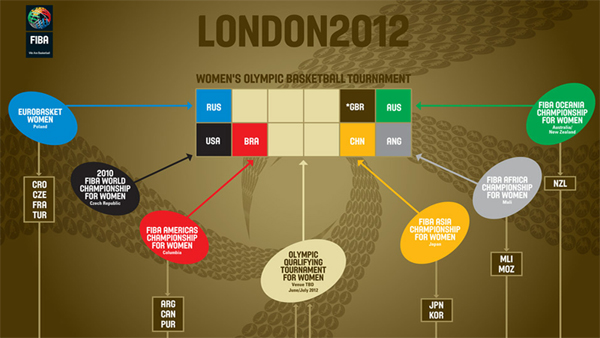 Update 6/30/2012
Results, Friday, June 29
Croatia 59, Canada 56
Czech Republic 53, Japan 47
Turkey 72, Argentina 58
France 80, Korea 63
Fifth place quarterfinal matchups for the last spot in the Olympic pool
France vs. Argentina
Japan vs. Korea
6/30 Results
Japan 79, Korea 51
Canada 58, Argentina 41
Fifth place classification final will be on Sunday, July 1
Canada vs. Japan 
Eight teams are still in the running for the last five slots of the 12-team pool that will compete in the 2012 Summer Games in London. Teams must earn an Olympic bid at the FIBA Olympic Qualifying Tournament (OQT) for Women in Ankara, Turkey which began on Monday. Countries still active in the competition include Argentina, Croatia, Canada, Czech Republic, France, Japan, Korea and Turkey. The teams eliminated from Olympic contention include Puerto Rico, New Zealand, Mozambique and Mali. Those four teams lost both of their games in the preliminary round of the tournament.
In the OQT preliminary round, the twelve teams competed in four groups (A, B, C and D). The teams played other squads in their group twice. The top two teams in each group advanced to the quarterfinal round. The four winners of the quarterfinal round qualify for the Olympic Games. The four losers in the quarterfinal round play each other in a semifinal round for fifth place. After the fifth place semifinal, there will be a classification game for fifth to determine the final country that advances to the Olympics.
Quarterfinal play begins Friday with four games: Croatia vs. Canada, Czech Republic vs. Japan, Turkey vs. Argentina, and France vs. Korea. The losers play in the fifth place semifinal round on Saturday and the classification game takes place Sunday. The games will be broadcast on FIBA TV and YouTube. [Full schedule]
OQT Groups
A: Turkey, Japan, Puerto Rico (eliminated)
B: Czech Republic, Argentina, New Zealand (eliminated)
C: Croatia, Korea, Mozambique (eliminated)
D: France, Canada, Mali (eliminated)
Teams that previously secured an Olympic bid include Angola, Australia, Brazil, China, Great Britain, Russia and the USA. Great Britain qualifies automatically as it is the host nation.
The graphic below illustrates the OQT competition: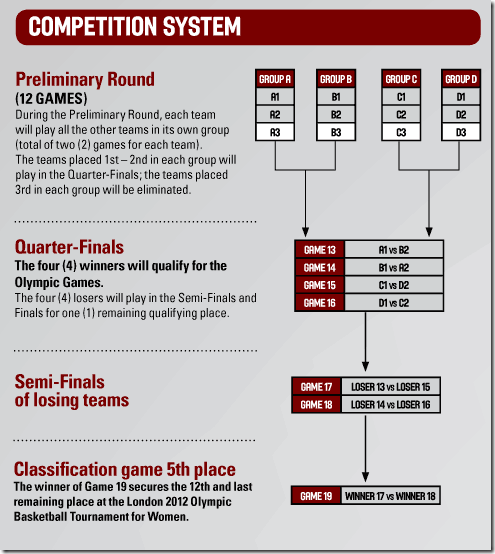 Source: FIBA