2012 Olympics preliminary round game three: U.S. faces Turkey, Marynell Meadors scouts the opponent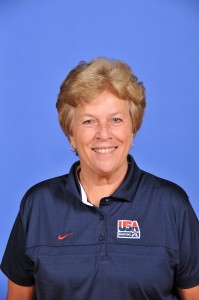 Probable starters for the U.S.: Sue Bird, Tamika Catchings, Diana Taurasi, Tina Charles, Candace Parker
U.S. roster
Probable starters for Turkey: Tugba Palazoglu, Birsel Vardarli, Nevriye Yilmaz, Quanitra Hollingsworth, Saziye Ivegin
Turkish roster
The U.S. faces Turkey tomorrow and the familiar face of Quanitra Hollingsworth in their third game of the Olympics preliminary round. Like the U.S., Turkey is off to a 2-0 start in the Games. They beat Angola 72-50 on the first day of competition and defeated the Czech Republic on Monday, 61-57.
The U.S. is coming off of a 90-38 rout of Angola. They started the competition with a hard-fought 81-56 win over Croatia.
The U.S. and Turkey met in an exhibition in Istanbul a week before the London Games. The Americans beat the host country 80-61 in a match where they did not break away until the fourth quarter. The U.S. never led by more than eight in the first three quarters.
The matchup against Turkey is the last game on the slate tomorrow. The action begins with Canada taking on France at 9 a.m. local time and 4 a.m. EDT. [Full schedule]
U.S. assistant coach Marynell Meadors (head coach, WNBA Atlanta Dream), gives her opinion on the Wednesday match against Turkey.
You played Turkey just a few weeks ago, can you talk about some of their strengths?
The one thing that they do on offense is they do a lot of screening and cutting. It's a continuity-type offense that they have, and they are very good at it. They've been together for quite some time, and their timing is just incredible. But I think what we have to do is we have to make sure that we defend each one of the ball screens because you are going to get hit at some point during the offensive sets that they throw at you.

They have two really exceptional players, (Nevriye) Yilmaz and (Tugba) Palazoglu. Palazoglu is an outstanding 3-point shooter, shooting about 45.0 percent from that area, so she hasn't missed many shots. Yilmaz is a really good post player, more finesse than she is power, and then they bring in Quanitra Hollingsworth, who is definitely a great screener and makes things happen for them as far as getting people open.
What differences do you expect to see from either team this time around?
I think that they were very good the last time we played them, and I think the more they play the better they get, just like what we are doing. The more we play together, the better we are getting. I think it's all going to depend on our defense. That's a huge key, so that we can get some offensive fast breaks. I think it we play really good defense, and we talk on our screens and absolutely go to the boards and rebound, then we've got a great chance of beating them.