After exhibition games, the U.S. women's basketball team sees improvement during practices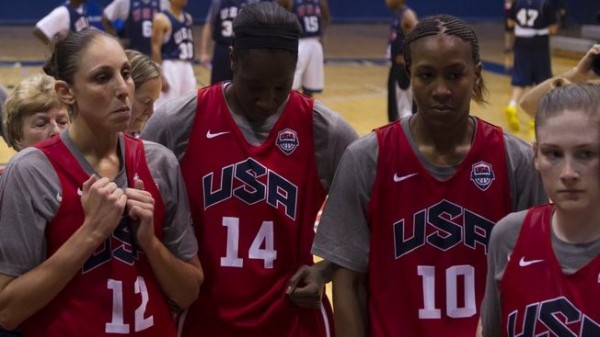 After winning all five games on its exhibition schedule leading up to the 2012 Summer Olympics, the U.S. women's basketball team is in the midst of practices before arriving in London on Thursday, July 26.
While many teams such as Australia had at least two months together to practice, the U.S. players had limited time as a squad. Players on the team competed during the first half of the WNBA season from early May preseason games until July 13.
"Well I didn't know we would only have 10 days when I took this job," said U.S. head coach Geno Auriemma, "but as you get into it you realize all of the commitments that these players have. We just talked about it as a matter of fact with the players. We are trying to work around their schedules, and it's like shooting a movie, being a movie director, you can't get all of the stars you want all at the same time. You have to improvise. And 10 days is 10 days. Every one of our practices has been really productive, and we've gotten better at every practice."
For Chicago Sky center Sylvia Fowles, the lack of practice time was not adequate.
"Ten practices is not enough, but the time in the gym that we have been together, I can say each day we've gotten better," said Fowles. "We still have a couple of things we need to work on and a couple of things we need to clear up, but for the most part it has been going well. Very intense and very tiring, but we don't have the same opportunity to train as the to other national teams, so we make it work.
Many of the players have been members of USA Basketball for several years and competed in the 2010 FIBA World Championship for Women. The U.S. won that competition beating the Czech Republic 89-69.
"We've all trained together under Geno since 2010 at various times," said Minnesota Lynx forward Seimone Augustus, "and those times kind of help build to this point as well. They helped us prepare. Even though we had more players who were in the national team pool, we were still going over our offensive schemes and defensive schemes and seeing what works best for particular player that could possibly make the team."
Los Angeles Sparks forward Candace Parker is pleased with team's practices in Turkey and feels the squad is improving.
"We had a really good practice today," said Parker on Tuesday. "I think these last couple days have been about fixing the things that we need to fix, addressing things we're a little confused about. We used these last two games and these last two practices to get better."
Augustus echoed Parker's thoughts on the progress of the team.
"We understand what's at stake and what we need to do," said Augustus. "These players have been doing this for years. I've been in the USA pool since I was 15 years old, and it's the same for most other players, so we understand the expectations and what we need to do."
The U.S. began its pre-Olympic matchups on May 12 with a 100-62 rout of China at Seattle's KeyArena . They continued with wins over Brazil, Great Britain, Croatia and Turkey this month after the WNBA paused its season for the Olympics. The last game of the exhibition schedule was the toughest with the U.S. needing 30 minutes to pull away from a feisty Turkish squad before grinding out a 19-point lead for the 80-61 win. In a game where the final score did not reflect the closeness of the game, the U.S. started the contest missing its first seven shots while Turkey came out of the gate on a 6-0 run.
During the five games Minnesota Lynx point guard Lindsay Whalen lead the U.S. with 11.0 points per game. Fellow Lynx, forward Maya Moore, and Fowles were second in scoring with 10.8 points per game. Phoenix Mercury guard Diana Taurasi was right behind them with 10.6 points per game. Taurasi, who played in all of the games, showed no signs of the hip flexor injury that kept her sidelined for the majority of the first half of the WNBA season.
On the rebounding side, Parker led the way with 6.8 rebounds per game with Moore and Tina Charles in second with 6.0. Fowles was fourth with 5.2 rebounds per game.
Saturday the U.S. faces Croatia on the first day of women's basketball Olympic competition.
U.S. women's basketball team exhibition games and results
May 12, 2012 – vs China – 100-62
July 16, 2012 – vs. U.S. vs. Brazil – 99-67
July 18, 2012  – vs. Great Britain – 88-63
July 21, 2012 –  vs. Croatia – 109-55
July 22, 2012 –  vs. Turkey – 80-61
Schedule for the first day of Olympic women's basketball, Saturday, July 28
* Estimated start time in London