Dishin & Swishin 7/5/12 Podcast: Fireworks just starting to boom for Gary Kloppenburg's Tulsa Shock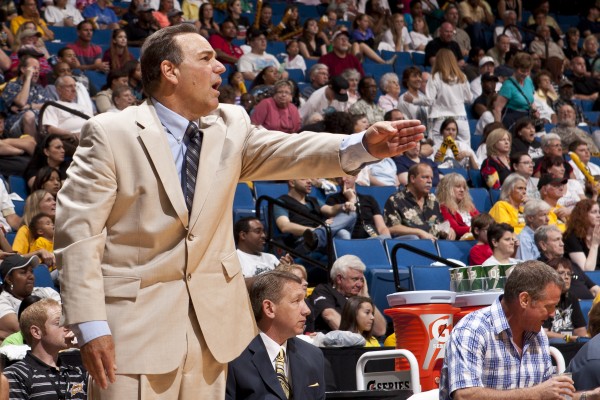 [display_podcast]
Do not let their record fool you. This is Tulsa Shock version 2.0, not the previous version.
Version 1.0 had way too many bugs. The best players from Detroit did not come to Tulsa, and on their first go around, the team was part basketball, part sideshow. It had a local "trophy name" coach, a vet passed her glory days, and a player better known for track than basketball. They are all gone, along with most of the previous squad.
In their place is a young, aggressive roster and a dynamic, knowledgeable head coach, who realizes only one thing will bring up the attendance: winning.
Gary Kloppenburg has been an assistant coach in the WNBA for both the Indiana Fever and Seattle Storm under Fever head coach Lin Dunn. He had stops along the way with the Phoenix Mercury and the NBA's Charlotte Bobcats and Toronto Raptors in addition to various coaching and personnel positions elsewhere. Hiring "Coach Klop" was a commitment by the franchise to upgrade the talent at the very top and trust that the players would be upgraded as well.
It was a daunting task. The 2011 Shock had sixteen different players wear the gold and black uniform; only four of those players have played for the Shock this season (Ivory Latta, Kayla Pedersen, Amber Holt and Jennifer Lacy). Last year's leading scorer and rebounder, Tiffany Jackson, is sitting out the season due to pregnancy. Their top draft pick from a year ago, Elizabeth Cambage has been training for the Olympics in Australia and has not yet arrived this season.
In their places are rookies and young veterans, with a few selected experienced players to provide leadership. In the standings, nothing is different. They are still at the bottom, with only two wins to date.
On the court, they have become an energetic, aggressively defensive team with the confidence that anyone on the court can make a play at any time. They have been "right there" in games with some of the very best in the league, just not quite able to close it out yet.
The undersized guard trio of Temeka Johnson, Ivory Latta and rookie Riquna Williams has been giving opponents fits on both ends, and all three are averaging over ten points per game. Glory Johnson was the first pick for Tulsa this year in the draft, and her athleticism and aggressiveness has been evident in her five rebounds and two steals per game. Lacy and guard Scholanda Dorrell, both known for their defense, were playing well until matching torn meniscus injuries sidelined them until the post-Olympic break. In their places, Pedersen and Holt have been improving their game of late.
The team recently signed former Oklahoma star Courtney Paris as a project; if Paris can improve her conditioning, it is well documented that she can rebound and she can become an important contributor.
After the break, things will get interesting, with the return of Cambage to the mix. Perhaps the biggest weakness thus far has been the center position, and the defense will get even more aggressive with her back as a shot blocker. Planning for that time, this week the Shock added three-point shooter Roneeka Hodges in a trade with Indiana to further stretch opponent's defenses and give Cambage some room inside.
Coach Kloppenburg and I discussed the team at the near halfway point earlier this week. Is the team where he thought they would be right now? How much improvement does he expect, especially out of Johnson and Williams, in the last twenty games? What is the vision behind the guard rotation of Johnson, Latta, and Williams? Where does Cambage fit in? How different is it being the head coach versus assistant coach in the WNBA? Where does the future lie, and what does he hope to achieve with Paris?
We covered these topics and more, including why he has a desire for no more Monday night games this season.
Shock 2.0 may not be the Detroit version, but it's definitely not the 1.0 version Tulsa saw the past few years. Just ask the Los Angeles Sparks, who is the victim of one of the Shock's victories, 91-75 on June 26. In that game, Johnson, Latta, and Williams combined for 59 points and 16 assists! If you are not ready for the Shock, that gives you an idea of what can happen.
Enjoy the podcast, and if you get the opportunity in person or on LiveAccess, watch the Tulsa Shock play. You will not be disappointed.