From Texas to Stanford to Los Angeles: Nneka Ogwumike's impressive trajectory and rookie splash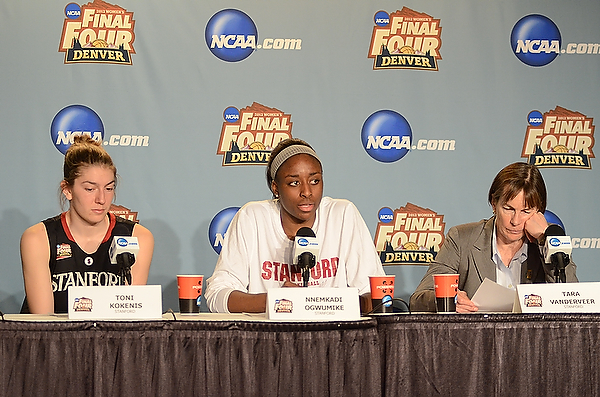 Stanford just lost to Baylor in the Final Four this past April, the final game of Nneka Ogwumike's college, but in the locker room afterward, the star forward was not among the teary-eyed. She told reporters, with a smile, that she was grateful for her experience at her school.
Ogwumike, who turned 22 recently, took that poise into the WNBA and turned it into numbers. Of the 15 games that the No. 1 draft pick played for the Los Angeles Sparks through the end of June, she was the top scorer three times, and second- or third-highest point-getter seven more times. She is the third-leading scorer for the Sparks, averaging 14.1 points and 7.5 rebounds per game, and has been a starter since pre-season.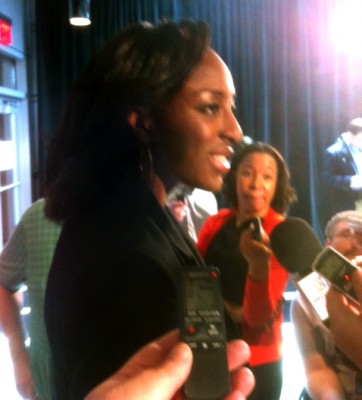 The Texas native's seemingly flawless transition to the pros is apparent on the court, where she attacks the basket without hesitation, plays team ball, and dazzles crowds with athletic moves, like a recent leaping catch during a fast break.
Named the WNBA rookie of the month for May, Ogwumike is the leading contender for rookie of the year. She plans to spend the month-long league break for the Olympic Games, which began this weekend, honing her craft so she can come back even better for the second half of the season.
Off the court Ogwumike is a straight-shooter, handles interviews like a veteran and has a calm and confident demeanor that belies her age. In fact, she has many attributes that continue to impress those around her.
"Nneka surprises me every day," Sparks Coach Carol Ross said. "I'm just so impressed with her energy. Her athleticism is ridiculous. But she also has great understanding of the game. She's a great teammate, she's so low-maintenance. She just works hard, does her job and helps everybody else do theirs."
Ogwumike's success so far in her first professional season least surprises those who know her, and her new employers and teammates call her potential unlimited. But how did this uncommonly well-rounded young athlete come to be?
---
Ogwumike captured a lot of attention, and a few awards, during her freshman year at Stanford. But by the time she was a sophomore, her skill set had grown exponentially. She was named to the State Farm Coaches' All-America Team, was named Pac-10 Player of the Year, and was a finalist for the Wade Trophy. By the time she graduated, she was named to eight more All-America teams and received numerous other recognitions, including the Lowe's Senior CLASS Award.
Stanford coach Tara VanDerveer said one of the reasons Ogwumike is a high-achiever is that she continually seeks knowledge, and then applies it quickly.
"As a freshman she had a lot of questions," VanDerveer said. "One day in practice I told the team, 'no more questions.' Nneka has a sense of humor, so she raised her hand right away and we all laughed."
Ogwumike's mother, Ify, said her oldest child has been asking "why?" her entire life, and then checking for understanding.
"She'll always say, 'just to make sure I've got you,'".
Ogwumike was at it again on the first day of Sparks training camp in April. Ross broke the huddle and athletes went to baskets in pairs or groups to shoot, but Ogwumike took her new coach aside and plied her with questions.
Sister Chiney said Ogwumike's constant desire to improve is one of her greatest assets.
"Her ability to regroup and reassess is what makes her dangerous," Chiney said.
WNBA veteran, Sparks forward DeLisha Milton-Jones, said she and her other teammates are more than pleased to help the rookie.
"She's very smart, and she's an even better person. And when you have someone who really wants to learn, it makes it even more enticing to give her all you've got. She's soaking it up like a sponge," Milton-Jones said.
She also said Ogwumike's intelligence is what's behind her success.
"The season is very condensed and there's really not a lot of time for teaching, or even practice. So she learns a lot of things on the fly. And she's a very good listener, and that helps her shorten that curve that a lot of other rookies go through. She knows how to apply what she's been told to a game situation," Milton-Jones said.
Ogwumike's quick learning curve was especially useful during her introduction to basketball, at age 11. Ify said Nneka stumbled into the sport as she was looking for something to do after school. Since the family had never watched basketball on television, the middle-schooler had no idea how to play.
"The first time she dribbled, she was having a hard time figuring out that the ball goes in the net," Ify said. "She quickly developed because she's a quick learner, because she had no clue."
The elder Ogwumike, an energetic middle school principal in the family's hometown of Cypress, Texas, and husband Peter were not initially excited when their daughter fell in love with basketball. But they kept a neutral stance, neither encouraging nor discouraging.
"We softly nudged her in that direction, but we never kept her stats or videotaped her games," Ify said. "We never put pressure on her – we just let it happen. When we left the gym, there was no basketball conversation."
The absence of expectation or pressure caused Ogwumike to flourish. By the time she graduated from high school in 2008, she was a McDonald's All-American, Gatorade National and State Player of the Year, Miss Basketball Texas and Parade Magazine co-player of the year.
Her three younger sisters – Chiney, 20, Olivia, 16, and Erica, 14 – followed her lead and took up the sport, too. Chiney played at Stanford with Ogwumike the last two seasons, and Ify found herself a college basketball mom that was just as uneasy at times as she was when the two were in high school.
"I bonded with the concession people at Stanford's [Maples Pavilion] because I'd always be out there pacing during games," she said. "When you have kids there's always a piece of your heart roaming around that you can't control."
---
By her last year of college, Ogwumike had inherited a team, and the tables turned.
"As a senior, she was the one answering the questions," VanDerveer said.
Ogwumike gave pep talks, advice, encouragement and she dried tears. She gathered teammates for huddles, picked them up off the floor at times, and got after them. She was also an impeccable role model, not losing a sprint in practice the entire year.
"When your best player is your hardest worker, it makes the entire team work harder," VanDerveer said. "She's a natural leader."
VanDerveer appreciates the journey of Ogwumike, who had trouble her first year adjusting to being away from home. Rather than shrinking, the young athlete rose to the challenge.
"When things didn't go her way, she battled and got tougher," VanDerveer said. "Her parents raised a wonderful young woman who is strong."
Ogwumike dominated the Pac-12 last year, and led Stanford to its fourth consecutive Final Four. Some, including VanDerveer, thought Ogwumike should have been named the NCAA player of the year.
Yet, even though much of the Cardinal offense ran through Ogwumike, VanDerveer said she was as unselfish a player as ever. For many reasons, the Hall of Fame coach considers Ogwumike one of the top players that have ever come through her program.
"She's the same whether you win or lose – she's so mature – just spectacular," VanDerveer said. "She's extremely talented, very athletic, and she gets it – she really gets it. If you're a team and you get Nneka, it doesn't get any better than that. I hope the people in L.A. realize how special she is."
Cal Coach Lindsay Gottlieb and her Golden Bears faced Ogwumike and the Cardinal three times last season, including playing for the Pac-12 championship. She said Ogwumike's leadership stood out.
"Stanford is always well-coached, but there's no question that Nneka made them truly special last season," Gottlieb said. "Anytime you can put a 'superstar' on the floor with other good players, and she makes those players even better, that's what Nneka did for Stanford last year. She brought energy and poise and leadership."
"But more than anything, she is a tremendous competitor that was just so darn hard to guard, and it really elevated what was an already excellent team to the highest level."
Ify said her daughter's leadership talents spring from being the oldest child.
"She had to take on a lot of responsibility at a young age," she said.
To say Ogwumike's three younger sisters look up to her is an understatement.
"Nneka has more influence on her sisters than I do as her mom," Ify Ogwumike said. "They have a healthy respect for her, and a fear. I'll say, 'wait until I call Nneka,' and they don't like that. They don't want to get 'the Nneka look.'"
Chiney said that it is in her sister's nature to be like a mother, and that she's learned a lot from her.
"She's made me believe in many things"
Their mother said that is part of the personality of her eldest, too.
"Nneka has this gift of making the impossible possible," Ify said. "She's an old soul, and can be quietly stubborn."
Yet, for all of her attributes of greatness, Ogwumike has been an unsung hero of sorts. Fans downplayed the 2012 draft, including Ogwumike. Her immediate impact on the Sparks shocked some, but not those who know her.
"I'm really not surprised at how well Nneka is doing in the WNBA," Gottlieb said. "As crazy as it might sound, because she was on all the All-America teams and was a National Player of the Year candidate, I still think she was underrated as a college player to a degree."
"People outside of the Pac-12 didn't get to see her play as much, so I think they only realized in the NCAA Tournament how special of a player she is. From scouting her and competing against her, I saw the consistency of her game, the athleticism and the motor that is elite, even for the pro level. It's been fun to see her do so well so quickly."
Milton-Jones said the Sparks are lucky in getting Ogwumike, and concurred that she is still underappreciated – for now.
"A lot of the things she does really go unnoticed," Milton-Jones said. "The stats really don't tell the true story, because Nneka can step out and guard a guard. She allows us to be creative defensively. She has the ability to score on the inside."
"She needs some fine-tuning offensively, because in the WNBA the defensive game presents a lot of situations to you. Once she acquires those traits, she'll be in the record books for many years to come."
Penny Toler, the general manager of the Sparks, is more than pleased with Ogwumike.
"Nneka is even better than we thought," she said. Toler only sees Ogwumike getting better. "She is going to take over this league."
Those close to Ogwumike see her potential because they see how far she's already come.
Ogwumike and fellow Sparks rookie April Sykes, from Rutgers, have known each other since their club ball squads used to face each other regularly while both were in high school. Sykes said her friend is the total package on the court.
"Nneka's an energy player – she does whatever it takes for a team," Sykes said. "She doesn't need a lot of touches to get numbers, and she's got offensive rebounds. She doesn't even have plays run for her and she gets numbers. She's very athletic, and she's skilled along with athleticism, so that's always a plus. She's a work horse and it's fun to be around her."
Off the court, Sykes said Ogwumike has changed.
"She's more outspoken and outgoing – she used to be more quiet," Sykes said. "She's grown up a lot."
Chiney Ogwumike said she is both her sister's biggest fan and biggest critic. True to form, she said Ogwumike's potential is unlimited, yet added a conditional clause.
"She's doing fantastically well (in the WNBA), but I have such unreal expectations of her and I know Nneka can do even better," Chiney said. "I've seen her absolutely dominate, and there's more of that in there."
---
Six weeks into the season, Ogwumike said she was already growing more patience because as a rookie, plays would not be drawn up for her. She said the pace of the WNBA schedule had become her biggest challenge.
"Mentally preparing for back-to-back games is something I've had to adjust to, because right now – this is our third pair," she said. "I'm getting used to it, but it's like, right when you think you can relax you have another game."
The Sparks will continue practices during the Olympics, and Ogwumike said she is looking forward to the break from games and traveling, "to just be in one place for a long time."
If she's having any wistfulness about changing circumstances, Ogwumike is not showing it. But those close to her are definitely adjusting.
VanDerveer said she already misses coaching Ogwumike. Chiney said sometimes it is hard for her to watch Sparks games, because she is not on the court with her sister.
"It kills me because I know what she's thinking when she misses a shot, and I'm not there to tell her it's OK."
Stanford fans are not quite ready to let Ogwumike go, either. Recently 50 members of a Cardinal booster club traveled to Los Angeles to watch a Sparks game, where they waved "we love Nneka signs." Afterwards Ogwumike spoke to the group at a reception, and she said she felt the love.
"It was really nice," she said. "They are so supportive."
For now, though, Ogwumike has some business to address: her personal goals.
"I want to be more of a threat on offense and be more of a facilitator on offense," she said. "Mostly, I want to win all of these games so we can get a good spot in the [playoffs].